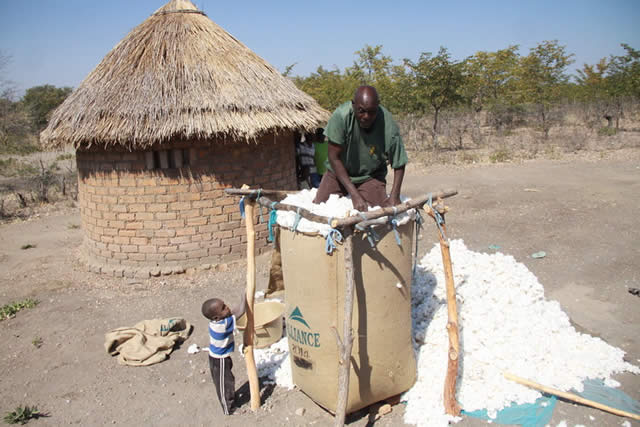 SANYATI is some 90km south of Kadoma.
The road is plagued with potholes and sporadic single lane stretches of patched tar.
Speeding, overcrowded commuter omnibuses manoeuvre through these potholes with ease.
Because of the sorry state of the road, one has to drive for more than three hours to the famed Sanyati Centre, popularly known as ARDA Estates, a name derived from the nearby estates now leased to a group of commercial farmers who are growing maize, beans, paprika and other cash crops.
The centre is now a pale shadow of its former self.
Furniture, grocery shops and an array of tuck-shops form a semi-circle and these are some of the notable structures.
Loud music from a dingy bar, where most youths spend time drinking overpriced alcoholic beverages, breaks the monotony.
Muddy pools of dirty rainwater are littered with garbage ranging from opaque beer containers, plastics and rotten tomatoes. Goats and livestock freely mingle with busy shoppers and imbibers at the centre.
Retail and tuck shops also sell overpriced basic commodities. During the festive season, a loaf of bread was selling at $2,50 from the recommended $1,40.
Hardware shops are selling their wares in USD only, with a bag of cement going for as much as US$15.
Seed and other farming inputs are also sold at highly exorbitant prices, making it difficult for farmers to go back to the fields.
There are no newspaper stalls, but the eagerness to read is high. This writer distributed more than ten copies of this newspaper and people jostled to get a copy and any attempt to share was met with a flat 'no'. The Patriot has become a newspaper of sentimental value among some of the readers, both young and old.
Sanyati is renowned for cotton growing, but with the fall of cotton prices and an influx of cheap second hand clothing, the cotton industry suffered a blow leading to low demand of locally farmed cotton.
Today, as one approaches the business centre, there are stark reminders of the once lucrative white gold production.
The Cotton Company of Zimbabwe (COTCO) offices are still there, although not fully operational. Other downstream industries that processed cotton seed into oil and stockfeed have long closed shop.
The once busy depot is still littered with old cotton bales, while some have sprouting cotton seed.
Traditionalists in the village believe they did not do proper rituals when cotton farming was at its peak, resulting in it plummeting as one of the country's cash crops.
Recently, COTCO provided spray knapsacks, cotton seed, chemicals and fertilisers to communal farmers to resuscitate the cotton farming.
The farmers are sceptical because of price distortions. They are also pinning their hopes on the rains, but some have lost hope and sold the chemicals and fertilisers or have simply diverted the inputs to other crops such as maize and sorghum, commonly grown by most communal farmers.
However, farmers in the Goto, Nyimo, Mukachi and Jese villages still reminisce over the good times during the cotton growing years.
Times were good, says the farmers, as they earned descent incomes, enough for one to marry many wives, sired many children and built homes; they bought livestock and life was good.
Some homesteads are now in a poor state; their fields are no longer yielding as much as they used to; they are forced to depend on Government handouts which they said were no longer adequate.
The former cotton farmers say they have turned to the ancestors to revive the fortunes of the white gold.
The former cotton farmers are bitter. According to them, their traditional leadership and some not-so-honest politicians have sidelined the very communities that put cotton farming on the map.
A former cotton farmer who requested anonymity alleged that under the Presidential Seed Input Scheme, only two families per village were given seed and fertiliser. These were reportedly chosen by their headmen and villagers said the selection was unfair as those who benefitted were related to the headmen.
This is despite the fact that President Emmerson Mnangagwa made it categorically clear when rolling out the programme that everyone was supposed and expected to benefit from the scheme, nationwide.
Some villagers reported that they were asked to share a 50kg bag of maize among four families, leaving most of them starving as they have nothing to eat.
They said their leadership is sabotaging Government programmes in the district, while any complaints are met with threats of eviction from the village.
In the Jese Village, some three kilometres from Sanyati Centre, villagers said they can no longer afford to send their children to school as the sole secondary school, Sanyati Government High School, demands an upfront fee of $160 per term from all learners during this year's school calendar.
Parents with students at the school are forced to buy school uniforms which are supplied by some senior community leaders working in cahoots with school authorities to fleece parents of their hard-earned money.
Similarly, at Chiguvare Primary School, learners are now forced to buy overpriced exercise books at the school.
Surprisingly, the same region has a very high unemployment rate. The National Aids Council (NAC) recently made a startling revelation claiming that Sanyati has the highest HIV prevalence rate in Mashonaland West, citing lack of awareness programmes and the idleness of youths in the communal area.
Although Sprayview Farm, which is currently leasing ARDA Estates, has managed to employ most youths to work on the farm, a significant number has opted out in favour of brick moulding and gold mining in the disused mines in Patchway, some 60km from Sanyati.
Brick moulding has become a lucrative business venture for most youths who have wantonly destroyed the environment. They have invaded the outskirts of the business centre, digging up anthills in residential properties in search of clay and good soils to mould bricks.
As a result, they have left huge craters and gullies that are posing a serious health threat to people as mosquitos have found lucrative breeding ponds while livestock is threatened with drowning.
However, the villagers said the gullies are a blessing in disguise as they collect water from these gullies.
They also compete with domestic and wild animals for the muddy water. Villagers in the Jese and Goto area have gone for more than 20 years without portable water.
They are forced to fetch water from the Munyati River, some 10km away.
The water is also dirty but they have no option.
Ironically, the main water tank that supplies water to the business centre is less than three kilometres from their villages. The only families that have a borehole are from the Mudzimba Village where the headman resides.
This is despite the fact that the Government has assured the rural populace they will benefit from the borehole drilling programme. Meanwhile, man and beast continue to clash at the watering holes and villagers have exhausted all efforts to have their problems attended to.
The villagers said both traditional leaders and politicians in the district should work to improve the welfare of villagers in line with President Mnangagwa's vision of achieving middle-income status in roughly the next decade.
As we drove back to Kadoma in a commuter omnibus, villagers still spoke in hushed tones of what has happened to their cash crop, cotton. One elderly man shook his head in disbelief and said perhaps there should be a traditional ceremony to cleanse their district to break the curse of the white gold.