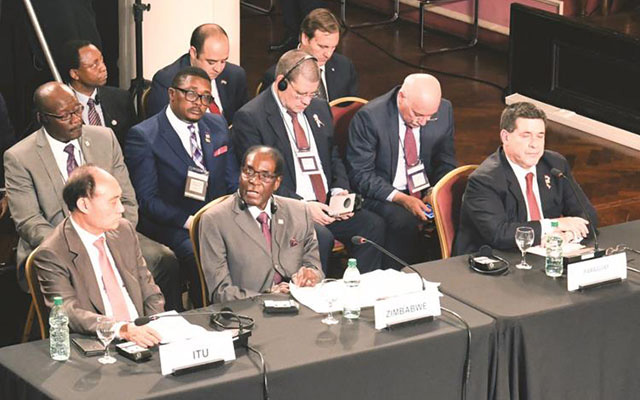 WHEN President Robert Mugabe attended the World Health Organisation (WHO) Global Conference on Non-Communicable Diseases (NCDs) in Montevideo, Uruguay, he participated at the conference with an already known political and social standing — that of the revolutionary leader of Zimbabwe and a pan-Africanist.
It was not surprising that upon his return, a narrative that feeds off the usual suspects' anti-Zimbabwe rhetoric was conceived. There were claims that President Mugabe had been stripped of a title he had never been conferred.
To cut a long story short, President Mugabe, being the principled leader that he is, a steadfast character, would never have accepted any appointment from WHO, be it a goodwill ambassadorial role or some other title, for obvious reasons.
Zimbabwe is not just one of the biggest producers of the golden leaf but produces the highest quality of the crop sought after all over the world by merchants.
For those not in the know, WHO is one of the organisations that has been highly vocal in the call to ban tobacco production.
It would be preposterous for a leader who has been vilified for leading his people in reclaiming their land, equipping them with farming skills and turning them into efficient producers of numerous crops that include tobacco, to accept a role that would force him to denounce a crop that has virtually sustained his sanctions-battered economy.
Tobacco, previously the domain of the white minority, has become, after the successful Land Reform and Resettlement Programme, a black-dominated enterprise.
And it is all thanks to the Mugabe-led ZANU PF and Government.
For President Mugabe, it has always been about protecting the interests of his nation and people.
President Mugabe would never have agreed to becoming a WHO Goodwill Ambassador, a title that would have forced him to condemn to penury thousands of his people who are into tobacco production.
Through the ban on tobacco production, Zimbabwe would lose an industry worth billions and affect the lives of 1,2 million people directly dependent on tobacco and an estimated 4,8 million dependent on this sector.
Tobacco has become one of the major foreign currency earners.
The capital investment in the tobacco industry alone runs into billions of dollars covering infrastructure equipment, machinery for processing and storage facilities.
The sub-sector boasts 17 merchants, four licensed auction floors, three green leaf threshing plants and seven cigarette manufacturers depending on tobacco producers.
While efforts are being made to ban tobacco production, the International Tobacco Growers Association (ITGA) notes that as long as there is a demand for tobacco products, which seems to be the case for many years to come, the leaf will continue to be grown.
According to the Framework Convention on Tobacco Control (FCTC), the future consumption of cigarettes and tobacco products is predicted to increase from 1,1 billion smokers in 2010 to about 1,6 billion smokers by the year 2025.
Tobacco production in Zimbabwe testifies to the success story of the Land Reform and Resettlement Programme which empowered 400 000 indigenous families from the previous 4 000 commercial white farmers.
The feat achieved by the country in the past 17 years – many of which were poisoned by a withering onslaught from the US and the EU bloc – is nothing short of phenomenal.
More than 82 percent of tobacco growers, 106 000 registered in 2015, were mainly small-scale growers occupying plots of between one and two hectares.
In 2015, tobacco export earnings increased to US$867 million compared to US$772,5 million the previous year.
Tobacco farmers had grossed more than US$450 million from 154,9 million kg mid-way of the 2015 tobacco selling season.
In 2016, by mid-season, the country had earned US$673 million.
This year 45,7 million kg of tobacco were exported to 48 countries.
Of this figure, China accounted for over 13,8 million kg valued at US$114,5 million, while South Africa bought 3,5 million kg for US$7,7 million.
China has been spending over US$200 million annually on Zimbabwean tobacco.
Indonesia has spent US$11,2 million on 2,4 million kg and Belgium has bought 4,8 million kg valued at US$7,9 million.
Russia had purchased 2,6 million kg worth US$7,9 million at an average price of US$3,03 per kg.
Other buyers include the United Arab Emirates, Bulgaria, Vietnam, Hong Kong, France, the Netherlands, Germany, Sudan and Tanzania.
More revenue was expected by the end of the season.
The number of tobacco farmers for the 2015/2016 farming season increased by a 23 percent margin from 71 728 to 95 274.
For the 2016/17 season, there has been a forecast of 205 million kg.
Tobacco has also been a springboard for the production of other crops since it provides the best economic return per hectare compared to other major annual crops.
Income from tobacco has been used by growers to develop their farms, in cattle production and irrigation schemes.
According to the Zimbabwe Tobacco Association (ZTA), the country's climate is favourable to the growing of tobacco. The crop does well on sandy loam soils where most grain crops would require a lot of fertilisers.
Zimbabwe tobacco exports once accounted for 20 percent of the world's flue-cured tobacco, the main ingredient in cigarettes.
Zimbabwe Farmers Union (ZFU) vice-president, Berean Mukwende summed up the debate on tobacco when he said:
"They are saying people are dying from smoking and we are also saying if you stop us from growing tobacco, more people will die from hunger."
According to Presidential Spokesperson George Charamba: "The President went to Uruguay to represent Zimbabwe as a member-state of the UN and, under it, of the WHO, which is an agency of the UN. He did not go to Uruguay to accost anyone for any role, whether symbolic or real.
"For his entire stay in Uruguay there was nothing that was intimated to him suggesting that designation, and in any case, there is always a formal way of communicating with Heads of State and to date there is no such communication."
He added that President Mugabe would not have taken the position because it would have required him to campaign against growing and selling tobacco, which is Zimbabwe' biggest foreign currency earner.
"Lest it be forgotten, Zimbabwe is world famed producer of tobacco and for its Head of State to be seen to be playing goodwill ambassador in respect of an agency, which has a well-defined stance on tobacco growing and selling, that would have been a contradiction.
"And in any case, that would have injured Zimbabwe' national interest. In other words, he was not going to oblige the invitation had it come his way anyway. His views in respect of Zimbabwe vis-à-vis the campaign which is WHO-led are known," said Cde Charamba.