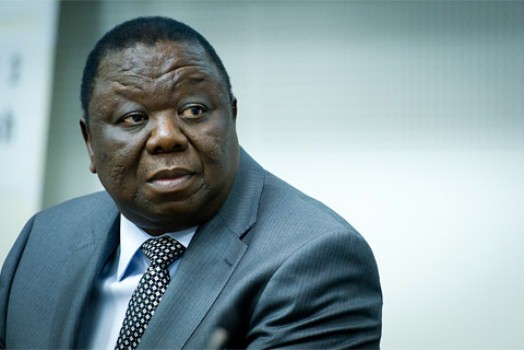 LONG time leader of the Movement for Democratic Change (MDC-T) and former Prime Minister in the inclusive Government, Morgan Tsvangirai, who lost his battle to colon cancer, was laid to rest this Tuesday in his home area, Humanikwa Village, Buhera.
It appears violence stalked the man all his life.
His last moments were not peaceful; throughout his funeral, there were skirmishes which bordered on the ridiculous and outright dangerous.
Ask Thokhozani Khupe.
It is said: Mabasa ako anokutevera/imisebenzi yakho iyakulandela.
Is this the case with Tsvangirai?
The most important question, however, is: Who was Morgan Tsvangirai?
Tsvangirai 's journey into politics is littered with 'successes', failures, shortcomings and controversies.
Born on March 10 1952 in Gutu, Masvingo Province, Tsvangirai was one of the most controversial political leaders in Zimbabwe.
The first of nine children of Dzingirai-Chibwe Tsvangirai and Lydia Zvaipa, Tsvangirai's rise to national prominence stems from his days as the secretary-general of the Zimbabwe Congress of Trade Unions (ZCTU) in 1988, where he led national strikes.
He would justify his decision to turn back to Rhodesia on his journey to Mozambique for military training by claiming he was the breadwinner of his family.
He rose to prominence in the trade union movement, where he held the position of branch chairman of the Associated Mine Workers' Union and was later elected into the executive of the National Mine Workers' Union until he got to the apex.
'Save' as he was affectionately referred to by his totem in his circles, initiated the ZCTU break away from the ruling ZANU PF.
As his 'power' and that of the labour movement grew, his relationship with the Government deteriorated drastically.
Formation of MDC
Did Morgan Richard Tsvangirai form the MDC as is widely touted?
Morgan Richard Tsvangirai did not form MDC.
In 1996, the Danish Trade Union Council, a 'co-operating partner' of the ZCTU posted George Limke to Harare as a regional representative.
Limke's brief was to transform the ZCTU into a political party.
Two years later, there were rapid succession meetings in Europe and the US which, among other things; were planning for the formation of an opposition party which would spearhead the regime change agenda on behalf of the West.
The first meeting, for the formation of the MDC, was convened at the Royal Institute of International Affairs (RIIA) at Chatham House in London on January 24 1999.
It was chaired by Richard Dowden, director of the Royal African Society.
Chatham House is a British government think tank.
Dowden presented four strategies that would need to be developed and implemented concurrently; Military intervention, Formation of an opposition party, uprising and subverting ZANU PF, the ruling Party.
The next meeting on the formation of the MDC was held on March 23 1999 at the US State Department in Washington DC.
In line with the decisions at the March 1999 State Department seminar and consistent with planning since 1996, the MDC was launched on September 11 1999.
Stephen Gowans, a writer and political activist from Canada says the name MDC was carefully chosen.
"'Movement' refers not to self-funded grassroots organisations, but to non-governmental organisations (NGOs) funded by capitalist foundations, wealthy individuals and Western governments and 'Democracy' refers to the accommodation of foreign investors."
Gowan continues: "Calling itself the Movement for Democratic Change re-inforced the fiction that a change in government was necessary to restore democracy."
Following the decision to form the MDC by the West, most of the money that was used to set up the party structures was supplied by the British government through the Westminster Foundation for Democracy (WFD) .
The WFD is the British equivalent of the National Endowment for Democracy (NED) of the US.
That year, more than £200 611
(US$280 745) was disbursed for printing of membership cards, purchase of office equipment, production of leaflets and other materials as well as consolidation of party structures.
That is why Tsvangirai's critics have always referred to him as a 'quisling', 'puppet' or 'stooge', and this was not out of spite or politicking.
Facts on the ground show that Tsvangirai was nowhere near the formation of
the regime change vehicle of the West, the MDC.
Plea for sanctions
To reinforce the view that he was not his own man, Tsvangirai called for illegal sanctions against Zimbabwe and disinvestment in the country to make his route to State House an easy one.
In January 2002, Tsvangirai pleaded for sanctions to be imposed on his country before the March presidential election.
Tsvangirai said after two years of 'softly-softly' diplomacy by Zimbabwe's neighbours, it was time for genuine sanctions.
"Targeted measures should be imposed immediately to freeze money and assets held overseas by Mr Mugabe and his associates, while South Africa should impose a fuel, transport and electricity blockade," Tsvangirai told BBC while in South Africa.
"We are aware that smart sanctions, if they are immediately implemented, will have the personal effect on the leadership of ZANU PF."
He further encouraged SA, the regional superpower, to use its economic muscle to snuff out the life of the ZANU PF Government.
While SA, led by a revolutionary party, the ANC, did not heed the call, the West tightened economic embargoes on the country leading to untold suffering of the masses.
Estimates say, as at June 2013, the sanctions had cost Zimbabwe about US$46 billion, totally crippling the nation and driving the black majority into poverty that had never been experienced in the country.
In 2008, Zimbabwe's economy 'screamed' as former US Assistant Secretary for African Affairs Chester Crocker had said it would to Congressmen in September 2001.
The sanctions were at their peak.
The country experienced a crisis characterised by an acute shortage of basic commodities such as food, fuel and cash.
A world record hyperinflation which ran to billions of percent was registered.
The local currency rendered worthless; while people's savings, pensions and lifetime investments were obliterated in the process.
People spent most of their time in queues seeking scarce commodities.
Professionals, including teachers and nurses, abandoned their posts to join the daily scrounging for survival or went abroad for 'greener' pastures.
Hospitals went without medicines because the Government did not have the foreign currency to buy the essential commodities – as did local authorities who failed to buy chemicals to treat water.
People died en masse.
The gravest count came in the form of a cholera epidemic which claimed thousands of lives.
Despite this suffering, Tsvangirai bizarrely advocated the maintenance and increase of sanctions.
A leaked US Embassy cable dated December 24 2009 suggested Tsvangirai privately insisted sanctions 'must be kept in place'.
At one point, he appeared to mock the suffering of the people, threatening that Zimbabwe would continue to be squeezed if he was not voted into power.
To this end, he insisted on people being made to suffer for him to get into power.
Two months ago, his team embarked on yet another trip to the US to call for economic sanctions against the new administration.
A litany of violence
At the Chatham House, MDC was built on the philosophy of violence as one of the key strategies for effecting regime change.
In 2000, Tsvangirai was quoted on the BBC of September 30:
"If you (President Mugabe) do not want to go peacefully, we will remove you violently."
In 2005, Paul Temba Nyathi of the other MDC made this assessment:
"Tsvangirai's followers seem to be saying to themselves that they can win elections by beating people and by using the crudest methods of intimidation."
On July 3 2005, a meeting was held in Bulawayo between the Bulawayo Agenda (BA) and its sponsors the Konrad Adeneur Foundation of Germany (KAD).
It is at that meeting KAD told the BA that they would no longer fund organs which concentrated on talk shows.
However, they would readily fund 'brave' organisations that engage in demonstrations to remove the Government from power.
KAD made it clear that money would be availed only to programmes of confrontation.
In pursuant to the funder's request, in 2007, the Zimbabwe Republic Police (ZRP) raided Harvest House, the MDC headquarters, they recovered 2 000 sharp and piercing objects used in making incendiary bombs, two shortwave radios, 43 Zimbabwe passports with South Africa visa application forms, eight loud hailers, 104 spray guns, propaganda videos and cassettes.
This was just the beginning, as the ZRP were to be swamped with reports of political violence, some turning into murder cases.
For example, the killing of police inspector Petros Mutedzi in Glen View 3, Harare, in May 2011.
The latest are the recent assaults on MDC-T deputy president Khupe as she was nearly set on fire and Tsvangirai's uncle Innocent Zvaipa slapping an MDC youth Nyaradzo Mutize three times in full view of people at the burial in Buhera because she took a picture of Gogo Tsvangirai.
MDC splits
The MDC split into two in 2005 and thereafter into three and four, with the 'N' for Ncube, MDC led by Mutambara, MDC Renewal Team led by Tendai Biti, MDC-99 led by Job Sikhala and the 'original' being the MDC-T led by Tsvangirai.
Under the banner of 'unity', among splinters, emerged the United Movement for Democratic Change in 2014 led by Welshman Ncube and Sekai Holland.
Later to emerge is the Renewal Democrats of Zimbabwe after Elton Mangoma walked away from the MDC Renewal Team.
MDC Renewal later bore a new name, the People's Democratic Party.
However, sentiments by US super-spy Christopher Dell, who served as Ambassador to Zimbabwe indicate that the West ended up realising that the candidate they had chosen for the MDC project was not among the brilliant.
In his last report on Zimbabwe before leaving for Afghanistan, his new station, in December 2007, he made it clear that their chosen one required massive handling if success in effecting regime change was to be achieved.
In the report titled, 'The End is Nigh' Dell notes: "Zimbabwe's opposition is far from ideal and I leave convinced that had we had different partners we could have achieved more already.
But you have to play the hand you are dealt (Tsvangirai). With that in mind, the current leadership has little executive experience and will require massive hand holding and assistance should they ever come to power."
In the WikiLeaks cables, Dell described Tsvangirai as: "A flawed figure, not readily open to advice, indecisive and with questionable judgment in selecting those around him.
He is the indispensable element for opposition success, but possibly an albatross around their necks once in power.
In short, he is a kind of Lech Walesa character: Zimbabwe needs him, but should not rely on his executive abilities to lead the country's recovery."
Sexcapades
Tsvangirai's path was often littered with pitfalls that included carelessness in his personal life
Tsvangirai married his first wife, Susan, in 1978.
The couple had six children during their 31-year marriage, which ended with Susan's death in a car accident in March 2009.
But soon after, he made headlines for what came to be known as the opposition leader's 'open zip, shut mind policy', following revelations of his 'sexcapades'.
In 2012, various women came out about their relationships with Tsvangirai, with most having been promised marriage.
Locadia Karimatsenga-Tembo, Nosipho Regina Shiulubane, Loretta Nyathi and Tatenda Mutyavaviri are some of the women who were linked to Tsvangirai.
Tsvangirai allegedly impregnated and dumped Arikana Chihombori, Nyathi and Tembo.
Irked by the news that Tsvangirai was to marry Elizabeth Macheka, women from all walks of life took Tsvangirai to court to stop the wedding.
Tsvangirai and Macheka's white wedding ended up being reduced to a 'mock wedding'.
Tsvangirai's sexcapades were always a part of him, a sort of a flaw described by Dell.
In 1976, Tsvangirai joined Trojan Mine in Bindura, as a plant operator apprentice in the smelting department.
This was a position of influence.
He would send his juniors known as the 'chola boys' to solicit women for him.
Back then at Trojan Mine, such exploits earned him the nickname 'Hit and run' and it's alleged his favourite 'base' was the secluded mine's football pitch.
As the curtain came down on Tsvangirai's turbulent life, in Buhera, on a rainy afternoon, the so-called 'man of peace' who in reality led and superintended a violent life was interred by equally violent party supporters who exchanged blows in the full glare of the world.
What a send off!