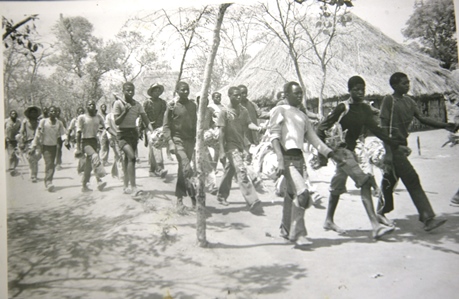 ONE of the most beautiful sights to behold is that of families together up and about, children frolicking around their parents, the peace and quiet of a rural homestead, peace and harmony prevailing.
This is the peace that we Zimbabweans enjoyed in our land before we were invaded by the armed occupation forces of a British company led by Cecil John Rhodes.
When that happened we never knew peace as of old.
The peaceful atmosphere vanished, families got painfully separated, family life styles changed drastically, they were fragmented, disintegrated and humiliated, all because of the greed of foreigners, who pretended that there was no-one in Zimbabwe when they came to our land, therefore whatever they came across, was irrevocably theirs.
Violence against the indigenous people of Zimbabwe progressively escalated until we took up arms to end the white insurgence once and for all, and there ensued a cruel war in which the enemy bared its inhuman fangs, there was nothing too inhuman as long as it assisted the enemy to achieve its goals of keeping Zimbabwe forever shackled to the British while they milked it day and night.
And in this struggle, the children of Zimbabwe were not idle, neither were they fugitives.
They took a stand, they knew clearly that it was wrong for any foreigner, no matter how powerful to claim power over them and their resources.
They suffered excruciatingly, but the enemy's brutality did not cow them, but instead ignited the Zimbabwean mettle in them, and so instead of surrendering to bondage to the white man they left to join the liberation forces.
Below is Comrade Mbiko Dube's experience.
"It was on Monday morning when the RF forces, Rhodesian Front, arrived at our home.
"As a young boy (nine years old), I was busy milking goats.
"A lovely dog of mine barked in a strange way and when I looked up to see what was happening, the sound of a gun was heard, my dog was shot dead: green colours were everywhere.
"Those were the RF soldiers who were questioning my mother and father.
"Some were standing around the goats kraal, asking me the whereabouts of the terrorists, the guerrillas.
"One of those soldiers jumped in the kraal, and threw me out.
"I landed on a rock and became unconscious for some time.
"When I woke up, I found my father standing next to me, his body was red with blood.
"He was crying like a helpless child.
"He was wearing handcuffs on both hands and feet.
"He was taken to the police camp and the following morning we were told he was dead.
"The brutality of the regime was clearly revealed to me and I decided to join the struggle." — (Schools in the Struggle:1991).
The people of Zimbabwe suffered for this country, but it is the suffering of the children that brings you to your knees.
This is the horrific experience the children went through in the days of our struggle.
Family bliss was shattered with the most reckless impunity.
Every sensitivity was violated, and the nine-year-old was traumatised to have his father torn away from him so harshly, so cruelly.
It had nothing to do with the freedom fighters, it was just a way of harassing and intimidating the ordinary people, totally horrendous.
Comrade Obert Ngulube had an equally horrific experience.
"One day while we were warming ourselves by the fire.
"I heard the sound of a lorry.
"Inside the lorry were two soldiers, carrying guns.
"They took my brother to the lorry and asked him if our father was a member of ZAPU.
"He told them that he didn't know and he was taken to their camp where he received some punishments.
"In the morning our home was burnt by the soldiers and my sister was killed.
"Then I realised I better go to Zambia and take a gun." — (Children of History: 1992).
The callousness of the Smith regime made the children realise the nature of the enemy and that instead of complying with the terror forces of the foreigner they had to go and train to confront the enemy head on.
They had seen others killed, but that did not stop them.
So when the children left for Mozambique and Zambia in their thousands it was to join the liberation forces.
Although they were disappointed when all those below 18 were sent to the camp schools, the children's presence in the struggle was waging the war against colonialism at various levels.
i. They rejected foreign domination and left Zimbabwe to be equipped to fight to end it.
ii. They constituted part of the moral and material force fighting the racist colonial regime
iii. Despite extreme hardship they remained resolute that they would continue in the struggle until final victory only awaiting their turn to train and fight for Zimbabwe's freedom.
It is sacred and humbling when children say no to foreign domination and join adults in fighting for justice and equality and pay the ultimate price for this vision.
The pain and suffering of Zimbabwe's children who went through so much and still remained resolute, rejecting everything evil and sacrificing all for a just and equitable life for all Zimbabweans, paid in full the insurance premiums for future generations of Zimbabwe's children.
These children who went to the struggle bequeathed us a sacred trust and the only way to wipe their tears is to ensure that no child of Zimbabwe is locked out of Dzimbadzamabwe, their home, their fortress, for if it cannot be a fortress for its children, does it matter who else it shields?
Zimbabwe has to be a fortress to its children.
Dr Mahamba is a war veteran and holds a PhD from Havard University. She is currently doing consultancy work.