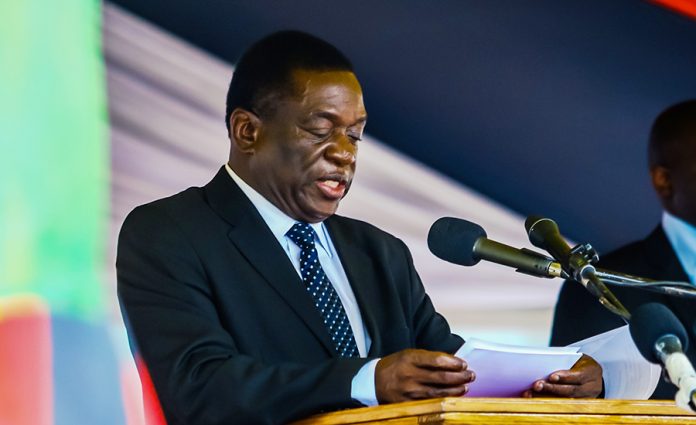 REPORTS say over a 100 political parties have already registered to take part in the forthcoming general elections.
This must be an African record!
The plus side to this is that it is a clear indication that our democracy is vibrant.
Furthermore, it puts paid to all the false allegations that the election playing field is not level.
If the election arena were not level, we wouldn't have all these parties throwing their hats into the ring, eager to participate in an exercise which is unfair and unjust.
The huge interest shown by everyone in the country is largely due to the feel good factor that has been created by President Emmerson Mnangagwa under the new dispensation.
Now who will win from the more than 100 political parties that have registered to contest the forthcoming elections?
Right now, this important question has been subjected to very simplistic 'bar talk' analyses which have concentrated on personalities, false prophesies given by self-appointed political prophets and opinions given by the so-called private press.
What are the chances of winning of the more than 100 parties?
The majority of these will most likely provide entertainment, a lot of hot air and that's it.
The competition is decidedly between the ruling party, ZANU PF, and the MDC and its various formations.
We are going to look at the chances of winning by the MDC-T in the coming elections to begin with.
First, we are confronted with the question of which MDC formation we are talking about?
That of Mr Chamisa or Madam Thokhozani Khupe?
Furthermore, is Mr Nelson Chamisa going to contest the elections as MDC-T or MDC Alliance?
Also is Khupe going to contest the election as MDC-T or as Khupe/Mujuru, MDC-T/NPP-Alliance?
Right now, the Chamisa faction thinks they have the MDC-T, with emblem deep inside their pockets.
More so, recently they were awarded the right to use the party's offices by the High Court and given money from the national budget which is given to political parties represented in Parliament.
But all the above facts do not mean the battle for the
MDC-T is over.
Far from it!
The Khupe faction still considers itself the right group to be referred to as MDC-T and may go to the Supreme Court to fight their case.
They are asking why the Chamisa faction avoided holding an extraordinary congress which their constitution demands after the death of their former leader Morgan Tsvangirai.
And they are absolutely right.
It will be interesting to see what happens if, finally, the Chamisa faction loses and the Khupe faction wins.
These fights are creating uncertainty about the future of the MDC-T.
Voters don't like that and so will ditch the party at the polls.
Let us now come to the next question.
Is Chamisa going to fight the next elections under the MDC-T banner or MDC-Alliance?
On the ballot paper itself, are Chamisa's voters going to see his picture near a box written 'MDC-T' or 'MDC-Alliance'.
If Chamisa's name is going to be next to a box written 'MDC-T' what becomes of the alliance.
Have people been cheated all along that there is an MDC-Alliance when in fact it's still the old MDC-T.
What about people like Tendai Biti who are moving together with Chamisa as the MDC-Alliance?
Is Tendai Biti's picture going to be next to a box with 'MDC-Alliance', 'MDC-T' or 'PDP', which is his political party.
If Biti's picture appears next to his 'PDP' party what about the MDC-Alliance?
If his picture appears next to a box with 'MDC-Alliance' does it mean the MDC-Alliance is going to register as a separate party from the MDC-T?
If Biti's picture is found next to MDC-T, does it mean he is back with MDC-T?
What the hell is going on here?
One can ask as many questions as one likes but would never get a straight answer — only confusion after confusion.
How anyone thinks the MDC-T or MDC-Alliance or whatever will win the elections after they have created all this confusion around the so called MDC-Alliance beats me.
This brings us to Chamisa and his MDC-T or MDC-Alliance's economic plan for the nation.
Over the past weekend, Zimbabweans were left in no doubt that Chamisa and company have no sound economic plan for the country because they are still fighting their internal party political squabbles.
Speaking at a rally in the Harare area in the company of Biti, Chamisa shocked Zimbabweans when he said his economic plan was to have 'spaghetti junctions' all over the country once he gets into power.
'Spaghetti junctions' are characterised by sophisticated and spectacular flyovers, subways and intricate bridges covering road junctions.
They are very very expensive to construct.
But Chamisa told his audience the MDC is going to construct them at road junctions throughout the country.
There will be 'spaghetti' junctions at roads in Muzarabani, Mudzi, Zaka, Kezi, Binga or Mudzi — really!
Now here is fantasy politics of the worst kind.
How can anyone, even the most die-hard MDC-T fanatic, expect Chamisa to win an election in a country full of educated people such as Zimbabwe with this type of economic thinking?
This kind of economic thinking, where one pedals fanciful ideas instead of addressing real economic problems affecting people such as lack of jobs, lack of manufacturing, never wins anyone elections.
We now come to ED and his ZANU PF party.
ED has embarked on an economic recovery programme which has made everyone in and out of the country sit up and take notice.
For example, the amount of foreign direct investment which has been achieved by ZANU PF in just two or so months is mind boggling.
Over three billion dollars from the Russians one morning, US$4,2 billion dollars from the Cypriots the following week, another US$1,5 billion dollars from an organisation called Financial & Commodities Ecosystem.
No Zimbabwean leader has ever attracted this kind of investment in less than three months in the country's history.
Right now, every investor wants to come to Zimbabwe to do business.
For example, tourist arrivals in the months of January, February and March have been the highest this year beating all Januaries, Februaries and Marches of the last 20 years. Incredible!
New factories are opening up everyday in towns and cities right across the country.
The country is poised to get out of the present economic doldrums under the leadership of ED and his ZANU PF party.
We cannot therefore imagine any voter worth his salt interfering with the great development momentum the country is enjoying right now by removing ZANU PF from power. We can't.
When it comes to ED and Chamisa, it's like racing a steam train and a bullet train.
ED is the bullet train and Chamisa the other.