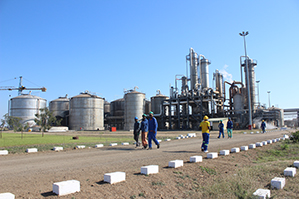 THE Confederation of Zimbabwe Industries (CZI) has blamed both Government and the private sector for failing to arrest de-industrialisation, as capacity utilisation within the manufacturing sector has dropped to 34, 3 percent compared to 36, 5 percent last year.
The decline, which represents a cumulative 23 percentage point fall from 57 percent in 2012, shows a worsening economic crisis, the lobby group said. 
In its Manufacturing Survey 2015, CZI attributed the decline in capacity utilisation to capital constraints and antiquated machinery.
"The weighted capacity utilisation has shed 2, 2 percentage points from 36, 5 percent to 34,3 percent," reads the survey.
"The constraints to capacity utilisation have remained the same since dollarisation: low domestic demand; capital constraints; antiquated machinery and machine breakdowns; and competition from imports."
In July this year, the Reserve Bank of Zimbabwe's economic report attributed the massive decline in manufacturing output to; "antiquated plant and machinery, inflexible labour laws, influx of cheap imports, high cost of production, weak effective demand as well as persistent liquidity constraints".
The CZI conducts an annual survey of industrial development and its manufacturing report is the most comprehensive private-sector led survey, which assesses industrial performance.
At least 15 economic sub-sectors are surveyed, among them, clothing and textiles, pharmaceuticals, grain and milling as well as oil among other industrial manufacturing activities.
"Of the respondents, 39 percent said they were operating at levels above 49 percent while the remainder (61 percent) said they were operating at levels below 49 percent," said the CZI.
"On average, small companies (between five and 19 employees) are operating at 26 percent capacity utilisation, while medium companies (between 20 and 99 employees) are operating at 36,1 percent.
"The larger firms (100 and more employees) are operating at 43,1 percent."
Eighty-nine (89) percent of 250 company executives surveyed had doubts over 2016 prospects, citing high costs of doing business in a deflationary environment, which has piled pressure on production and output.
The CZI said a combined 65,7 percent of industrial capacity utilisation was idle in 2015, 2,2 percentage points up from 63,5 percent in 2014 after more firms crashed due to power blackouts and difficulties in accessing working capital as well as expansion from internal and offshore sources.
Last month, the CZI launched its quarterly business confidence index, which showed that perception remains low, with a composite quarter-on-quarter confidence index of -33,9 percent and year-on-year of -37,2 percent.
"The general rule is that a value above zero indicates business optimism, a value below zero, pessimism, and 0 indicates neutrality," reads the report.
"The figure thus indicates that respondents feel pessimistic of the prospects of their companies."
Only less than 50 percent of respondents said they could access financial lifelines from both the domestic and international financial institutions due to the country's high risk profile.
Fewer companies are still in production compared to last year.
The rest failed to cope with low domestic demand compounded by a carnage on the job market, where about 30 000 workers lost their jobs four months ago, in addition to numerous company closures.
In total, 25 percent of surveyed companies laid off workers during the review period and 46 percent of respondents said businesses were bleeding.
As a result of viability challenges, the country also witnessed an increasing number of firms being placed under judicial management in the last three years.
According to data obtained from Master of the High Court, companies placed under judicial management rose from 51 in 2013 to 60 by the end of 2014, while 87 companies were liquidated in 2014, compared to 44 in 2013.
In addition, some firms resorted to downsizing and restructuring.
At the heart of the manufacturing sector's concerns were antiquated machinery, machine breakdowns and competition from imports, especially from neighbouring South Africa, as well as devaluation of the South African rand and Zambian kwacha.
"The real exchange rate over-valuation relative to the South African rand has caused a serious loss in external competitiveness, as it has made imports cheaper than domestically produced goods and exports more expensive," reads the CZI report.
"As a result of increasing demand for imports and dwindling exports, the external sector position continues in deficit, with an estimated current account deficit of US$ 3,1 billion this year."
However, some companies made in-roads as far as capital investments is concerned.
"Forty seven (47) percent of the respondents carried out new capital investment in 2014 while 41 percent carried out investment in 2013," reads the report.
"The bulk of the investment (97 percent) was directed at machinery and equipment for replacement (60 percent) and expansion (40 percent).
"Profit plough-back remains the largest source of financing of new capital as evidenced by a response rate of 71 percent."
About 44 percent of respondents are expected to increase their level of capital investment in 2015/2016.
In addition about 71 percent of CZI survey respondents ploughed back profits, despite a tightening liquidity crisis, to fund expansion and operations.