IN Africa, women's representation in terms of decision-making positions inside extension institutions was generally very low, accounting for only four percent of the administrators and supervisors and nine percent of the subject matter specialists.
Of nine countries surveyed, the Sudan had the highest number of women administrators/supervisors with 18 percent while Mauritania and Zimbabwe had no female representation.
Efforts to increase the number and technical competence of women extension agents have been made in several countries. In Burkina Faso, a training course was held for women extension workers in 1985.
In the Congo, a Service-de Promotion Rurale, with a female component, was created in the Ministry of Agriculture.
In Morocco, during the mid-1980s, significant efforts were made to increase the number of female extension agents.
A detailed strategy of intervention was implemented and intensive retraining programmes were undertaken.
According to FAO's 1989 global survey, in Africa, only seven percent of all agricultural extension resources were allocated to women farmers.
Home economics, the area of extension traditionally available to women, is given minimal support, receiving only one percent of total extension resources.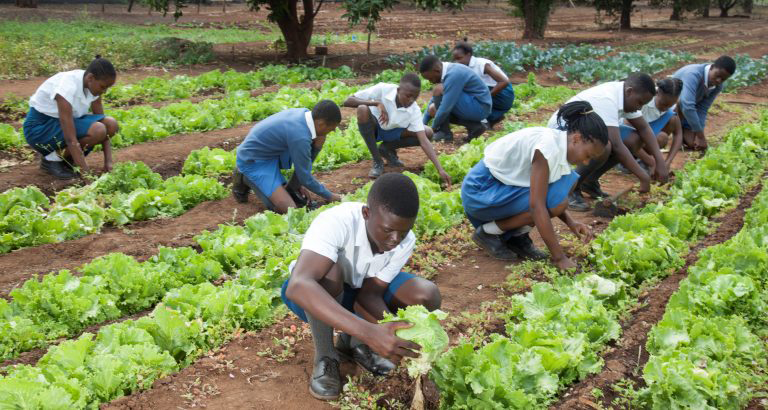 Nevertheless, extension services are increasingly reaching women farmers and many issues surrounding women and extension services were addressed.
These included socio-cultural norms that restrict male agents from contacting female farmers; male agents' preference to work with male farmers; constraints in women's time and transportation and inability to travel to central demonstration points; the content of extension messages focusing on male commercial crops rather than on subsistence farming and food security; and the almost exclusive focus of women-oriented extension services on reproductive roles.
Although increasing numbers of rural women were being contacted by extension programmers, the number of female farmers receiving extension services was still much lower than for men, with the notable exception of the Congo where, due to extremely high rates of male rural-to-urban migration, women form the agricultural workforce.
In Benin, extension services were overwhelmingly directed to farmers organised into co-operatives.
Only 9,4 percent of rural women are organised as such, making it unlikely that many women were reached by extension officers.
In Burkina Faso, between 1980 and 1985, the only extension service available to rural women was advice on family economy, while men received information on production techniques and the use of inputs, among others.
New strategies undertaken in the late 1980s, witnessed the number of organised women contact groups increase from 20, in 1988-1989, to 1 394, in 1991-1992, while the number of women reached by extension grew from 15 500 to 299 000 during the same period.
Two to five times more men than women continued to be reached by extension agents.
In the Congo, there were 10 extension centres throughout the country which focused on food crops, reaching approximately 14 percent of the farming population, of which over 50 percent were women.
In Morocco, there are three principle extension approaches — individual, intensive and mass.
Overall, the extension activities have been well developed since 1988 and, in four years, the total beneficiaries went from 533 734 to 1 722 357 farmers.
However, rural women represent less than three percent of the total beneficiaries.
Agricultural extension and services in Namibia historically served the interests and needs of commercial farmers, although steps have been taken to reorient support towards subsistence farmers while many programmes failed to take into account the activities, importance and priorities of women farmers.
Women also had minimal helpful contact with government staff concerned with natural resource management, as they were perceived as carrying out a policing rather than an assistance function.
In the Sudan, agricultural extension services are linked with cash crop production in the modern sector.
Extension services were targeted to male farmers while the women were expected to receive the information from their husbands and male relatives.
In Zimbabwe, the Extension Services Department did not focus on gender issues until 1990, when it became apparent that agricultural extension was contacting only 44 percent of the women farmers.
In 1993, the Extension Services Department began focusing on the constraints to women's participation in an attempt to develop a more appropriate package for reaching women farmers.
Prior to 1980, women were not awarded master farmer certificates.
However, from 1982 to 1992, women constituted 33 percent of the participants in this training programme while in 1993, women's participation increased by 60 percent to 90 percent.
Dr Michelina Andreucci is a Zimbabwean-Italian researcher, industrial design consultant, lecturer and specialist hospitality interior decorator. She is a published author in her field. For comments e-mail: linamanucci@gmail.com