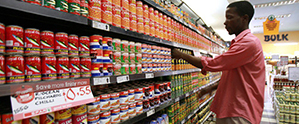 ZIMBABWE and South Africa's Department of Trade and Industry (DTI) technical team are expected to engage in talks over Harare's policy to restrict certain imports as part of efforts to boost local industry.
Last month Government imposed a strict new import regulation, Statutory Instrument (SI) 64 of 2016, meant to protect the local industry, but the restrictions contained in the Instrument have adversely impacted cross-border traders.
SI 64 imposes a ban on products like bottled water, cosmetics, cereals, coffee creamer, mayonnaise, cheese, canned fruits and vegetables, second hand tyres, iron and steel products, furniture and woven cotton fabrics.
Following the restrictions, an impasse between Zimbabwe and South Africa developed, leading to the proposed dialogue between the two neighbours.
Protests broke out on the other side of the border as South Africans, Indians and Ethiopians together with some Zimbabweans marched from Musina, about 12 kilometres away, towards the border to protest.
Since then, South African businesses are fretting and have been intensifying pressure to push for an end to the import controls.
South Africa accounts for 65 percent of Zimbabwe's US$7 billion annual import bill.
Since the promulgation of SI 64, the Musina business community on the South African side of the border claims it has lost more than US$10 million in potential revenue.
Besides the bilateral engagements, it is understood the city of Tshwane Metropolitan Municipality has approached Southern African Development Community (SADC) structures claiming
SI 64 is against regional trade protocols and other bilateral trade agreements.
Last week, the SA DTI said the adverse impact on South African exporters due to trade restrictive measures introduced by the Government of Zimbabwe cannot be underestimated.
The DTI said it continues to be responsive to affected exporters and to make representations to the Government of Zimbabwe.
The South African trade watchdog expressed concern on the range of trade restrictions Zimbabwe has introduced.
"On behalf of the South African government, Minister of Trade and Industry Rob Davies has been engaging the Zimbabwean government bilaterally and through the SADC structures to find an amicable solution that is in accordance with Zimbabwe's obligations to the SADC Protocol on Trade, while at the same time being sensitive to Zimbabwe's industrial development and balance of payments challenges," the DTI said in a statement.
But Zimbabwe says it will not shift its position as these trade restrictions are designed to support the development of local industries and relieve the pressure of economic sanctions which has led to balance of payments challenges.
The country had become a dumping ground of foreign goods, most of which can be produced locally.
Zimbabwe trade deficit in the 11 months to November last year widened to
US$3 billion, an indication the country continues to rely on imports as local industry remains depressed.
Trade figures show that exports amounted to US$2,5 billion against US$5,5 billion imports.
Of the US$5,5 billion spent on imports last year, about one billion was splashed on groceries that included luxuries such as cakes, mineral water, dough, buns, chocolates, sweets and biscuits.
These products are in abundance at competitive prices in Zimbabwe.
A survey carried out by The Patriot revealed that locally-produced goods such as cooking oil, rice, flour, soap, toothpaste and washing powder were selling at far less than the imported groceries.
Locally-produced two litres of cooking oil is going for US$3,20 compared to an imported same quantity selling at US$3,45 while the cheapest two kilogrammes of rice were selling for US$1,20 compared to US$1,45 being offered for imported rice.
How can Zimbabwe, as a nation, import water, toothpicks and plastics, to mention but a few?
Surely, the country can do better than this.
A toothpick can be made from a small stick of wood, plastic, bamboo, metal, bone or other substance and the raw materials are available locally.
The US$10 million that Musina businesses claim to have lost in the past three weeks is a major boost to struggling local companies.
Zimbabwe is not spoiling for a trade fight with South Africa, but simply protecting its own businesses.
South African companies are welcome to explore the myriad opportunities that are available for both trade and investment in Zimbabwe.
In terms of investment, there are also opportunities for SA companies to invest in Zimbabwean companies, start new companies or joint-ventures.
There are a number of struggling local companies that would welcome foreign capital injection from SA companies.
They should come and open shop in Zimbabwe.