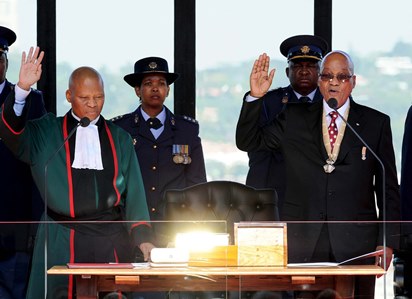 Recently in Pretoria, South Africa
EXACTLY 20 years after the end of Apartheid, blacks in South Africa have little to show for it.
Economic inequalities still tear through the black majority as ownership of the economy is still in the hands of the white minority.
Whites on average earn six times more than their black counterparts. Until a few years ago, long distance truck driving was a preserve for whites!
There are still 'white' and 'black' residential areas, 'white' and 'black' churches, and 'white' and 'black' restaurants.
However, South Africa needs to take a leaf from its northern neighbouring country Zimbabwe to achieve a more equitable balance of wealth.
Zimbabwe's Land Reform Programme is an inspiration to the landless and down-trodden all over the world.
The successful land reform exercise stands in stark contrast to South Africa, where barely 10 percent of farm land has been redistributed.
The land redistribution programme in Zimbabwe saw over 400 000 indigenous families who were previously settled on marginal infertile land, benefitting from the previously 4 000 white owned farms.
The once white-dominated commercial farming sector is now an entire preserve of the black majority, who are now in the driving seat with production levels rising .
Thus to black South Africans, Zimbabwe's land reform and resettlement and the on-going indigenisation and economic empowerment programmes are the hallmark of enduring leadership.
To them President Robert Mugabe is a hero not only for taking back African land from white farmers, but also for successfully standing up to the most powerful economic forces in the world as they imposed crippling sanctions in their attempt to destroy the country's economy and effect regime change.
No surprise that at the recent President Zuma's inauguration in Pretoria, President Mugabe yet again received the loudest cheers and applause, as well as a standing ovation when acknowledged as one of the attending dignitaries.
Upon coming to power in 1994 the African National Congress (ANC) promised to put 30 percent of the targeted 90 percent farms held by whites into the hands of blacks by year 2000.
Sadly only eight percent has been transferred to date.
Understandably, black South Africans are losing patience with the ineffective manner in which land reform has been carried out.
No wonder the country is plagued with social unrest.
Is Zuma finally taking lessons from the bold stance taken by President Mugabe when he recently made reference to radical economic transformations?
If he is, is President Zuma who has often been criticised as a weak and ineffective leader, ready to pay the price and endure the consequences if Zimbabwe's case is anything to go by?
South African President Jacob Zuma last week pledged to radically transform his country's economy by embarking on broad-based black empowerment programmes during his second five-year term in office.
In his address soon after his inauguration as President at the Union Building in Pretoria, President Zuma vowed to vigorously embark on transformative black economic programmes in a manner South Africans have not witnessed before.
"Land redistribution will be better executed in the new term of government. Economic transition will take centre stage during the new term of government," said President Zuma.
"As the National Development Plan outlines, the structure of the economy will be transformed through industrialisation, broad-based black economic empowerment and through strengthening and expanding the role of the state in the economy.
"Our economic transformation programme also reaffirms our commitment to promoting local companies, entrepreneurs and cooperatives through local procurement by the state and its agencies.
"We have made some progress in changing ownership of the economy but much more work needs to be done."
Speaking to the crowds in Zulu, with a sprinkling of English, President Zuma said:
"There will be radical transformation of our economic policies.
"Do not be scared when we take tough, unusual, decisions to transform.
"We won't be ashamed, we won't be afraid of anyone.
"We will do what we promised during the election campaign."
Julius Malema's nationalisation and expropriation of farms ideas had some popular resonance given frustration over the pace and nature of the economic empowerment long-promised by the ANC.
Since 1994, the ANC has allowed itself to be hostage of the demands of the rich white minority who are controlling the economy.
But sooner than later, the South African Government will have to make a choice, either to side with the landless black majority or with the rich white minority.
In a brief interview with local journalists at the Harare International Airport, President Robert Mugabe wished President Zuma and his administration a successful and stable five-year term in office.