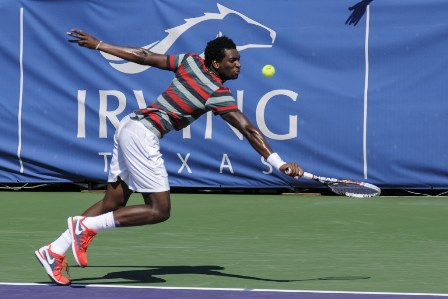 ZIMBABWE'S current tennis players continue to strive after the glory attained by past greats and their present form might see them reliving the days of the likes of the Black siblings. The exploits of the Black siblings Byron, Wayne and Cara put the country on the world map of tennis.
Zimbabwe are currently playing in Cairo, Egypt, for the Africa Group III qualifier tournament where they tussle with nine other nations. The International Tennis Federation (ITF) sanctioned qualifiers are held each year and winners are promoted into Euro/Africa Group II.
Botswana, Benin, Madagascar, Mozambique, Namibia, Nigeria, Rwanda, Congo, Algeria and Zimbabwe battle it out for the two promotional slots into the Euro/Africa Zone Group II in 2015.
Zimbabwe yesteryear's glory is still etched in the minds of many as the Black brothers, Byron and Wayne made worldwide headlines in the Davis Cup.
They shocked the world in 1998 when they beat Australia 3-2 to set up a dream quarter final berth.
They later lost to Italy, but that was the highest achievement in tennis history.
Later on, some stars rose in the form of Genius Chidzikwe, Kevin Ulyet and Regis Bhunu among others. However, their contribution to the game did not surpass the Black brothers'.
Last year, the Zimbabwe tennis team missed by a whisker promotion into the Euro/Africa Group II when they were edged by Egypt 2-1 in the play-offs.
Zimbabwe hope for better fortunes from the team of Takanyi Garan'anga, Mark Fynn, Benjamin Lock and Tinotenda Chanakira.
A promotion into the Euro/Africa Group II guarantees more matches for the country at home which is good for the development of the game.
Zimbabwe are in Pool A together with Congo, Nigeria, Madagascar and Benin. Zimbabwe got off to a bright start with Benjamin Lock beating Congo's Armel Mokodo 6-1, 6-0 while Tinotenda Chanakira outclassed Pagnol Madzou 6-0, 6-0.
Lock and Chanakira combined in the doubles to beat the Congolese 6-0, 6-0.
Zimbabwe have better chances of dominating in the pool as they are the highest ranked country.
Zimbabwe are ranked 81 out of 130 countries in the world.
Their ranking is number four in Africa after South Africa, Morocco and Egypt.
It is now up to the team to emulate yesteryear glory and make Zimbabwe proud again and revive the Davis Cup glory.