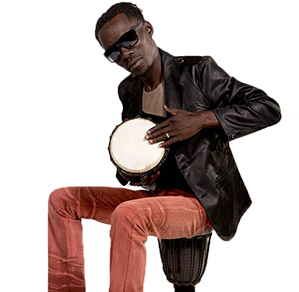 CONTEMPORARY Zimbabwean musician, Willom Tight, has released a video titled 'Ndewangu' featuring Harold Matlhaku known as 'Speedy' of Bongo Maffin.
Tight, appears to be moving with the times in terms of marketing after posting his new video on his facebook page.
According to his management, the video will start rotation on MTV Base, Channel O, Trace and other international satellite music channels sometime this week.
The video is a single from his upcoming album titled, Manifest which will be released at the end of the month.
The video released on March 29 on youtube is already making waves locally, regionally and internationally.
"Finally, Zimbabwean musician, Willom Tight has decided to show the world what he is really made of," said Masimba Biriwasha the global editor at large for American-based on line company tambirai.com.
The song sung with a linguistic blend of Shona, Zulu and English is about yearning for a beautiful woman.
The compilation of the song and beat is a genius blend of the standard that has come to be expected of Willom Tight.
"I did this album with other international singers in South Africa so that I can venture into new territories while increasing my fan base," Tight said.
The forthcoming album, Manifesto will be Willom Tight's fourth.
The album will also feature collaborations and productions by Salif Keita, Maxwell Vidima, Maxwell Musopero Vidima, Bongo Maffin's 'Speedy' and producer Sifiso Mbede, Erik Paliani, Leeroy Sauls, Philip Michaels and Uhuru.
The song 'African Paradox' featuring Salif Keita premiered in Australia in the international movie Road to Freedom's Peak is the lead soundtrack.
According to the singer's manager, Gilbert Muvavarirwa, Manifesto re-defines Willom Tight's musical journey, direction, vision, brand proposition, sound architecture yet drawing insights from where he is coming from."
"The new album was recorded and completed in three months and videos for some of the tracks are to be shot in South Africa this month," Muvavarira said.
Starting as a rapper at Mateo and Friends to singing Afro-jazz, Willom Tight is now concentrating on an Afro -centric genre that introduces Zimbabwean cultural heritage to the world.
For this new album, Willom Tight explores and blends other musical styles and genres although it is yet to be officially launched in Zimbabwe.
Willom Tight is one musician who celebrates African culture through praising beauty of the continent and its people.
In the late 90s, he was a member of the Zim Jam group before joining Mateo Kaunda and Patience Musa to form the group Mateo and Friends.
He has also collaborated with some of Zimbabwe's finest musicians that include Oliver Mtukudzi and Dino Mudondo.
His previous albums include Hodzeko (2003), Kuza Ngoma (2007) and Chinyerere (2011). It was after Kuza Ngoma when he split with fellow musician Dino Mudondo with whom he had recorded tracks such as 'Bhazi' and 'Makoikoi'.
The musician joined Shamiso Music and Entertainment, a South African- based multimedia firm which saw his recent single produced and released in South Africa.