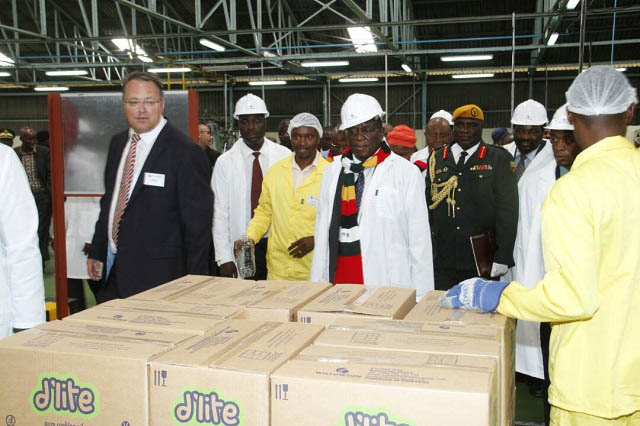 PUNDITS opine that growing from within is the most effective path for cities to develop.
Waiting for central Government to usher development may not bring results at the expected pace.
THE mantra 'Zimbabwe is open for business' has been a boon for the fourth largest city, Mutare.
The town, with a reported urban population of more than 300 000 and rural population of over 260 000 got a massive boost with the recent opening of the Willowton's US$40 million refinery plant.
Officially opened by President Emmerson Mnangagwa last week, the plant is expected to transform the fortunes of the scenic city.
The city, located on the border between Zimbabwe and Mozambique is the country's closest city to the sea, making it the most strategic location for transport cost-sensitive import and export oriented enterprises.
The President hailed the South African company for setting up shop in the Manicaland provincial capital.
"Willowton South Africa was among the first companies which positively responded to the export oriented and import substitution policy pronouncement made by Government," said President Mnangagwa.
"This new manufacturing facility is indeed a demonstration of the confidence you have shown to our trade and investment climate in Zimbabwe."
The Willowton investment will see employment figures in the town growing and downstream benefits are expected to significantly boost entrepreneurial efforts.
With more than 20 suburbs that include Murambi, Fairbridge Park, Morningside, Tiger's Kloof, Dangamvura, Sakubva, Chikanga extension, Weirmouth, Fern Valley, Zimunya and Hobhouse (1,2,3) extension, the oil and soap manufacturer is expected to inject some life in the city's industry which has been dormant in recent years.
Production at the company is expected to reduce importation of finished goods while promoting exports and increasing the country's goods on the international market.
President Mnangagwa expressed hope that investment would increase uptake of local raw materials.
"This huge investment complements Government's call for value addition and beneficiation of our primary produce from the agricultural sector such as soya bean and sunflower, among others," said the President.
Willowton brings technology that will enhance efficiency in cooking oil production.
Willowton Zimbabwe also brings competition in both the oil expressing and soap producing industries, a development expected to bring down the price of the products.
Oil expressing companies in the country include United Refineries, Olivine Zimbabwe and Surface Wilmar, among others.
With the huge investment, the country continues to score critical success in its efforts to attract foreign direct investment (FDI).
The launch of Willowton follows hot on the heels of the commissioning of Nestle Zimbabwe state-of-the-art machinery for filling and packaging its Cremora milk powder.
In just four months, the ED administration has attracted investments worth US$7 billion.
Government is in the process of simplifying import and export regulations and procedures that will work hand-in-glove with regional trade protocols.
The Willowton Group (Zimbabwe) has become one of the country's leading manufacturers of edible oils and soaps since production began at the Mutare plant in September 2016.
Willowton set up its plant in Nyakamete, Mutare, in 2016 in response to the Government's drive to promote local production and beneficiation.
The plant has capacity to refine 6 000 tonnes of cooking oil, 5 000 tonnes of laundry bar soap and 1 000 tonnes of beauty soap a month.
From the Mutare plant, Willowton produces its market-leading consumer brands, which include D'lite and Sun foil cooking oil, Sona Beauty soap and Britellite laundry bar.
Willowton employs over 140 employees directly, with a number of key positions being occupied by women.
Meanwhile, Willowton plans to extend a new US$20 million crushing plant for cooking oil production.
It also has plans to establish a margarine plant to manufacture established brands such as Sunshine D and Wooden Spoon.
The Willowton Group was founded in 1970 in South Africa by the Moosa brothers who ran it together with their sons.
It has grown to become a leader in the fast moving consumer goods (FMCG) field in southern Africa, manufacturing edible oils and related products including spreads, soaps, candles and industrial fats.
The groups' head office is in Pietermaritzburg, South Africa.
With its strategic location in the Eastern Highlands, Willowton Zimbabwe has an advantage of accessing markets in neighbouring countries that include Zambia, Democratic Republic of the Congo (DRC), Malawi and Mozambique.
The company also has operations in Cape Town, Johannesburg and Zambia.