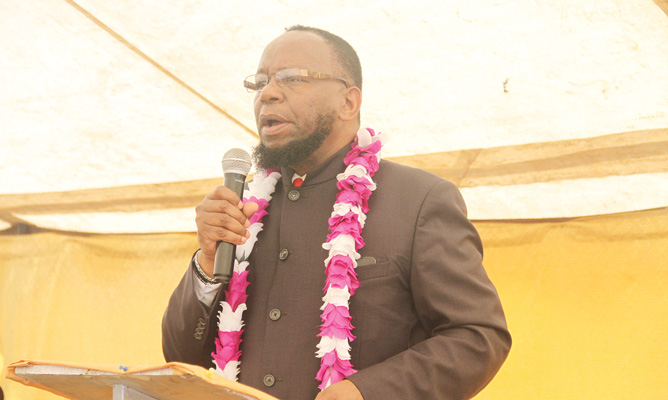 By Gamuchirai Mugadzaweta
THE 2017 edition of the National Annual Science, Sport and Arts Festival (NASSAF) held in Harare last week will go down in history as an event that unearthed gems of aspiring stars who exhibited their talents during the week-long extravaganza.
Last week's event was the first of its kind and was held under the theme 'Unlocking learner potential through the New (Updated) Curriculum'.
NASSAF brings together Primary and Secondary school students from across the country who would have excelled in Sports, Arts and Science fields.
In sports, the event covers all disciplines, while in science, those who came up with new innovations took part in the various competitions that were on offer.
A cultural, painting and sculpturing fete was on offer in the arts discipline.
Speaking at the event, guest of honour Vice-President Phelekezela Mphoko, represented by the Minister of State in the Vice-President's Office, Tabeth Kanengoni Malinga, said NASSAF is a crucial component of the new updated curriculum.
"Schools Annual Science, Sport and Arts Festival is intended to ensure full participation by all learners at school level and by significantly higher numbers at cluster, district, provincial and national levels," said VP Mphoko.
"NASSAF is a crucial component of the Curriculum Framework 2015-2022 and is intended to provide learners with a holistic quality education, which broadens the career options for learners either as employees or employers.
"It is really critical that as the New Curriculum implementation progresses, it is important to gauge or measure the progress that learners and teachers make," he said.
Development, he said, had to start at the grassroots.
"The foundation of a strong nation will be enhanced by an effective education system that develops its young people through well-planned and co-ordinated grassroots activities, and the school in Zimbabwe is the most strategically placed institution in our society.
"NASSAF will also create opportunities for learners who are struggling and those excelling to receive their attention, so that their talents are developed to the maximum extent possible.
"NASSAF is also expected to advance a whole host of skills that include transversal skills or 21st Century skills for life (as contrasting to skills for jobs)".
Speaking at the same event Primary and Secondary Education Minister Dr Lazarus Dokora said the festival was an opportunity for schools to exhibit the best of the Zimbabwean arts and culture.
"The Ministry considers these festivals as tools that provide opportunities to grow and sustain desired learner exit profiles," said Minister Dokora.
"The festival is a platform that celebrates and represents the Zimbabwean culture and traditions and will be invaluable
"The updated curriculum demonstrates the commitment of the Ministry to implement a competency-based approach which is realised through practical oriented learning.
"The festival creates space for learners to apply their knowledge, skills and attitude in an independent, practical and transformative manner that creates opportunities for learners to be competitive at domestic level as well as regional and international levels in sport, science and arts activities," he said.
Zimbabwe recently launched a new updated curriculum which, among other things, promotes individual talent and amplifies it as the student grows, so that besides education, one has skills that can sustain him/her for life.
Early Childhood Development (ECD), Grade One and Three at Primary School level as well as Form One, Three and Lower Sixth, are the first beneficiaries of the roll-out of the updated curriculum.
If a child has interests in baking, sewing, braiding and any other skills, he/she is nurtured and equipped with the relevant skills.
Teachers are, however, bemoaning the shortages of teaching materials that support the enhancement of the updated curriculum .
Deputy Minister for Primary and Secondary Education Paul Mavima revealed that Government had sourced funds for teaching and learning materials for the education sector.
A booklet on teacher training standards has since been published.
Lack of resources is posing a challenge to implementation of the updated curriculum and the teacher-to-student ratio is yet to improve as most classes have over 50 students.
Teacher-to-student ratio is critical to the success of the updated curriculum. For instance, it will be difficult for a teacher to meet the needs of a class of 50.