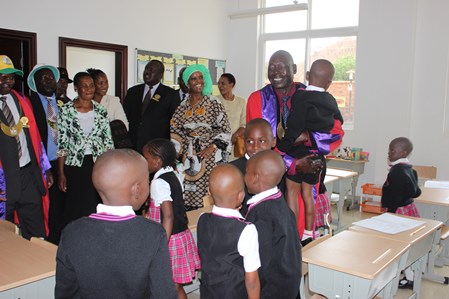 AS Amai Dr Grace Mugabe celebrates her 50th birthday I cannot, but wish her many more years to come because of the significant role she has played in caring for orphans and vulnerable children.
The home which she has provided for the children who were dumped by their mothers at different places is far beyond the measure of a mother's love.
Taking on somebody else's child is never an easy thing for any woman or man and those who do it possess a huge heart which has no measure.
It is with this in mind that the celebrations of Amai Dr Mugabe's birthday can never go unnoticed because despite her huge role of caring for President Robert Mugabe, she still has time to spend with children born by other women.
Her Mazowe home which houses over 50 children has given shelter, love, encouragement and hope for the children who would have otherwise died in unforeseen circumstances.
The children's home currently has completed houses that provide shelter for children.
It is obvious with the way each of the children run when they hear their names called that they get the same undivided attention.
It is difficult to understand that she knows all the children by their names, but yes, she knows all of them.
I believe the time she spends with the children, playing with them and ensuring all their needs are met makes them have a sense of pride.
The joy one sees radiating from her face as she plays and mingles with each of the children is heavenly.
I am touched by the confidence and acknowledgment that each of these children has in her.
Whatever circumstances that cause baby dumping, the psychological effects that the children are exposed to go far beyond their childhood.
In the African culture one's name refers to one's link to his/her roots.
It refers to one's lineage dating back to as many generations as possible.
One may ask 'What's in a name?'
While it may seem unimportant, there is a great deal of importance attached to one's name.
African totems carry a value which creates an immense sense of belonging.
Such totems as Dziva, Chirandu, Mukuruvambwa, Nyamasvisva, Chitova or Chihera have many of us exuding great pride.
Failure by some institutions to recognise the role of such names emanates in psychological trauma for children who in the future fail to identify with any African totems.
For generations some children have carried African names that are not theirs while others have lived for many years without that link at all.
For Amai Dr Mugabe, the names given to her children at her home stem from our culture.
She says some African names or totems come from wild animals hence the names like Zhou (elephant) that she has given to some of the children just as many of our surnames which originate from water, the birds of the sky and wild animals.
Amai has in fact given the children an identity, a sense of belonging and a name.
Who are we not to celebrate the birthday of such a woman?
Her project which includes a school is built on a 7 720 square-metre plot is earmarked to include classrooms, a library, an art room, music room, computer room and auxiliary equipment rooms.
The institution will have four streams of 24 pupils per class from Grade One to Seven.
It will cater for 900 disadvantaged children from Grace Mugabe Children's Home and surrounding areas.
The project, on completion, will include a children's home, hospital, a primary and secondary school, shopping complex and workers' quarters.
To Amai Dr Grace Mugabe, I wish you many more years to come.