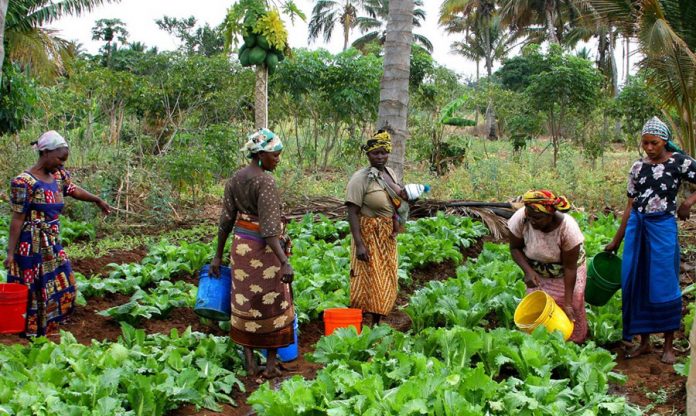 IN five African countries, where women predominate in food production, namely Kenya, Malawi, Sierra Leone, Zambia and Zimbabwe, an analysis of credit schemes by the UN's Food and Agriculture Organisation (FAO) established that women received less than 10 percent of the credit directed at smallholders and just one percent of the total credit directed to agriculture.
Women's access to credit in Mauritania, for example, is limited to their involvement in rotating savings and informal credit clubs.
Since late 1992, in Namibia, over 450 small-scale communal farmers have been able to obtain loans through a special scheme administered by the Ministry of Agriculture, Water and Rural Development.
However, over three quarters of the total amount was for the acquisition of stock which, in the absence of conclusive gender-based data, suggested that women may have been underrepresented as the purchase of stock often falls to men.
In Tanzania, rural women's access to credit had been almost exclusively confined to donor-supported women's grants, despite some efforts on the part of the Co-operative and Rural Development Bank to ease capital contribution requirements for women.
The following are a variety of legal, socio-cultural and institutional constraints that continued to contribute to limit rural women's access to credit:
The high rates of female illiteracy in rural areas;
Socio-cultural constraints whereby women's economic independence is limited (women do not have land in their own names to use as collateral and/or they cannot enter into a contract without male authorisation);
Lack of knowledge regarding credit programmes and opportunities;
Fear of indebtedness – given many rural women's position on the margins of survival;
Complex procedures for securing credit; and 
Lack of transportation to credit institutions that are often located in urban areas.
In many countries, in recent years, special programmes and funds were created, targeted at rural areas and/or rural women in order to address some of the above constraints. Often, the programmes were developed as components of larger development projects run by the governments, international donors and NGOs.
More often, women have had to take measures to help themselves in gaining access to credit, either through traditional group savings schemes or through associations and co-operatives, such as women in Mauritania who turned almost exclusively to savings and credit clubs.
In Zimbabwe, savings clubs were formed to help meet the needs of the rural population where the majority of their members are women.
Through these group savings schemes, Zimbabwean women have been able to accumulate enough funds to buy fertilisers, improved seeds and pay for transportation to market their produce.
In Burkina Faso, as early as 1991, more than 80 percent of the total loans provided by an integrated project through the Savings and Credit Commercialisation Fund were extended to women's groups.
Most of the loans were used for food processing of agricultural products.
In 1993, the government created the Support Fund for Women's Income Generating Activities to extend credit to urban and rural women for commerce.
In the Congo, the Credit Rural was created in 1989 to provide loans to the rural, semi-rural and peri-urban areas.
Of the 71 loans made, nine were to women; although primarily to urban women.
In 1992, UNDP financed the Women's Mutual Savings and Credit Fund, a project to assist women micro-entrepreneurs in urban and peri-urban areas.
Loans totalling US$10 500 were extended to seven women's groups working in a variety of areas, including agriculture.
Recognising the potential of female clients, the Caisse Nationale de Credit Agricole in Morocco carried out a study in a pilot zone exploring the institutional and socio-economic constraints limiting women's access to credit.
As a result of the study, the number of female clients multiplied in four years from 400 to 2 000.
In the Sudan, as early as 1978, the Agricultural Bank of Sudan (ABS) began financing women's co-operatives in order to provide seasonal credit for women to produce certain crops.
By 1992/3, 50 women's co-operatives had received credit, up from 14 in 1980/81.
Between 1983 and 1989, a branch of the ABS began providing loans to small farmers to purchase machines and production inputs; the majority of beneficiaries were women. The ABS also developed a programme with the agricultural extension and co-operative department to extend credit to women farmers to grow sesame, groundnuts and gum arable.
In Namibia, the credit union movement and credit schemes, supported by farmers associations, provided an opportunity for farmers to access loans without collateral restrictions.
An agricultural bank was developed to administer a loan programme designed for small-scale communal farmers.
The programme made loans available to individual farmers organised into informal groups and to formally registered co-operatives.
In Tanzania, due to the strict collateral requirements by banks, women's access to loans tended to be confined to special donor-supported women's grants.
Following women's access to loans through the Cooperative and Rural Development Bank, the number of loans disbursed to women increased from 28 in 1984 to 734 in 1992.
Women's own initiatives included the formation of informal rotating savings and credit associations, although primarily urban-based.
In Zimbabwe, the Self-Help Development Foundation, a savings organisation, promoted savings on a regular basis by groups of poor people to mobilise their small sums into useful amounts for productive purposes.
Women constituted 83 percent of the membership.
Group membership was usually used as a criterion to guarantee loans, thereby eliminating one of the major obstacles to women's access to credit – lack of collateral.
In Africa, unemployment, in general, is low for women in rural areas; the unemployment rates range from a high of 3,5 percent in the Congo to a low of 1,6 percent in Zanzibar.
The national unemployment rate for women was highest in Mauritania.
However, women tended to be unpaid labourers on their husbands' land; at the same time, they cultivate separate plots in their own right.
Nevertheless, while women may work their own plots, they may not necessarily have ownership and thus their rights might not survive the death of their spouses.
In cases of male migration and de facto women heads of households, conflicts arise as prevailing land rights rarely endow women with stable property or user rights.
However, low unemployment rates can disguise women's under-employment, as their responsibilities for a wide range of unpaid domestic and agricultural tasks in the household leaves them insufficient time to generate income from other activities.
National statistics of the 'economically active population' and the extent to which women are economically involved in agriculture, food production and processing (as conventional definitions of the labour force) have led to an under-estimation of women's work.
It is estimated that in Africa, only 42 percent of the economically active population involved in agriculture are women due mainly to the tendency to register farm women as housewives
Despite many constraints, however, reports prove the importance of women's role in agriculture; women constitute a substantial portion of the 'economically active population' involved in agriculture.
Dr Michelina Andreucci is a Zimbabwean-Italian researcher, industrial design consultant, lecturer and specialist hospitality interior decorator. She is a published author in her field. For views and comments, email:linamanucci@gmail.com"linamanucci@gmail.com