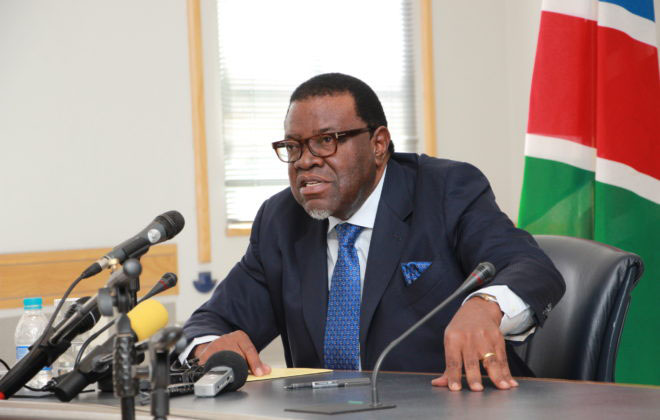 PRESIDENTIAL candidates, participating in next month's elections, this week signed a peace pledge binding themselves to a code of conduct compelling them to campaign peacefully.
The peace pledge document was prepared by the National Peace and Reconciliation Commission (NPRC) as part of efforts to promote a peaceful campaign environment ahead of elections set for July 30.
The pledge, a first of its kind in the history of elections in Zimbabwe, is in line with President Emmerson Mnangagwa's repeated call for free, fair, peaceful and credible elections.
The peace pledge comes against the backdrop of a fatal explosion that rocked the country on June 23 at a ZANU PF rally at White City Stadium in Bulawayo.
At around 15:30hr, after addressing a packed stadium, as President Emmerson Mnangagwa left the stage with several other high-ranking Zanu-PF members, there was a blast very close to him.
President Mnangagwa survived the blast with no injuries but others including Marry Chiwenga (wife of Vice-President General Constantino Chiwenga [Retired]), Vice-President Kembo Mohadi, party National Chairman Oppah Muchinguri-Kashiri and National Commissar Lieutenant-General Engelbert Rugeje (Rtd), among others, sustained injuries.
The attack has claimed two lives and left 47 others, including a 14-year-old, injured.
Three patients are in the intensive care unit while three others had been transferred to Harare after their relatives made the request.
The terror attack comes just weeks before the harmonised elections scheduled for July 30.
President Mnangagwa has called it a cowardly act.
VP Chiwenga called the attack 'an act of terrorism' while Ministry of Agriculture, Chief Air Marshal Perrence Shiri (Rtd) warned the perpetrators.
In addition, the world has condemned the attack, adding that political violence will not be tolerated.
In a communique, the Bolivarian Republic of Venezuela strongly condemned the attack, saying they were, however, pleased to learn that President Mnangagwa was in good health.
"The Bolivarian Government is pleased to learn that President Mnangagwa is in good health and looks forward to the full recovery of those wounded during the attack," reads the communique.
Rwanda passed its heartfelt condolences to the Zimbabwean Government and the affected families.
"It is with deep sadness that the Government of the Republic of Rwanda learned of the horrific bomb attack at an election campaign in the city of Bulawayo that injured close to fifty people," said Rwanda in a press statement.
Namibia called for calm, respect and the rule of law.
"The President of the Republic of Namibia and Deputy Chairperson of SADC, H.E Dr Hage Geingob has condemned the June 23 2018 bomb attack blast in Bulawayo at a ZANU PF rally addressed by the President of the Republic of Zimbabwe, H.E. Emmerson Mnangagwa," reads the media release statement.
"Recalling and lauding progress made by Zimbabwe over the past few months, President Geingob called for calm, informed that political violence will not be tolerated in the SADC region and perpetrators should be brought to justice."
Addressing the presidential candidates at the signing ceremony, NPRC chairperson Retired Justice Selo Nare said it was incumbent upon all Zimbabweans to work together for the peace and development of the country.
"Today marks an important step in our nation as all of us come together to collaborate in our efforts to contribute to sustainable peace and development," he said.
"Peaceful elections are a key ingredient for long-term peace and development in the country and the NPRC has a key role to play in contributing towards this goal. Let us all work together for social cohesion and nation building. It is our responsibility as Zimbabweans to create a social compact for the future (sic)."
There has been multiple attempts on President Mnangagwa's life.
In August last year, he was poisoned at a Zanu-PF Interface Youth rally in Gwanda.
Recounting his last visit to Pelandaba Stadium, in the town, on Friday last week, President Mnangagwa said he had to be airlifted to a military hospital in Gweru en route to South Africa after eating poisoned ice cream at the rally addressed by former President Robert Mugabe.
Addressing about 20 000 Zanu-PF supporters at his first rally after the incident and his first at the venue as President and Zanu-PF First Secretary, President Mnangagwa said not a single person from Matabeleland South was involved in the attempt on his life.
"That was August 12 last year when I left here, I remember standing up, I was accompanied by Mohadi and others. I don't remember about the helicopter. I was told that the helicopter took us to Gweru, my wife told Chiwenga about what had happened and he came and took me to South Africa and I survived," he said.
"However, I want you to know that there is no single person from Matabeleland South who was involved in the matter, those who did it came with me from Harare," he said amidst loud cheers from the crowd.
President Mnangagwa survived another assassination attempt in December 2014 after unknown criminals broke into his Zanu-PF offices the previous night and laced his desk with cyanide.
The poisonous powder affected the VP-designate's secretary, Catherine Magaya.