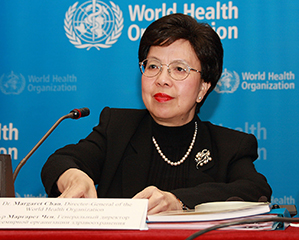 WORLD Health Day is celebrated on April 7 every year to mark the anniversary of the founding of the organisation in 1948.
This year's World Health Day runs under the slogan 'Small bite, Big threat'.
Each year a theme is selected that highlights a priority area of public health.
The day provides an opportunity for individuals in every community to get involved in activities that lead to better health.
Vectors are small organisms such as mosquitoes, bugs, ticks and freshwater snails that carry diseases from person-to-person and place-to-place putting one's health at risk in the home or during travels.
The World Health Day 2014 campaign focuses on some of the main vectors and the diseases they cause and what we can all do to protect ourselves.
Diseases such as malaria, dengue, Schistosomiasis, and yellow fever are preventable, yet they have the biggest impact on some of the world marginalised people.
More than half of the world's population is at risk of these diseases.
Earlier in the year a report issued by the Ministry of Health and Child Care (MoHCC) gave warning that malaria cases are on the rise.
The ministry reported that malaria cases that had dipped last year to 2 000 cases a week had risen to slightly above 10 000.
Malaria has always been the biggest public health problem and the commonest disease in many parts of Africa.
Malaria is a major health problem in Zimbabwe, although its epidemiology varies greatly in the different regions of the country.
Malaria is primarily transmitted during the rain season, from November to April.
WHO Director General Dr Margaret Chan says "simple, cost-effective interventions like insecticide-treated bed nets and indoor spraying have already saved millions of lives".
The World Health Organisation is highlighting the annual observance with information about the increasing threat of vector-borne diseases.
Schistosomiasis, (bilharzia) transmitted by water snails, is the most widespread of all vector-borne disease.
It affects almost 240 million people worldwide and can be controlled through regular mass treatment of at-risk groups with a safe, effective medicine and access to safe drinking water and sanitation.
With most of the areas in the country affected by water challenges it becomes important for residents to ensure they are taking treated water.
WHO says in the past two decades many vector-borne diseases have re-emerged or spread to new parts of the world.
Reports from Greece say that malaria has returned there for the first time in 40 years.
Mosquito-borne dengue is now found in 100 countries, putting more than 2.5 billion people – over 40 percent of the world's population – at risk.
Even though both dengue and malaria are mosquito borne diseases the type of carrier differs. Dengue is transmitted from an infected Aedes aegypti species of mosquito.
When mosquito bites an infected person becomes carriers and starts developing that virus inside the blood.
When it bites a person it gets transmitted. In malaria, the infection is transmitted via female anopheles mosquito. In general only female mosquitoes can transmit the disease by biting.
Another difference is Aedes aegypti will bite only during day time while anopheles bites in the evening or in dark conditions.
Dengue can only be prevented by protecting from mosquito bites but in malaria there are prophylactic drugs available to develop partial immunity.
Dr Lorenzo Savioli, director of WHO's Department of Control of Neglected Tropical Diseases, says, "increased funds and political commitment are needed" to sustain existing vector-control tools and to conduct urgently needed research.