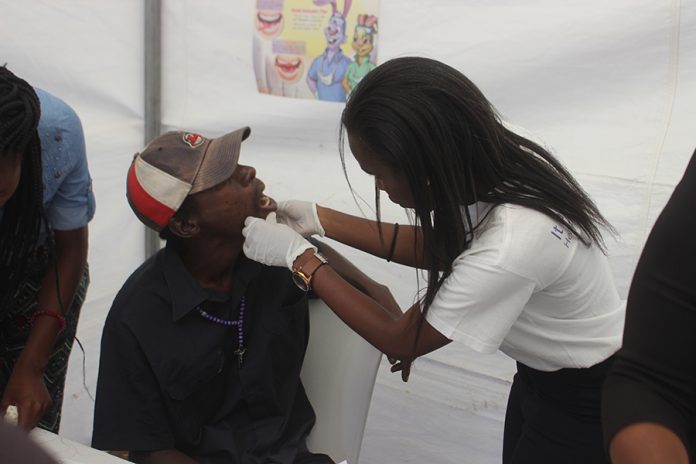 ZIMBABWE, through the Ministry of Health and Child Care (MoHCC), recently joined the rest of the world in commemorating World Oral Health Day with emphasis being placed on connecting oral health to general health.
The day is aimed at promoting awareness around healthy mouth and oral hygiene.
Oral hygiene is described as the practice of keeping one's mouth clean and free of diseases and other health problems.
A healthy mouth is a lot more than just pearly bright whites. The state of the gums, teeth and tongue together constitute the oral health.
Speaking at the event, Minister of Health and Child Care Dr David Parirenyatwa said good oral health often reflects good general health and well-being.
"Poor oral health can be the result, as well as the cause, of poor general health," said Dr Parirenyatwa.
"In Zimbabwe, in at each school's screening, a significant proportion have tooth decay (more than 30 percent) and at every community outreach more than 60 percent of the patients who turn up need a tooth to be extracted from them," he said.
He stressed on the importance of getting at least two dental checks in a year.
"Please have your teeth checked at least twice a year," said the Minister.
Dr Parirenyatwa said the country currently has 220 dentists in both public and private health institutions.
"There are 220 dentists in the country with most of them coming from private health institutions while Government's institutions have less than 100. We expect to have more in our central district hospitals so that the elderly and marginalised can get dental care easily,"
The Minister added that recent statistical trends point to a strong association between oral diseases and non-communicable diseases (NCD) like diabetes, cancer and cardiovascular diseases, among others.
Speaking at the same event, Harare City Acting Health Director Dr Clemence Duri said there has been a rise in patients seeking dental treatment.
"In 2017, we had 9 000 people who came to our clinics for dental treatment, showing a 55 percent increase and 50 percent for tooth extraction compared to 2016," said Dr Duri.
"This was attributed to enhanced outreach programmes."
World Oral Health Day was celebrated under the theme 'Say Ahh! Think mouth, Think health'.
The awareness day was set aside by the World Dental Federation to spread messages about good oral hygiene practices to adults and children.
Their goal is to raise awareness on the prevention and control of oral diseases since a healthy mouth allows one to speak, smile, eat, drink as well as perform other physical functions throughout life and can also boost social interaction and promote self-esteem.
On the contrary, an unhealthy mouth can cause discomfort, pain and disease leading to social isolation and lack of self-confidence as well as lost school or work days.
The World Dental Federation says 90 percent of the world's population will suffer from oral diseases in their lifetime.
Oral diseases take many shapes and forms, with the most common being tooth decay and gum disease.
If not properly managed, they can negatively impact the rest of the body.
General health conditions can also increase the risk of problems in the mouth.
For example, oral diseases are linked to diabetes, heart disease, respiratory disease and some cancers while having diabetes increases the risk of getting gum disease.
Tips to a healthy mouth
l Eat healthy
l Do not use tobacco
l Limit alcohol use
l Adopt good oral hygiene habits
The World Dental Federation notes that it is never too late to adopt healthy oral habits.
Healthy oral hygiene
l Brush twice a day
l Rinse with a fluoride mouthwash or chew sugar-free gum after meals and snacks (when you cannot brush)
l Clean between your teeth using floss
l Have regular dental check-ups
Preventative care is always the best option. Seek early detection and treatment to fight oral diseases and associated general health conditions
Here are some foods that you must load up on for shiny white teeth.
Apple
Apples are a great source of water and fibre that can help cleanse your dentures. It contains malic acid that boosts saliva production, hence removing bacteria from the mouth. Do not throw away the peels, the fibre in your apple is beneficial to your gums.
Carrot
Chewing crunchy and juicy carrots stimulate saliva production and helps neutralise the acids and enzymes in your mouth that cause harm to your enamel.
Strawberry
Strawberry may do wonders in maintaining oral hygiene. It is said that the ascorbic acid in the fruit can actually help in providing a brightening effect. They are power-packed with polyphenols which inhibit bacterial growth.
Nuts and Seeds
Nuts and seeds are slightly abrasive in texture and therefore help in removing plaque and stains from your teeth. Moreover, the essential oils they contain help in cleaning your teeth.
Citrus fruits
The high amount of vitamin C found in oranges, berries and lemons helps protect your mouth from bacterial infections.