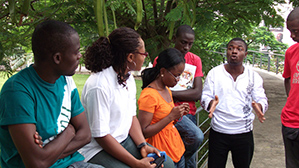 STATISTICS from the UNAIDS have revealed that the HIV prevalence rate in the country remains high among the youth, particularly ages 15-49 raising serious concerns among stakeholders.
The figure shows that at least 1,2 million people in the country who are 15 years and above are living with HIV.
A staggering 700 000 of the 1,2 million affected are women.
According to UNAIDS, the risk of becoming infected is disproportionately higher for girls and young women.
The regional HIV prevalence among young women aged 15 to 24 years, according to the figures stands at 4,8 percent, which is two-and-a-half times higher than among men of the same age.
In Swaziland, for example, 15,6 percent of young women are HIV positive, compared to 6,5 percent of young men.
The United Nations (UN), said in Zimbabwe, the situation is exacerbated by the high rate of unemployment in the formal sector which has seen a considerable section of the female youth population engaging in prostitution.
Pundits called for increased awareness campaigns to reduce incidences and achieve zero-infection.
"Evidence shows that adolescents and young people are less likely to be vulnerable to HIV when they are offered relevant gender-sensitive prevention information, skills and services in an enabling and protective environment," said a health expert, Tawanda Mangwiro.
"The much lower infection rate among adolescent girls is a promising sign for prevention efforts."
"This age group provides a 'window of opportunity' for halting the spread of HIV infection if younger girls are empowered with life skills and provided with a protective family and community environment," said a report from the UN.
In countries where national sex education programmes are widespread, social taboos were said to prevent youth from getting the message. 
For example, in the conservative and predominantly Muslim society of Zanzibar, talking about the use of
condoms is forbidden and is blamed for promoting promiscuity.
Young women and youth of both sexes living in rural areas are less likely to have such knowledge than young men and those living in urban areas research revealed.
However, the knowledge on HIV prevention is increasing among the youth in some parts of Africa.
For example, according to UNAIDS statistics, in Rwanda, the proportion of young women with comprehensive knowledge of HIV prevention rose from 23 percent in 2000 to 51 percent in 2009.
And in Zimbabwe, various preventative measures such as free HIV testing and circumcision for men were put in place to try to combat increased infections among the young population of the country.