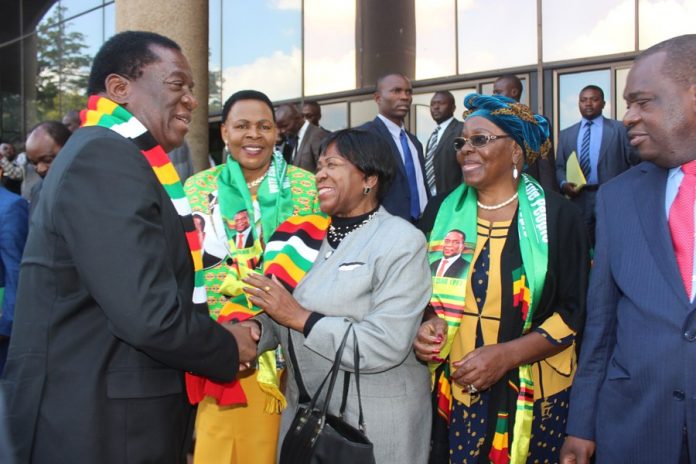 WARMTH from the sunny morning permeated the ZANU PF Main Hall, embracing and uniting the supposedly warring ruling Party primary elections contesting comrades.
The sense of unity and purpose made reported 'fissures', 'discontent' and 'simmering tensions' a fiction only present in the papers alleging such developments.
The primary elections came and went, with their fair share of controversy.
Some were understandably agitated.
That is the nature of any contest. The triumphant were visibly jovial, again another attribute of competition.
Still, ZANU PF stood as formidable as ever.
The ruling Party, true to form, did not and could not be wounded by the remnants of those highly subscribed primary elections. It was in fact strengthened.
It was democracy at play.
Wednesday's gathering of winning and losing candidates was not in any way a healing exercise.
It was a meeting for strengthening the Party, a coming together of like-minded comrades who are bound by the spirit of unity, peace and development.
This spirit was there on Wednesday in full force, with its mighty ready to spur ZANU PF to what should be an easy victory against the stuttering opposition.
It was the coming together of a ZANU PF that has found a new lease of life, a ZANU PF that has all but extinguished the raging inferno of last year that almost consumed it.
These flames have been doused in typical comradely fashion while another different flame was ignited on Wednesday.
A flame underpinned by goals and objectives of reviving an economy that had been brought to its knees by senseless bickering and haggling.
"This is ZANU PF," a young comrade, probably yearning for a better Zimbabwe which President Emmerson Dambudzo Mnangagwa has been labouring to build, shouted from the crowd.
Many, like the young comrade, have been dreaming of this Zimbabwe.
It does not look like a far-fetched dream any more. It is a reality that is within the nation's grasp.
There is a fundamental to keep in mind when unpacking Wednesday's meeting.
ZANU PF is not in this election to make up numbers.
It is there to form the next Government; to revive the economy; to make sure that everyone enjoys the fruits of the country's independence as an important stakeholder.
ZANU PF is there to form a Government that attends to the needs of the majority.
To run an economy that is a marvel to the region and continent while making an important statement that the 'Africa Rising' debate is no mere talk, it is a reality that will be driven by the next ZANU PF Government.
As ZANU PF members waited for the grand arrival of ED, the song and dance on display were that of a Government in waiting.
Never mind the antics that the country has been subjected to by excitable novices who are not hesitating to display childish behaviour, this is a serious election.
This is a serious country that needs serious hands and minds to run it.
It needs the coming together of positive minds who are driven by love for their country and its greater development.
Thus, all participants of the primary elections congregated to hammer home the point that this is not personal but about nationhood.
The task ahead is more significant, more crucial as it involves winning elections and building the nation, for the people.
The losing candidates were unanimous that when it comes to defending the nation and the Party, they would shelve their concerns and complaints and give their all for a ZANU PF resounding victory.
Addressing the delegates, President Mnangagwa said it is crucial for members to understand the Party's ethos.
"Kana munhu achiti i ZANU PF, achiti ndoda kumiririra ZANU PF, anofanirwa kupfuura nekubhabhatidzo yeku college (Chitepo Ideological School)," said President Mnangagwa
He said the Party is looking at constructing an ideal place for the college and revealed that funds had been secured for the project.
The Chitepo Ideological School, said President Mnangagwa must also see even the Party leader going through the mill "…because no-one knows everything."
"Mari yekuvakisa college yavapo, takawana kubva kuma China," he said.
"Tose nesu vakuru tinofanirwa kupfuura neku college nokuti hakuna anoziva zvose."
The ZANU PF President and First Secretary had words for the contesting comrades, specifically that no one is bigger than the Party.
"Hakuna akahwina, hakuna akaruza, tose tiri muZANU PF, uyeze umwe neumwe ane nguva yake. Chikuru ndechekuti uri muZANU PF, uri nhengo yeZANU PF."
President Mnangagwa said unity is critical in securing ZANU PF a resounding victory.
"When we are united, we become a force that will prevail over all the challenges that we face," said President Mnangagwa.
"We must preach unity, unity, unity, unity in ZANU PF. We are a mass Party, a Party with a history, a Party that represents the people. So from today, the campaign is on. From today we campaign for ZANU PF to deliver a resounding victory."
The President reiterated his message of no violence before, during and after elections.