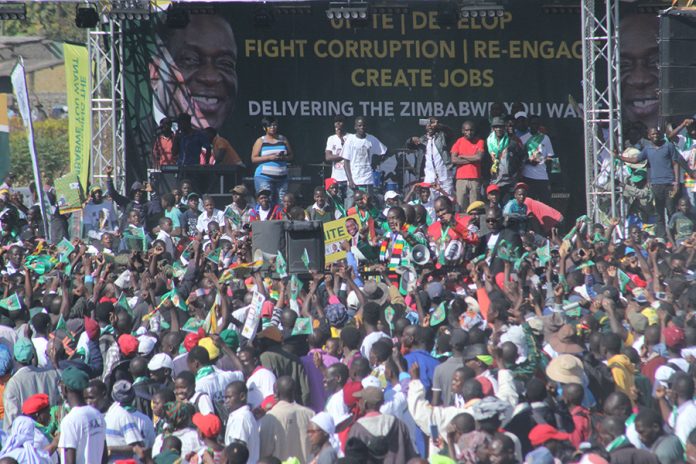 THE country's oldest city, Masvingo, came to a halt last Friday afternoon.
There was euphoria on the streets as the presidential motorcade passed, on its way to Mucheke Stadium.
Driving slowly through the crowds, President Emmerson Mnangagwa opened his window and acknowledged the cheering residents by raising a clenched fist (ZANU PF's emblem of power).
As he entered Mucheke Stadium B, the bumper crowd went 'wild'.
This was the first time he was adressing a rally in Masvingo as President and he was not disappointed.
"Kana kune zuva randichavata hope nderanhasi (If there is a day I will sleep peacefully, it's today)," he said, addressing the thousands of ZANU PF supporters.
The supporters formed a sea of people.
Said President Mnangagwa:
"I am happy, I am happy, I am happy to see such a big crowd. I do not know if there are any people left in the rural areas. The whole of Masvingo is here.
"I doubt that I will get a crowd like this elsewhere (at other rallies), I do not know if they will match Masvingo. Only Masvingo can do this."
One could not miss the deep Karanga and excitement in President Mnangagwa's voice.
After all, he was in his home province.
President Mnangagwa, who has a farm in Masvingo, is from Chivi District, but his family moved to Mapanzure, Zvishavane.
To the opposition, the ZANU PF crowd in Mucheke was too huge to match.
MDC-Alliance leader Nelson Chamisa considers Masvingo his stronghold as it is also his hometown.
He is from Gutu district.
However, his rally in Masvingo a week before attracted a smaller crowd.
But back to President Mnangagwa.
He urged locals to observe peace as the country prepares for fresh polls on July 30 2018.
"We want unity, unity; harmony, harmony, peace, peace, love, love," he said.
Victory, said President Mnangagwa, was certain, as he had supportive crowds to spur his return to State House.
"The power to rule comes from the people and these are the people (crowd)," he said.
"If you want to rule this country and you do not have such a crowd, how then would you rule?"
And the message for this election is simple, he said, economics come before politics.
President Mnangagwa had toured Mashava asbestos mine and the Cold Storage Company (CSC) plant in the city before addressing ZANU PF supporters.
He said the meat processing company will be operational by July 31 and will employ 500 people from Masvingo.
Masvingo is lined up for developmental projects that will modernise the city, create jobs and empower the locals.
Said President Mnangagwa:
"History has always been that Masvingo leads on unity.
"As from now onward, there will be a competition between provinces based on various developmental projects which would have been completed.
"The Beitbridge-Harare Highway has caused many deaths due to accidents.
"Contracted company Geiger International had no money.
"We are now looking at other companies and we are looking at their proof of payment.
"About 300 000 jobs will be created when the road starts to be rehabilitated.
"In mining, we have lithium at Bikita, we are introducing new investors who will partner Government in exploring the minerals.
"Minister Chitando must make sure that he walks the talk, if he doesn't do so I will relieve him from his duties.
"Diamonds in Sese, Chivi District, will be exploited after the elections as we are crafting a new diamond policy and we will start mining in September."
President Mnangagwa said there was scope to make Masvingo a net food producer taking advantage of the Tugwi-Mukosi Dam's vast irrigation potential.
He said the dam would increase the province's irrigation potential with over 25 000 hectares set to be transformed into a green belt.
"We already have fish in Tugwi-Mukosi Dam and in six months harvesting will start," said President Mnagagwa. "Poaching is now a cause for concern."
The President promised to compensate people settled at Chingwizi, an issue that had not been resolved in the previous dispensation.
He also urged Tongaat Hulett, the sugar producing giant, to co-operate with Government for the development of the region.
Said President Mnangagwa:
"We have sugar estates here in Masvingo province which are under Tongaat, there is an issue here on Tongaat Hulett, yes we need the company to continue operating here, but we also need our people to get small sugar cane plots so that they also grow sugarcane because the land is ours.
"We are talking to them because they must share the cake they are enjoying with us, they must use their capacity to open more land for irrigation because they have the capital and the machinery to do that and apart from that, developed land should be given to our people, they must not try to monopolise sugarcane farming and if they are thick-headed they should know we are thick-headed three-fold."
The warning comes as the Lowveld sugar producer has been entangled in a battle with indigenous resettled farmers over 4 000 hectares of the firm's sugar cane fields that were allocated to the latter by Government two years ago.