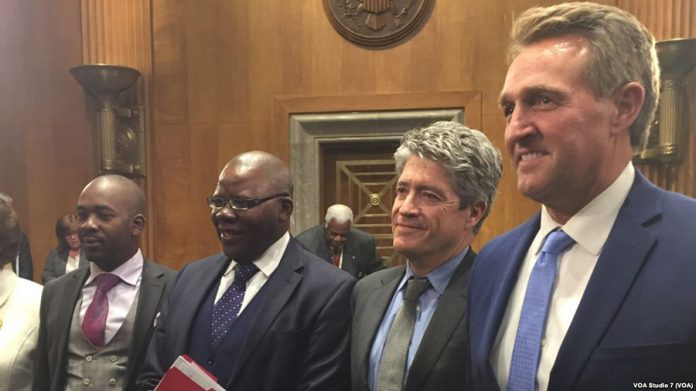 THE recent preconditions for re-engagement that came in the form of the proposed amendment to the draconian Zimbabwe Democracy Economic Recovery Act (ZDERA) of 2001 is testimony that Uncle Sam is unrelenting in his hostile stance against Harare.
It came as no surprise that the world's self-proclaimed 'Big Brother', the US, rolled out 'orders' to Zimbabwe as a precondition to 'mend broken ties' by making piecemeal amendments to the legislation that paved way for the US to impose illegal sanctions on the country.
It seems the struggle to oust ZANU PF from power has just been rejuvenated as the Donald Trump administration has chosen to forge ahead with their hostility that views Zimbabwe as a 'threat to American foreign policy'.
It remains a mystery how a 'tiny' landlocked country tucked away in southern Africa can be a threat to the world's so-called most powerful nation, if it were not for the natural resources the opposition are willing to forfeit for crumbs.
The US has an insatiable appetite for rare minerals which Zimbabwe has in abundance.
To the undiscerning eye, this was 'just the Americans enforcing democracy'.
Noticing that the new dispensation has struck the right chord with the people, both locally and internationally, it has become increasingly apparent that the West's vehicle for regime change is heading for collapse.
But Zimbabwe is a pricey target in the crosshairs of every large economy from the US, Russia to China, who are seeking to dominate the world economy.
No wonder the US has established a non-governmental organisation (NGO), American Friends Services Committee, which has been hosting workshops countrywide discrediting operations of Chinese companies in Zimbabwe.
One such workshop was held last month in Kadoma.
In addition, the Americans seem to have crafted a fall-back document, which ironically gives preconditions for re-engagement that chronicle the programmes Government has already embarked on in a bid to pave way for free, fair and credible elections.
Despite the work that is already being carried out on the ground, both the MDC-Alliance and their Western allies have pretended to be blind to the fact that it is Zimbabweans only who have the prerogative to institute reforms and manage their internal affairs.
No nation, especially a hostile one like the US, has the right to interfere with affairs of a sovereign state.
At international law, no country has the authority or mandate to craft policies for another.
A fortnight ago, two ominously coinciding events took place that are geared to influence the result of this year's elections; MDC-T leader Nelson Chamisa launching his Plan and Environment for A Credible Election (PEACE) as well as the US amending the draconian ZDERA of 2001, which has come to be known as the Zimbabwe Democracy and Economic Recovery Amendment Act (ZDERAA) of 2018.
The latter, despite being presented to the US' 115th Congress Second Session by Senators Jeff Flake (Republican) and Chris Coons (Democrat), both members of the US Senate Foreign Relations Committee, which was read twice, is a carbon copy of Chamisa's PEACE.
Even the diction of the senators looks like it was plucked out of an MDC-T rally speech.
Or is it the other way round?
For instance, senator Coons says: "After 37 years of suffering under the repressive rule of Robert Mugabe, the people of Zimbabwe should be excited about the possibility of a brighter future.
To ensure conditions throughout the country improve, the international community should insist on concrete actions from the new Government of Zimbabwe before lifting sanctions and renewing investment in the country."
A quick look at both documents shows that Uncle Sam is clearly the author of the MDC-T's manifesto, which party is doing its bidding.
On December 13 2017, the so-called MDC-Alliance representatives Chamisa and Tendi Biti, along with Dhewa Mavhinga, met US senators to apprise them on political developments in the country.
A few months down the line, the senators have reviewed ZDERA of 2001, promising to visit Zimbabwe soon to carry out meetings with 'top officials' and ascertain Government's compliance with the rules set forth in the revised legislation.
A statement prefacing the revised ZDERAA carries a condescending tone, a continuation of the West's idea of the 'horse and rider' relationship when dealing with African nations — the West being the rider and Africa the horse.
"This bill is intended to outline the US Senate's expectations of the steps President Mnangagwa and other leaders should take (How dare the US?). We look forward to visiting Zimbabwe, meeting with its top officials, and assessing (As who?) the steps they are taking to hold free, fair, and credible elections as well as to advance broader economic and political reforms to improve the lives of all the citizens of Zimbabwe (Tsitsi dzeyi tsvimborume kubvisa mwana wemvana madzihwa?)," says Senator Coons in the joint statement.
But do not be fooled by the word 'PEACE' as the nation stands on the cusp of watershed elections, the document eerily brings back the nostalgia of the 2000 and 2008 elections when the same MDC-T called on the US to impose stringent sanctions that made the Zimbabwean economy 'scream'.
A run-down of the demands put forth by the Americans is in order.
In summary, the US is advocating withholding funding to the African Development Fund; releasing BVR without cost, in both print and digital format and distributing it to all registered political parties who should endorse the same; selecting an independent election management body nominated by all political parties represented in Parliament; Diaspora vote; prohibition of the Zimbabwe Defence Forces (ZDF) to neither back any candidate nor intimidate voters; inclusion of foreign election observers including the US, African Union, Southern African Development Community and European Union; granting candidates of registered political parties free and equal access to state media; apologising for Gukurahundi disturbances, according civil society organisations permission to carry out voter and civic education, while monitoring the entire electoral process, among others.
Withholding funding for African Development Fund
According to the Zimbabwe Democracy and Economic Recovery Amendment Act of 2018, Section 4 (c) of ZDERA of 2001 is amended, among other things, to include adding a paragraph on withholding funding for African Development Fund, which reads as follows: "The US Government shall withhold funding for the African Development Fund equivalent to any funding provided to Zimbabwe through Pillar II for arrears clearance."
So, Uncle Sam, you have decided to tighten the screws on our sovereign state yet again and yet you want to blame us for decades of misrule despite coming out in the open that you will turn off the tap of financial inflows to our country as well as arm-twist us to empty our coffers to pay back your debts that run into perpetuity.
Do you think we are going to hire an expatriate actuarial scientist to explain to us the biting cash shortages we are currently experiencing after adopting your currency?
We have seen you doling out cash to your quislings, but surprisingly that money does not find its way into formal circulation, I wonder to what end?
Let me leave this point there for now.
Pre-election conditions
ZDERAA of 2018 sets the following pre-election conditions that include the following:
"An independent electoral management body is selected, the members of which should be nominated by all political parties represented in the Parliament of Zimbabwe, and permitted to entirely carry out the functions assigned to it in section 239 of Zimbabwe's 2013 constitution in an entirely independent manner."
But, 'Big Brother', are you not taking it too far?
Isn't there an independent electoral body already in place which is manned by individuals sympathetic to your worldview?
Are you scared that your 'blue-eyed boy' might be beaten fair and square, that you've gone on to blow a false-start whistle before the athletes have started warming up for the race?
There is need to mention here that Chamisa's PEACE goes to town about a flimsy accusation that Zimbabwe Electoral Commission chairperson Priscilla Chigumba was seen in the company of members of a political party on a recent trip to Russia to monitor the elections there.
Are these credible grounds to challenge capabilities?
Is it proper to frown upon someone's credentials which qualified her to occupy her esteemed position?
Surely Zimbabweans can read between the lines.
"The Defence Forces of Zimbabwe are neither permitted to actively participate in campaigning for any candidate nor to intimidate voters, and must verifiably and credibly uphold their constitutionally mandated duty to respect the fundamental rights and freedoms of all persons and be non-partisan in character."
Disclaimer: This argument is not an admission that the ZDF should play an active role in electoral processes, but it is not for the Americans to tell Zimbabweans what is enshrined in their own Constitution.
The Americans are the last people to talk about exclusion of the defence forces in electoral processes.
Clearly this is a case of 'do as I say, not do as I do.'
The rank and file of the US political leadership is legitimised only through indisputable military credentials, a sort of 'rule of thumb' that has been followed for generations.
Why should the Americans then come to dictate to us how we conduct our elections, particulary when they say:
''International observers, including from the US, the AU, SADC and the EU are permitted to observe the entire electoral process, both prior to, on, and following voting day, including by monitoring polling stations and counting centres and are able to independently operate in a manner enabling them to access and analyse vote tallying, tabulation, and the transmission and content of voting results."
Is this statement coming from the same US that has carved a reputation for barring international election observers from observing their polls?
It is a real wonder how this can be put forth as a pre-condition for re-engagement which makes it appear as if, as a country, we have not been doing just that.
Zimbabwe has already invited international observers including SADC and EU delegations, that have already visited the country and liaised with stakeholders to gauge the country's preparedness for the forthcoming elections.
However, Uncle Sam, let me make it categorically clear that we will not give you the opportunity to plant moles in our watertight system to discredit our elections.
Did you bother to invite us to observe your presidential elections? If not, who are you to impose yourself on us?
"Civil society organisations must freely and independently be able to carry out voter and civic education, and to monitor the entire electoral process, including by observing, recording and transmitting public-posted or announced voting results, including at the ward, constituency, and all higher levels of the vote tallying process, including through the conduct of one of more parallel vote tabulation exercises."
This is preposterous.
Uncle Sam, we have unmasked the machinations of your civic society organisations as the main proponents of regime change in Zimbabwe that for years have been milking donor funds promising to mobilise the masses against ZANU PF, siding with any opposition that claimed to be working to topple the Government through unconstitutional means.
Recently, The Patriot carried a story titled 'Shadows behind regime change' which chronicled Transparency International's funding of quislings such as Promise Mkwananzi of #Tajamuka, Stan Zvorwadza's National Vendors Union of Zimbabwe (NAVUZ), Samuel Wadzanai Mangoma's Vendors Initiative for Social and Economic Transformation (VISET) and Mfundo Mlilo's Combined Harare Residents Trust, among others.
In past editions, The Patriot has exposed how NGOs are the foot-soldiers of regime change proponents.
In Shona, the local elders have an age-old saying: 'Wanyangira yaona' (Your evil intentions are known).
Sense of Congress on past atrocities and human rights abuses
"It is the sense of Congress that the Government of Zimbabwe should take immediate action to unify the people of Zimbabwe by acknowledging that human rights have been abused, including during urban land clearances of Operation Murambatsvina, and the violence perpetrated in the wake of the 2008 election against the opposition and citizens of Zimbabwe."
The same amendment to the section goes on to order an immediate inquiry into the disappearance of human rights activists, namely Itai Dzamara, Patrick Nabanyama and Paul Chizuze.
Now that makes an interesting read.
Why would Americans become so engrossed in soliciting an acknowledgement of human rights abuses based on blown-out-of-proportion outbursts from an opposition that has continuously failed to wrest power through both constitutional and unconstitutional means?
The senators also presented that they expected the Government of Zimbabwe to start: "…undertaking a genuine process of national reconciliation up to and including acknowledging and apologising for atrocities in Matabeleland (Gukurahundi)."
Once described as a 'moment of madness', the Gukurahundi issue has been swept under the carpet for too long to only be resurrected for political expediency by opportunistic politicians who have, in the process, forgotten the plight of the victims.
No one seems to question the fictitious figure of 20 000 civilians reportedly massacred by the authorities, considering that the protracted liberation struggle which spanned more than a decade recorded approximately 60 000 deaths.
It is also mind-boggling how the US arrogantly chooses not to recognise the efforts made so far by the Zimbabwean Government to address the Gukurahundi issue, which includes the signing of a National Peace and Reconciliation Bill by President Emmerson Mnangagwa in January this year, giving legal clout to the National Peace and Reconciliation Commission, whose double-barrelled mandate is to bring closure to some of the past 'abuses', as well as creating a peaceful environment for Zimbabweans.
'Big Brother', surely by now you should have learnt to lead by example.
The black population that has been mowed down by your racist police force, who are 'surprisingly' almost always acquitted of their crimes, surely deserves an apology as well as compensation for the targeted 'stop and search'.
In all fairness, Uncle Sam, you should have made an effort to mask your intentions of furthering your regime change agenda. We know what you are up to.
We surely will be watching your agents as we inch towards the elections.
Remember, this is a Zimbabwean election and if you are not Zimbabwean, patiently wait for your invite.
It might just be in the mail unless the mailman loses it.