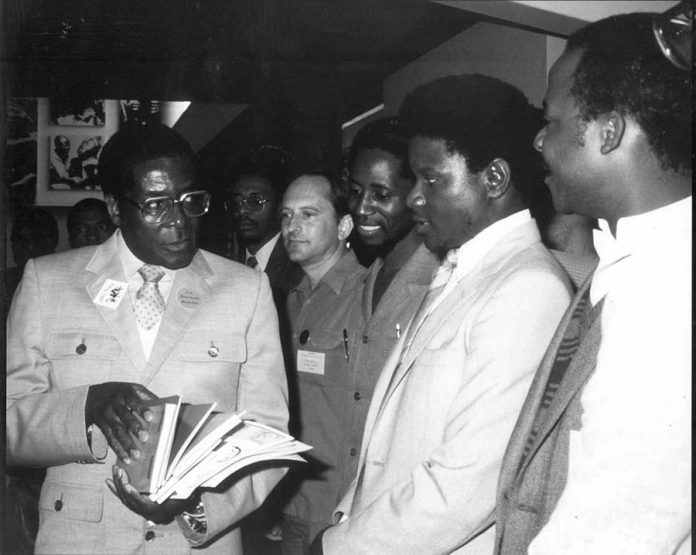 By Farayi Mungoshi
IN my endeavor to understand more about the Zimbabwe International Book Fair (ZIBF) as I was preparing my previous article, I found myself researching on the internet.
Imagine my surprise when I found nothing much on it except for a 1993 article, which reflected that the book fair started in 1983.
There were no names of the original founders or how it came about.
Even Wikipedia could not help.
I remember thinking: 'This is how our history gets lost'.
And half the time we blame others when they 'incorrectly' document our history, when they end up publishing information we deem derogatory towards us as a people.
Information about us, which does not in any way show the truth of who we are, where we came from or our capabilities, abounds.
At a time when we are remembering and celebrating our heroes and heroines, we are called upon to reflect on the fruits and outcome of the liberation struggle.
While others were in the bush fighting the war with AK47s and bazookas, others were in jail detained and suffering for the cause, others were at universities preparing to steer Zimbabwe to prosperity.
Which ever way we now look at it, we owe it to ourselves and our children to document what transpired back then so that we may learn from it and get more inspiration to continue working for the nation.
I was both disturbed, and encouraged, given the fact that my father, Dr Charles Mungoshi, is one of the founders of the ZIBF.
Disturbed, in that I could not find all the information I needed on the internet, given the fact that more and more people now prefer researching on the internet to going to the library or archives.
Encouraged in that, I got the opportunity to write and remind people how Zimbabwe became one of the countries in the world with the highest literacy rates.
I decided to call Phyllis Johnson, another of the founders and directors of ZIBF.
Thus I will be making references to her speech at the 2013 book fair when ZIBF turned 30.
In this speech, she gives the history of the ZIBF in detail.
It is only after reading the speech that one can fully understand, why it is vital that such information be made available to all of us.
It all started with a question posed by President Robert Mugabe (then Prime Minister of Zimbabwe) during a meeting in 1982 with David Martin and Phyllis Johnson (then directors at Zimbabwe Publishing House — ZPH).
The President asked what the new publishing house was doing about literature in French, particularly by authors from French-speaking Africa.
The directors, as recorded in an interview with The Herald on August 22 1983, elaborated further what Cde Mugabe meant when he said: "…that to increase understanding, co-operation in Africa, the barriers of language, be they inherited from the colonial era or indigenous, had to be bridged."
As a result, the French Government invited the three directors from ZPH to Paris.
Discussions were made and the end result was the formation of literary relationships that would see ZPH translating three French books by French-speaking African authors into English, one of them being, The Identity Card by Jean-Marie Adiaffi.
Later, the trio would go to London to participate in UNESCO's World Congress on Books.
It was there that the director-general of UNESCO, M. Amadou Mahtar M'Bow opened an exhibition called Book Week Africa.
A year later Book Week Africa would come to Harare after discussions held between the ZPH directors and UNESCO.
UNESCO paid for air freight of 1 400 titles (books) from London for Book Week Africa.
Hans Zell, the founding organiser of the only Book Fair in Africa then, Ife Book Fair in Nigeria, came in to act as a consultant.
He helped David Martin, Dr Mungoshi and the staff of ZPH (Taine Mundondo, Mavis Chirekeni, Liz Matavire, Lazarus Gandanzara, Nicholas Murove and others) to set up Book Week Africa.
The book fair was opened by Zimbabwe's first Minister of Education and Culture Dr Dzingai Mutumbuka who urged that the event be an annual event.
Thus Book Week Africa evolved into ZIBF.
Dr Nathan Shamuyarira, then Minister of Information, Posts and Telecommunications, was among those who saw to it that the vision inspired by Cde Mugabe's question be realised.
He chaired the organising committee.
Other members, in addition to the founders, included Dr Stan Made who was chairman of the Zimbabwe Library Associations; Father Plangger, the head of Mambo Press in Gweru; Christopher Till, director of the National Gallery of Zimbabwe and his deputy, Doreen Sibanda as well as Ashabai Chinyemba and Aaron Mudapakati.
Dr Bernard Chidzero's Ministry of Finance assisted with getting books into the country.
Different ministries were involved, all with the aim of strengthening the focus on books, learning and reading.
The ministers, along with the then Prime Minister Mugabe spent time at the book fair.
In her speech, Johnson said: "The book fair was conceived through a series of encounters, comments and suggestions leading to a vision that spread and gained momentum. But first you need to understand the context.
This country, Zimbabwe, was just three years old when the first book fair took place… The book fair and the workshops were richly subscribed from across the continent. The best books in Africa were on display."
Many internationals thronged the National Art Gallery in those days, to attend the fair.
I would like to believe that it is because of such collective effort that saw Zimbabwe become the literary giant it is today.
The late Toby Moyana from the Ministry of Education and Culture, was instrumental in Africanising the literature curriculum and ensuring students could study African writers and have access to books.
Thus it should not come as a surprise today when curriculum developers talk about Africanising the curriculum.
It is a journey that started long back and I believe that the end result will see a people not influenced by other cultures but rather proud of who they are.