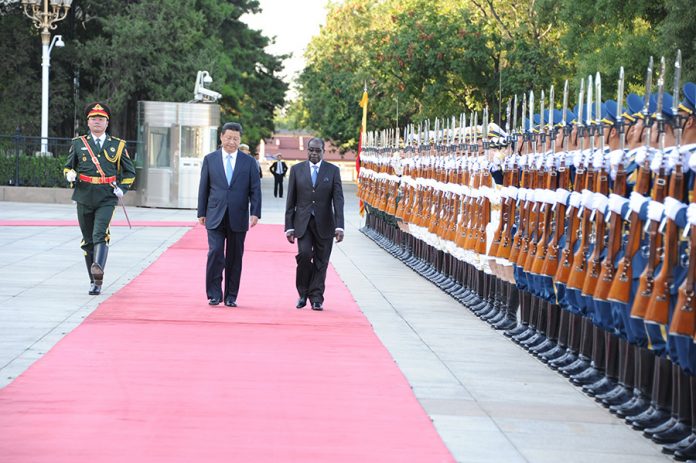 THERE are many things that bind Zimbabwe and China, but chief among them is the two countries' ideological principles and orientation which go back in time.
During the liberation struggle, ZANU, which was key in the defeat of the brutal Ian Smith regime, struck a cord with China, which saw some of its cadres such as, Fabion Shonhiwa, Edison Shirihuru, Jameson Mudavanhu, Thomas Ziki, Emmerson Mnangagwa and Lawrence Swoswe undergoing training in guerilla warfare in China's Nanking Military Academy.
The first group set out for China on September 22 1963.
The six-month military course included political ideology and military science, with greater emphasis on military intelligence.
In the early 1970s, China sent military instructors to train ZANLA cadres at Itumbi Training Base in Tanzania. (Martin and Johnson, 1981)
China was thus one of the main backers of Zimbabwe's struggle for independence, chipping in with arms and technical expertise as well as laying the ideological foundation that guided the country's nationalists.
The decision to wage armed struggle against the colonial regime was to correct, chiefly, an imbalance in land distribution which saw a handful of white farmers controlling the majority of the prime land, with the majority black population relegated to barren 'Tribal Trust Lands'.
As the guerillas took to the bush, they extolled the maxims embodied in the song 'Nzira Dzemasoja' adapted from Chairman Mao Tse Tung's military doctrine 'Three Rules of Discipline and Eight Points of Attention'.
In China, Chairman Mao's doctrine was developed as the code of conduct guiding the Chinese Red Army, but it was later adapted as the basis that informed the guerillas' interaction with the masses in Zimbabwe during the liberation struggle.
The lyrics of 'Nzira Dzemasoja' show how liberation fighters viewed the masses as the water, which the guerillas as the fish needed for their sustenance and to achieve their objective.
The opening lyrics to the song state:"Kune nzira dzemasoja dzekuzvibata nadzo, tererai mitemo yose nenzira dzakanaka" (There are ways in which soldiers must conduct themselves, follow these rules in a proper way).
"Bhadharai zvamunotenga nenzira dzakanaka, mudzorere zvinhu zvose zvamunenge matora" (Pay for everything that you buy in a good way, return everything that you take), part of the song states.
As articulated in the song, the three rules of discipline required first and foremost that Party leadership adheres to orders promptly, and secondly, that the freedom fighters need to respect the property rights of the masses to gain their confidence and trust, and thirdly to return any property appropriated for the sake of advancing the struggle.
Ideologically, Zimbabwe has always looked up to China as a shining example of how homegrown solutions can spur a nation forward.
This is important for China's relations with Zimbabwe precisely because the interests of the Zimbabwean state have coincided with the policy interests of the Beijing leadership.
In 1978, as Zimbabwe's liberation war was approaching a crescendo, something interesting was taking place in China.
"On the evening of November 24 (1978), a group of 21 yellow-skinned, gaunt farmers crouched around the dim light of a kerosene lamp in a small thatch-roofed hut.
They met in secret, in a village called Xiaogang Production Brigade of Fengyang County, Anhui Province (China).
Their faces were haggard, they wore old rags, but they were solemn and dignified as they pressed their fingers into red ink and then placed their fingerprints on the documents before them.
Each man swore that he would rather go to jail or be killed than carry on under the existing system.
They agreed to split up the fields by household and cultivate the plots on their own.
This agreement was to be later placed in the Museum of Chinese Revolution (now part of the National Museum of China) for safekeeping.
It is considered the 'first shot' in China's agricultural reform." — Wu Xiaobo, China Emerging: How Thinking about Business Changed.
The passage above describes the decision by the first group of Chinese farmers to make a conscious decision to address the land question in their country after realising that productivity on farms had fallen drastically to the extent farmers could no longer live off the land.
Xiaogang Village had earned itself a reputation as a 'village of three dependencies' because the peasant farmers:
– depended on Government subsidies of grain for food
– depended on financial assistance for necessities
– heavily depended on loans for ongoing production
Despite receiving these above-mentioned subsidies, almost all the farmers in the village had to scrounge for food every fall harvest, and this forced them to 'take matters into their own hands' when they decided to institute a system they called 'da-bao-gan' which entailed that each family took responsibility of a particular portion of the village land.
This system, initiated in Xiaogang Village, would later be upheld as the model followed by villages throughout China after they recorded, for the first time in decades, a bumper harvest that enabled them to forward 'public grain' to the government as well as pay off some of the debts they had accrued.
Noticing these developments, Wan Li, the First Secretary of Anhui Provincial Party Committee at that time, extolled Xiaogang Village's exploits as the model to be followed throughout Anhui Province, a system referred to as 'Household Contract Responsibility System'.
The decision taken by the Xiaogang peasant farmers is similar to the decision taken by Zimbabwe's Government in year 2000 when it embarked on the Fast Track Land Reform and Resettlement Programme after its liberation struggle stalwarts had lamented the land imbalance which persisted two decades after independence.
Zimbabwe took the bold step of leading the pack in Southern Africa, reclaiming their prime land from a handful 4 000 white settler farmers and redistributing it to more than 400 000 indigenous black households.
Government took a step further by bolstering the farmers' efforts to increase productivity on their pieces of land with the introduction of Command Agriculture last season, which has seen farmers smiling all the way to the bank this fall season as they realised a bumper harvest.
Despite having been slapped by illegal sanctions by Britain and her allies, the European Union and the US in 2000, China has consistently backed Zimbabwe's efforts to claw out of an economic quagmire brought about by the ruinous economic sanctions.
In 2014, President Robert Mugabe, at the invitation of Chinese President Xi Jinping, went to China on a State visit which saw President Mugabe brokering the signing of mega deals in key sectors supporting the Zimbabwean economy; aviation, telecommunications and infrastructure development.
In 2015, President Xi visited Zimbabwe and, along with his Zimbabwean counterpart, witnessed the signing of 12 landmark mega-deals — two of which were private sector driven.
Bidding farewell to President Xi, President Mugabe said Zimbabwe will always be a true friend of China.
"The Chinese and Zimbabweans are excellent friends, friends not just today, friends that have established their friendship back and our future will always be on the path of that. We're all-weather friends," said President Mugabe.
"But now our friendship is now much more than that — there being those economic agreements where China will assist Zimbabwe to develop economically. We want to thank you for that generosity. We shall always be friends forever and we should consolidate our friendship."
It is not the scale of the Chinese economy or the size of its population that makes China significant in the world economy, but the country's rich and diverse heritage, unique socio-cultural systems and distinct ways of thinking devoid of foreign interference which have made China the superpower it is today.
Delivering a lecture titled 'Strategies of CPC rule over China', Zhejiang Normal University Professor Zhang Genfu averred that since the founding of the People's Republic of China in 1949, the Communist Party of China (CCP) has been working to build the economy.
"In the mid-1960s (1966), China had a Cultural Revolution which resulted in 10 years of chaos," said Professor Zhang.
"The Chinese economy almost ground to a halt, and what made it worse was that it was nearly closed to the outside world. The CCP, in this context, started to work towards reform for future development.
"Thus in 1980, the CCP embarked on the Three Step Strategy for Chinese development. The first step was to double GDP to feed the population, and this was supposed to take place in 10 years' time," said Professor Zhang.
In 1980, China's GDP per capita was US$200, which was way below the Poverty Datum Line (PDL), which meant the bulk of the population was hungry, thus disgruntled.
By 1990, the GDP, according to Professor Zhang, was around US$500, which was above the PDL, but still the CCP resorted to double GDP again to ensure that the population lived well off. This was the second step of the Three Step Strategy.
Thus the period from 1991-2000 saw GDP per capita increasing to above US$1 000.
The strategy saw China setting on a fast development track and by 1995, two steps of the strategy had already been completed, which saw the CCP coming up with a fresh Three Step Strategy.
The 15th Congress of the CCP in 1997 resolved to double GDP by 2010 on the basis of levels reached in 2000, which translated to completion of the building of socialist market economy.
To date, total GDP per capita has gained significantly, now topping US$8 000 from the US$200 in 1978.
The CCP aims to build a larger economy and better systems by 2021, the 100th anniversary of the party.
On December 4 2015, President Xi addressed the opening ceremony of the Johannesburg summit on China-Africa Cooperation – 'Open a New Era of China-Africa Win-Win Cooperation and Common Development'.
He said China and Africa share a common future.
"In the new era, we should carry forward the traditional China-Africa friendship and translate the strengths of our traditional friendship into driving forces to boost solidarity, cooperation and development. To build China-Africa's comprehensive strategic and cooperative partnership, China will implement 10 cooperation plans with Africa in the next three years," said President Xi.
Guided by the principle of government guidance, businesses being the major actors, market operation and win-win cooperation, these plans aim at addressing three bottleneck issues holding back Africa's development, namely inadequate infrastructure, lack of professional and skilled personnel and funding shortage, accelerating Africa's industrialisation and agricultural modernisation and achieving sustainable self-development.
Improvements in the living standards of the Chinese have largely been attributed to high levels of education.
While the Cultural Revolution had seen massive closures of educational institutions, when it ended in 1976, most of the schools that had been closed were re-opened, and this was followed by a nine-year compulsory education policy in cities and rural areas.
At present, China boasts of an enrolment of six million university students annually, and a total enrollment of 23 million students in universities, including doctorates.
"Improvements in the Chinese economy have been mainly due to the exploits of the education sector, which is credited for creating a high-speed rail network reaching every big city, which they are working on to reach 350km/hr," said Professor Zhang.
"We also have new projects in the offing which include a new big airplane, deep diver submarines and a new super computer (the fastest in the world with chips built by the Chinese). The strength of our growth has been because we have learnt from the West, but also have found a way to learn from other nations' experiences based on our own needs."
China's powerful government, despite ensuring consolidation and cohesion of power, emphasises stable development informed by the needs of the people.
People need to be willing to reform in line with government's objectives, otherwise there would be social upheaval.
Zimbabwe, though following a similar path, has fallen prey to the obtrusive hand of the West.
In September 1980, a few months after attaining independence, President Mugabe came up with the 'Education for All' Programme that has resulted in the country's literacy reaching over 90 percent, the highest in Africa.
Author of The Decline of the West, Oswald Spengler, notes that individuals perform the duties arranged by the inevitable forces of history; those who are willing participants lead the way, while those who are not willing are simply dragged along.
Zimbabwe has made bold steps to lead the way in the SADC region, but its efforts have mostly been frustrated by Western forces that have continuously thrown spanners at the country's noble efforts.
As next year's general elections draw nearer, pundits, especially from the opposition have suggested that it is high time the country opens its doors to foreign political influence to save what they call a comatose economy.
So fervent have been the calls that in recent months, militant opposition groupings such as Tajamuka/Sesijikile have had brushes with law enforcement agents as they agitate for regime change, resorting to violence and destruction of property in a seemingly unending search for an elusive tipping point.
Unlike in China where the CCP is the ruling party whose efforts are bolstered by what are called participating parties — which include the Revolutionary Committee of the Chinese Kuomintang (RCCK), China Democratic League (CDL), Chinese Peasants' and Workers' Democratic Party (CPWDP), among others — in Zimbabwe, there is an avalanche of opposition parties that oppose Government policies for the sake of opposing.
Local political parties seem to be obsessed with wresting power from ZANU PF more than advocating nation building.
Every small political party that has expressed interest in running in the polls has not brought forth any significant programme for nation building.
It is an open secret that ZANU PF, which has been guided by the ethos of the liberation struggle, is a party hated by the West because the programme guiding it, which is people-oriented, has no room to accommodate Western exploitation.
The current Government, like China, is determined to develop and have an economy rooted in the masses and not outside forces.
Zimbabwe's so-called opposition parties have a lot to learn from China's participating parties, ruling is not about occupying positions of power.
Zimbabwe has all it requires to become a superpower, all that is needed is for everyone to fully appreciate and coalesce around the fact that Zimbabwe will be built by Zimbabweans.
The Chinese have an effective tried and tested model, they have not forced it on any nation in the world like the West that is forever prescribing this and that for Africa.
It will be worthwhile to pluck one or two of the Asian giant's strategies.