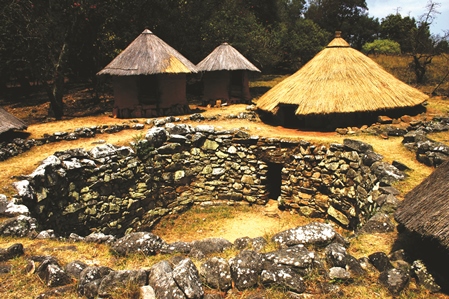 THE Zimbabwe Agenda for Sustainable Socio-Economic Transformation (Zim-ASSET) remains a vital beneficiation tool for minority communities who previously could not benefit from resources in their own villages, as donor driven programmes milked them of their resources.
In colonial Zimbabwe, minority communities were considered primitive and development projects by-passed them.
They were only exploited as tourism objects where their traditional crafts, pottery and cultural artifacts were massively looted by gullible collectors to European countries.
Their music was recorded and films were made out of them.
A few dollars and portions of food were thrown at them as payment in exchange for their rich cultural heritage.
Zim-ASSET was crafted to achieve sustainable development and social equity anchored on indigenisation, empowerment and employment creation which will be largely propelled by exploitation of the country's abundant human and natural resources.
In Zimbabwe the main minority cultures include the BaTonga in the Zambezi Valley the Shangani, in the Lowveld, the Kalanga on the southern fringes of the border with Botswana, the Sotho in parts of Matabeleland South, the Venda further in Beitbridge, the Nambya in Hwange and Victoria Falls.
These communities have a rich cultural heritage that has not been fully exploited by the country in terms of tourism development hence their exploitation by a few individuals who realised the tourism potential of these communities.
However, with Zim-ASSET these communities can now take advantage of their full potential and benefit directly from their arts, crafts, traditional knowledge systems and other facets of their culture to develop their communities.
Through the 'Results-Based Agenda' which is built around four strategic clusters identified as: Food Security and Nutrition; Social Services and Poverty Eradication; Infrastructure and Utilities; and Value Addition and Beneficiation, minority communities should take advantage of community-based tourism as well as unlocking the value of natural resources under the 'Value Addition and Beneficiation Cluster'.
The value addition and beneficiation strategy is anchored on the private sector and communities themselves taking a key role in the execution of the activities around their communities.
There are a lot of cultural and historical sites and other places that can unlock tourism revenues for rural communities, but failure to market the places has led to the deterioration of such places, which if managed carefully can bring advantages to local communities through generation of income for locals through jobs in tour companies and the selling of souvenirs and local delicacies to tourists.
Although there are several challenges faced by many communal areas such as the remoteness and inaccessibility, the lack of sufficient funding for the high quality infrastructure demanded by the luxury tourism sector has become a major hindrance.
In addition, some areas are not suitable for game viewing or the lack of secure land tenure and prohibitive costs of building basic infrastructure for tourism such as roads, accommodation, and telecommunications.
On the whole community-based tourism, is a new field of tourism, and since each project will need to be tailored to local priorities and tourist attractions, various different systems are being tried out in different parts in the Southern African Development Community.
Communal lands have many attractions to offer and tourists already enjoy nature tourism, white water rafting and canoeing, viewing of rock paintings, rock climbing and bathing in natural hot springs.
Some other forms of tourism include trophy hunting which is considered the ultimate eco-tourism in Southern Africa, and is especially important for rural communities in Zimbabwe, which earn significant revenues from foreign hunters.
Hunters tend to travel in smaller numbers, and are usually satisfied with more basic amenities than other tourists, so they have less damaging impact on the environment, while paying higher fees.
Leasing hunting concessions to professional safari operators is the most common and successful way that rural communities can gain immediate profit from sharing their land with dangerous wild animals.
This also helps in minimising human and animal conflicts in communal areas.
Rural communities could also benefit from bird watching.
There are over 600 species of birds in Zimbabwe and most of these are in rural areas.
These range from paradise flycatchers to fish eagles and ostriches.
This could be an innovative project which can emphasise the spiritual and cultural significance of certain bird species and rural communities would greatly benefit from offering bird watching tours.
Cultural tourism is another area that could be greatly exploited.
Zimbabwe has a rich diversity in culture that ranges from the BaTonga, the Kalangas, the Shangani, the Venda and many other minority groups that are not benefitting anything from culture tourists.
Cultural tourism benefits tourists who would experience the local cultures of different tribes through sharing traditional foods, music and lifestyle.
The more adventurous version involves tourists staying in mud and rondavel huts, eating local dishes, and trying their hand at traditional tasks such as grinding millet, farming, fishing and mat making.
Storytellers entertain visitors with local tales and visitors can enjoy tribal dancing, drink millet beer and partake in local festivities.
However, in order to achieve this, rural communities will need clearly defined secure access to their natural resources, as well as technical assistance to successfully design and manage community-based tourism.
The introduction of the 'Township Tourism Initiative' last year by the ZTA is another commendable initiative and should open other avenues for the dormant community rural tourism in Zimbabwe.
The concept is modelled around the South African Model in Soweto where there is booming Township Tourism.
The properties targeted under the initiative are houses used by the late Vice-President, Cde Joshua Nkomo, former ZANU leader Hebert Chitepo and ZANU founder Enos Nkala.
Highfield, where President Robert Mugabe has a house was chosen as the location of the tourism project because of its historical significance in the struggle for independence in Zimbabwe, just like Soweto's historical role in South Africa's struggle against apartheid.
The beginning of this initiative should be used as a benchmark to develop rural-based tourism which has proven to be common in some rural communities in Southern Africa where communities are managing lucrative tourism ventures.