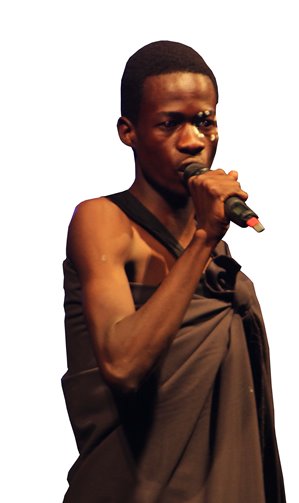 THE euphoria which has been created by the top genre of the moment, Zim Dancehall, has left many with tongues wagging some of them sceptical about the developments in the music fraternity.
Over the past five years, a legion of dancehall artistes, who rally under the banner "ghetto youths", have churned out countless tracks which have been motivated by their everyday experiences which range from drug abuse in the ghetto, their aspiration to rise up the social ladder, and the hardships they face in the highly competitive music industry.
Zim Dancehall artistes managed to paste their names on the national entertainment calendar after outclassing international acts at most live shows staged locally.
Recently, man of the moment Tocky Vibes upstaged (and perhaps came to the rescue of) Jamaican chanter Kalado when fans threw missiles at him after putting up a shoddy performance.
While it is fast becoming the norm that international artistes will disappoint on the local front, Zim Dancehall artistes have claimed their dominance by outclassing these "over-rated" foreign artistes and perhaps leaving us with the question that if given the proper guidance and support, will our artistes not perform better than the international acts?
Rather it is not a question of whether they will perform better for they already have but whether their fortunes will be transformed.
While they deliver much better performances they have not been able to accumulate wealth comparable to that of their international counterparts.
Dancehall kingpin Winky D has made a name for himself after sharing the stage and in most cases out-performing foreign artistes like D'Banj, Bebe Cool, Beenie Man, Elephant Man, Sizzlar and Capleton. Winky D shifted a gear up as he cleaned his lyrics to appeal even to the mature, while introducing a live band to back up his instruments.
Transit Crew, one of the oldest dancehall groups in the country with a reputation of churning out socially-responsible songs has always backed their reggae vibes with live instruments.
Because of their successful exploits, high riding artistes that now eke a living from Zim Dancehall include the likes of Guspy Warrior, Seh Calaz, Soul Jah Love, Killer T, Sniper Storm and the likes of Godfather Templeman.
But what gave birth to the genre called Zim Dancehall?
Zim Dancehall is the local version of dancehall music which was popularised by the Jamaican duo of drummer Sly Dunbar and bassist Robbie Shakespeare, affectionately known as Sly and Robbie in the '70s, according to Wikipedia. Sly and Robbie boast of more than 200 000 recordings under their belt, which they recorded under their music label Taxi Records.
The duo were the first to digitalise reggae in 1976 when they introduced a harder beat which became known as 'Rockers'. In the '80s they came up with 'Rub a Dub', before producing music for Chaka Demus and Pliers of the 'Bam Bam' and 'Murder She Wrote' fame.
Since the reggae beat was inspired by music from Africa, the motherland, African artistes have had a strong link with reggae music during its transition.
One school of thought has linked the rise of Zim Dancehall from the trials and tribulations faced by the Zimbabwean people over the past two decades, which has resulted in the birth of a genre which has taken the nation by surprise.
If one were to go down memory lane and trace the emergence of the artistes performing Zim Dancehall, this is the generation which was born around the 1992 drought which was worsened by ESAP and were born into a world where they had yellow maize porridge which we called 'Kenya'. Most of their parents had been retrenched and they had troubled childhoods in the ghettos such as Chitungwiza, Mbare, Budiriro, Mabvuku, Mufakose and Rugare.
They were heavily influenced by the 100 percent local content production policy introduced by Information Minister Jonathan Moyo in 2000. Hence local acts had a strong bearing in building their love for music. This is the same generation which was affected by the sanctions regime which were at their worst in 2008.
The gateway to escape poverty is either through sport or music, and the music road has found many takers. In order to maintain an established legion of fans, one needs to constantly belt out chart toppers, which explains why Beenie Man, Elephant Man and Sean Paul continue to rock the airwaves.
Just like in any other genre, success, if it gets to your head, can destroy an otherwise promising career. Remember the Bundu Boys, one of the most promising groups to come out of Zimbabwe whose band members succumbed to the ills of stardom and perished.
While the Zim Dancehall artistes have created a community of followers, the artistes have drawn their fair share of controversy. Those with a bone to chew with Zim Dancehall have cited the lack of creativity, lurid lyrics, use of CD backtracks and a general lack of direction in their approach to music as well as lack of professionalism.
In search of answers to the question whether Zim Dancehall was going to live up to its billing and stand the test of time, Patriot Arts carried out a snap survey from people of various age-groups to solicit their independent analyses on the progression of dancehall.
Founder and artistic director of Sound Africa and former police band member Watson Chimombe, who recently returned to Zimbabwe after a short stint in South Africa, said most Zim Dancehall artistes lacked support in nurturing their music talent.
"I am currently working on a project to support Zim Dancehall artistes to introduce live instruments, which Sound Africa Sound System will be providing," said Chimbombe.
"I have arranged with a number of former police band members and we are currently rehearsing instrumentals on the most popular Zim Dancehall 'riddims'. So far, Guspy Warrior and Tocky Vibes have expressed keen interest and we are still convincing other artistes to rally behind the idea."
Tafadzwa Murwisi from North Ridge in Bulawayo said he appreciated the efforts being made by Zim Dancehall artistes but it was unfair to compare them to yesteryear greats.
"Zim Dancehall artistes need to improve their lyrical construction in order to appeal to punters from across the board. However, with the majority of the songs featuring nonsensical lyrics one wonders if at all this genre, at any point in time, will topple the lyrical waxing of yesteryear greats such as the legendary Leonard 'Musorowenyoka' Dembo, Chimurenga music guru Thomas Mapfumo, Marshall Munhumumwe, Oliver 'Tuku' Mtukudzi and more recently Leonard 'Karikoga' Zhakata," said Murwisi.
"The moment one starts throwing around big names and starts comparing these accomplished artistes to the budding musicians who are still trying to find their groove, in essence one would have successfully thwarted their progress because the comparison assumes that the accomplished musicians at one time were once upcoming musicians. Besides, comparing two divergent genres which appeal to different audiences simply doesnt work."
For those who are old enough to remember, who would have thought that Tuku or Mukanya would last the distance.
Proponents of the Zim Dancehall contend the genre must not be dismissed and that only time can be a fair judge.