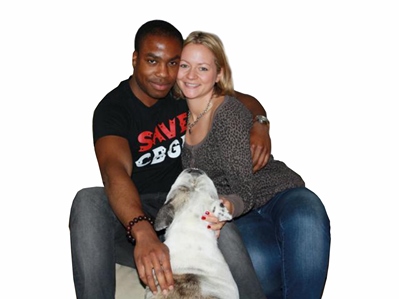 FOLLOWING incidents of domestic abuse with some leading to homicides, many Zimbabweans in the UK, both men and women, say they now fear getting into serious relationships with fellow Zimbabweans.
Others are opting to date across cultures (whites, Arabs, and other Africans especially).
It gives them peace of mind, they say.
A few prefer remaining single; and engaging in short-term relationships just for physical satisfaction.
But by so doing they also risk getting STIs including HIV which is very high within the Zimbabwean community.
In February this year, scientists reported discovering a new strain of aggressive HIV in Cuba, which progresses into AIDS within three years; warning that some people who get the CRF19 may even become sick (with AIDS) before they even know they have been infected.
In September this year some leading newspapers in the UK reported a new strain of drug-resistant, or 'super-gonorrhoea', in North England, also sparking a national alert.
But a few Zimbabweans I spoke to about relationships, say they won't be persuaded to get into serious relationships simply because of these health risks.
"We grew up in an era of HIV and AIDS, so there is nothing new here.
"If I get it, I would have been unfortunate.
"HIV or gonorrhoea, it's just a question of luck.
"Unfortunately many Zimbabweans, men and women, have been in very abusive relationships that they don't care anymore about getting into serious relationships.
"Most prefer 'no-strings attached' relationships," a 42-year-old Zimbabwean male from Coventry, UK, told me over the phone yesterday.
He too has been in an abusive relationship.
He was abused by his ex-partner so much that he doesn't see himself getting married again.
"Most women here in the UK know that in cases of domestic violence, the law is always on their side," he said.
"They are protected by the law.
"One 999 call to the police, the man is gone.
"You will be removed from your home, you will be restricted on how many times you see your children.
"Once you get a criminal record that's it.
"It becomes difficult to get a job.
"I would rather be involved in these no strings-attached relationships than commit myself to an abusive relationship.
"Unenge uchitonyatsoziva kuti ndichibuda mumba kuenda kunight shift, Peter arikupindawo.
"Anorara ari panight shift yemumba mako.
"But what can you do?
"So bad are Zimbabwean relationships that we now have to cope with promiscuity."
He said it's not good to kill someone because you find her with another man, or just because she wants to leave you and move on.
Another 48-year-old Zimbabwean man, also single because his wife left him for another man, says it's not worth it to get married again.
"It's better to get a companion, someone with her own children," he said.
"I have my own kids though I don't live with them.
"So if you have someone who has children of her own, she won't want to have more kids with you.
"Kids will tie you together and create more problems. Childcare etc. you will be forced to pay child support (maintenance) when you break up.
"The social and economic environment of this country is not good for marriages.
"It's conducive for loose relationships, or companionships."
But a 60-year-old Zimbabwean man (North London) whose wife of 19 years left him for a much younger man, thinks otherwise.
"I am not going to put myself in a situation that compromises me again because of these women in the UK," he said.
"I made a mistake by marrying a much younger wife back then in Zimbabwe. We lived together happily in Zimbabwe, but I would like to believe that she was cheating on me when we were in Zimbabwe.
"Only that she was dependent on me financially and she concealed her dirty acts.
"I came here in 1998 and brought her here a few years later.
"She was working in a care home, same like me.
"Because she was earning her own money and was financially independent, she began to show her true colours.
"I caught her red-handed with a man she grew up with, they had even dated each other before I married her and I didn't know.
"I thought he was just her home-boy.
"Apparently she had brought this guy to the UK behind my back.
"He was living in the same area as us so you can imagine what was happening behind my back.
"I caught them together, in an intimate position. I just walked away.
"I could have lost my temper and killed her, but I just walked away.
"I came back later and she had gone to live with her lover, leaving me with the custody of our three children.
"I am raising up my children as a single-dad and I am happy.
"The children hate their mother, but I will never give up on getting married again.
"I will go to Zimbabwe and find a mature woman, a divorcee or widow.
"I believe that I had married the wrong person.
"I won't engage myself in no-strings attached relationships.
"They are too risky and that's why a lot of men end up killing their lovers."
However, a lot of Zimbabwean men I spoke to said they would never think of going to find new relationships in Zimbabwe.
They would rather deal with what they have here.
"You bring a wife from Zimbabwe and once she gets accustomed to the culture here, she will leave you. No ways. It's better to deal with what we have here," a 42-year-old man from Coventry said.
When I came to the UK in early 2000, I could not understand why most Afro-Caribbean men, some in their 60s and 70s, had preferred to remain single.
They would have a few children with a few 'baby-mothers' (as they call them) here and there, yet they would never, or had never got married to any one of them.
One Jamaican man in his 60s told me, it is because "the UK is a 'Queendom' and not a 'Kingdom', the women rule here, not the men, you see, that's why a lot of enlightened men opt out of marriage."
Zimbabwean men must learn to walk away from relationships that have gone bad than to kill their women; because the outcome is life in prison, yet they could just have walked away from 'trouble' like the 60-year-old man in North London.
Nonetheless, no-strings attached relationships are just too dangerous.
The Diaspora has its own social challenges.