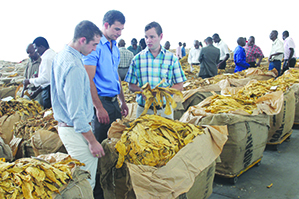 ZIMBABWE's tobacco has remained popular on the international market despite spirited efforts by the West to tarnish the image of indigenous farmers who are now the chief producers of the crop.
Previously white commercial farmers dominated the golden leaf.
Following the Land Reform Programme in 2000, the number of tobacco growers has continued to increase as more resettled farmers realise the sector's lucrative returns. Before the Land Reform Programme about 4 000 white farmers occupied the country's prime land.
However, after the programme was implemented, over 400 000 black households acquired land.
According to the Tobacco Industry and Marketing Board (TIMB) 97 560 farmers have registered to grow the golden leaf, up from last year's 77 604.
Mashonaland West province has the highest number of growers with 34 228 followed by Mashonaland Central with 28 648 while the least number is in Matabeleland, with 10 growers.
Zimbabwe exports 98 percent of semi-finished tobacco products, with the rest consumed locally.
Countries such as China, United Kingdom, the United Arab Emirates, Indonesia, Germany and Belgium are some of the importers of Zimbabwe's tobacco.
In Africa, Zimbabwe's tobacco is sold to South Africa, Angola, Malawi, Tanzania, Lesotho, Botswana and Congo.
Statistics indicate that last year tobacco worth more than US$1 billion was exported, surpassing US$800 million worth of tobacco exports in 2012.
To date, since the start of the marketing season the country has earned US$81 million from over 26 million kilogrammes (kg).
Of the 26 million kg, 14, 8 million kg, valued at US$54 million, have so far been exported with the bulk going to Belgium followed by China.
Belgium has imported 3, 3 million kg and China 1, 8 million kg.
Farmers have been urged to take advantage of the demand for locally produced tobacco to improve on quality and increase the quantities they produce.
A farmer based in Macheke, Tony Mumera said local growers should know that even before they plant the crop, they already have a ready market.
"Our tobacco is popular for its high quality and competitive flavour," he said. "This is because we have the best climate that produces that type of tobacco which has a unique flavour used for blending purposes."
China, which started importing tobacco from Zimbabwe in the 1980s has remained the country's biggest buyer having bought 46,3 million kg worth US$359,9 million at an average price of US$7,76 per kg last year.
Traditionally China was interested only in the pale-to-lemon coloured tobacco produced mostly under irrigation in the Highveld areas of Marondera, Wedza, Beatrice and Harare South.
However, in the past 10 years, China widened its scope to include all quality tobacco that is produced in Zimbabwe.
Belgium was the second largest importer having bought 22 million kg worth US$114 million at an average price of US$5, 15 last year.
South Africa was the third largest importing 17 million kg worth US$56 million at an average price of US$3, 36.
Mumera said tobacco production was a potential 'sanction buster.'
The agriculture sector is expected to grow by nine percent pushed by tobacco.
"Even with the sanctions in place they have not stopped buying our tobacco so if we as farmers can continue to produce more we will always have a market thereby contributing meaningfully towards economic growth," Mumera said.
"We notice a trend that every start of the tobacco marketing comes with the easing of the liquidity crunch.
"When tobacco farmers get paid for their product, they quickly use the money to purchase inputs, food items, clothes and other accessories and money quickly trickles down."
Tobacco Sales Floor managing director, James Mutambanesango concurred with Mumera.
He urged farmers to continue working on improving the quality of the golden leaf.
"Every tobacco farmer has the potential to sell their crop at favourable prices and this can be achieved by improving on quality," he said.
"By improving on quality and quantity the farmer and the country both benefit."
The marketing of tobacco, Mutambanesango said, guaranteed the country of foreign currency injection.
"What happens during the marketing of tobacco is that every buyer has to have their own foreign currency they bring through the Reserve Bank which is then given to banks operating at the auction floors," he said.
This season, 20 Class A buyers were licensed by TIMB up from the 16 licensed last year.
As the number of tobacco growers continues to increase it is hoped they realise their worth and continue to play a pivotal role in growth of the economy.
Tobacco contributes 20 percent of the Gross Domestic Product (GDP).
The sector accounts for 40 percent of exports and supplies 63 percent of raw materials for agro industries.