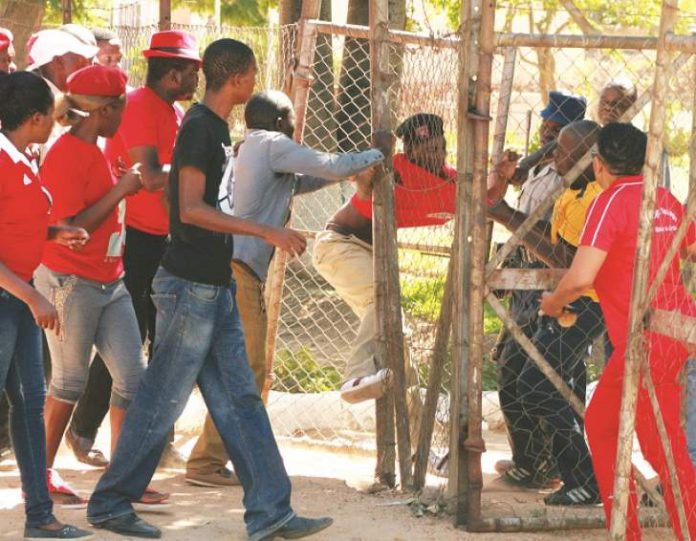 IT would seem violence has become the MDC's calling card and over the past few weeks, the number of internal political violence victims in that party has grown.
Last week I pointed out that one of the key factors that contributes to the conferring of a free, fair and credible election status by observer missions is the political environment obtaining in a country four-to-three months ahead of an election.
The 2013 harmonised elections received the requisite checkmarks because there was a marked change in the political environment which was a stark difference from the contested 2008 elections that ended in a run-off.
If Zimbabwe were to ride on the successes of the 2013 elections, this would surely send further positive signals to the outside world that the country is ready to be part of the international community.
In an essay on the political violence cycle, Andrew Little and S. Harish noted that: "Holding elections has a direct effect of increasing levels of violence close to the voting, as this is when electoral violence can influence political outcomes. Precisely for this reason, elections also have an indirect effect of decreasing levels of violence at all other times, as parties can wait for the election when their efforts are more likely to succeed.
The direct and indirect effects generate a 'political violence cycle' that peaks at elections.
However, when the indirect effect is larger, politics would be more violent without elections.
When elections also provide an effective non-violent means to contest for power, they unambiguously make society more peaceful while still generating a political violence cycle."
Little and Harish's observations can partially explain what is presently transpiring in the MDC.
Calls for a congress, due to the death of party leader Morgan Tsvangirai, are being silenced through violence.
An election could produce an undesired outcome for those who control what can only be called a well-organised militia.
It is this militia which, over the years, has assaulted, threatened and intimidated all those who opposed or challenged Tsvangirai.
Nelson Chamisa seems to have inherited this well-oiled militia.
The danger with any militia, especially a youthful one, is that it will always be on the prowl.
Once dissenters such as Thokozani Khupe are silenced, the militia is likely to turn its sights on the general populace.
If the threats, intimidation and abuse on the ground as well as on social media are anything to go by, Chamisa's supporters have laid the groundwork for what can only be a violent campaign this election season.
A violent election would be a dent on a ZANU PF win, while the likes of the US are likely to ignore the violence if it coming from the MDC as it is already shown that it supports Chamisa.
In a July 2004 article, Rigging elections with violence, Ashish Chaturvedi noted that in most developing countries, political parties spend a substantial fraction of their resources in attracting voters through ideological exhortation as well as force.
He presented a model of political contest between two parties that compete in two distinct arenas though the goal of the contest in both arenas is the same — to garner more political support.
In the first, which is called 'ideological', the contest involves no use of force.
In the second, which is called 'conflictual', party activists use violence either to force ideological supporters of the competing party to vote in their favour or deter them from voting.
He concluded that a party with lower initial political support will resort to more political violence, ceteris paribus and as the fraction of undecided voters goes up, elections will tend to be less conflictual.
Again, these observations find ground in the Zimbabwe situation.
The use of violence by the opposition should not be seen as just a move to influence the elections outcome.
Violence can be used to rig the political and governance structure of a country.
The MDC was an amalgamation of trade unionists, student activists, academics and white farmers who all had one goal – to remove former President, Robert Mugabe, from power.
How this was going to be done has always been a cause of conflict in that party.
In the last few years, academics have been talking about a national transition authority, while Tsvangirai and others were talking of a coalition to dislodge ZANU PF from power.
With Tsvangirai now gone, it is the likes of Tendai Biti, Ibbo Mandaza, Chamisa and the social media activists who are now driving the agenda in the opposition camp.
The one thing that brings them together is the notion that elections will not produce the desired result and the way to go is make the country ungovernable such that Government resigns and some form of transitional authority takes over.
The recent application by the likes of Linda Masarira seeking to challenge the legitimacy of President Emmerson Mnangagwa, the continued call for sanctions by the likes of Chipo Dendere on the back of similar calls by Biti and Chamisa, with the latter recently saying he could boycott this year's election, all lay a background to the conclusion that the opposition is not sincere when it comes to calls for an even playing field and, for them, elections are the last resort.
In the case of the intended constitutional challenge, I, for one, am puzzled by what Masarira intends to achieve exactly — outside of getting donor money.
If the Constitutional Court says President Mnangagwa's rise to power is illegitimate, then what?
Do we go and dust off former President Robert Mugabe from the retirement shelf?
Obviously not.
These same activists probably see this as another 'gap' to push for a transitional authority or caretaker Government.
A 'clean' ZANU PF win would solidify President Mnangagwa's standing with the international community, except the US which has made its position clear.
The current narrative which seeks to delegitimise him through threats of boycotts, constitutional challenges, blatant lies and accusations cements the unholy relationship between the dominant part of the US establishment that directs that country's foreign policy and the MDC.
It is quite telling that US diplomats who have served in Zimbabwe are calling for a cessation of hostilities, while Zimbabweans and the US academia, which focuses on African politics, are in support of the sanctions regime.
As I pointed out two weeks ago, US foreign policy is being shaped by a cartel of scholars and politicians whose links span from before Zimbabwe attained independence.
However, hope is not lost; with a US president who is in the habit of offending and bulldozing his way, traits that have seen him having few friends on the international scene, ZANU PF has a greater chance of gaining more friends in Europe on the back of President Donald Trump's ruinous foreign policy thrust.