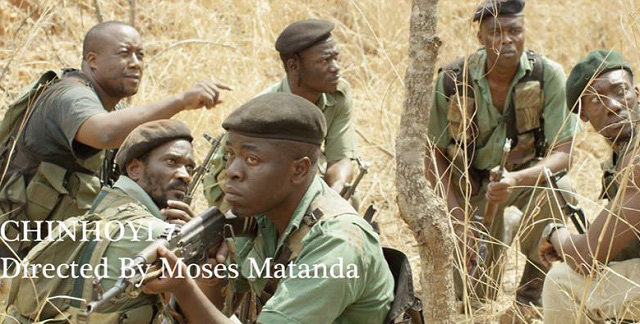 By Farayi Mungoshi
THE long awaited movie, Chinhoyi 7, finally premiered last week at Ster Kinekor in Borrowdale, in Harare.
It's been four years since the making of the movie and it comes at a time most film-makers and journalists were doubtful it would ever come out as the makers of the movie had previously postponed a premiere which was set for March earlier this year.
The war movie is based on true events surrounding the 1966 Chinhoyi Battle in which seven freedom fighters selflessly fought against a tyranny that was set on seeing Zimbabwe remain a colony forever.
Unlike most of the film reviews I often write for The Patriot, today I will not go into detail concerning the making of the film or the story.
I will not talk about the star-studded attendance by musicians or actors, among many others, but I will talk about the debate the film has managed to provoke in as far as the film industry in Zimbabwe is concerned.
Is it fair that Chinhoyi 7 got so much support in comparison to other movies done in Zimbabwe?
To begin with, I do not recall a single movie in Zimbabwe's film history that managed to draw the attention of such a high office as that of the President.
Permanent Secretary in the Ministry of Defence and War Veterans Affairs Martin Rushwaya spoke on behalf of the VP Dr Constantino Chiwenga, praising the film.
Although Chinhoyi 7 is not the first war movie in Zimbabwe after Flame, it is a first that chronicles a story based around true events concerning the liberation struggle, our history and the sacrifice made by our predecessors for an independent Zimbabwe.
I am not surprised that the Zimbabwe Defence Forces (ZDF) took an interest in it.
If I were Tawanda Sarireni (Chinhoyi 7 producer) or Moses Matanda (director), I would have done exactly the same thing.
I would have approached ZDF with my idea and asked for assistance.
Before I delve into explaining further about where I am coming from with this story, let me shed a bit of light on how Chinhoyi 7 became a subject of debate among fellow film-makers after its glitz and glamour premiere on Friday June 1 2018.
Since the days of John and Lousie Riber, never has a movie been so publicised.
The Chinhoyi 7 trailer got ZBC advertising coverage, which I must say most film-makers today can only dream of as it is also quite expensive.
The film also got featured and advertised in many newspapers. Before the premiere, it was already on most people's lips.
Everyone was waiting to see the outcome, albeit for different motives of course.
While others were excited about it, others' motives were to watch and find negative things about the much-hyped movie.
Remember some even made a mockery of the whole production when it postponed the March premiere.
One of the reasons for such talk was also the fact that everybody who had seen the trailer saw that it was quite an ambitious attempt, which, if successful, would raise a bar in the film-making industry.
When the movie finally got premiered, it filled up six cinemas, a feat never achieved in Zimbabwe before and by Tuesday the film was still being shown at Ster Kinekor which is something we had forgotten is possible in Zimbabwe.
Why do I say so?
Let's take a look at a few films that have been premiered at Ster Kinekor recently, Tete B by Joe Njagu, Overspill and, not so long ago, Adoration Bizure's Deception.
All these movies only got to premiere but did not continue showing at the movie houses afterwards.
I am sure there are other movies I have not mentioned that also just premiered.
As a film-maker, one would be forgiven for citing favouritism.
How is it that Chinhoyi 7 got such mileage!
Obviously some would try to politicise the whole issue and say it is because it's a war movie.
My first question would be: If you were Matanda or Sarireni with such an idea, what would you have done?
Would you have just written the story and sat down at home with it knowing well that there are people out there who might have an interest in it?
While I am not much of a producer myself, I also know that one of the main rules as a film producer is never to use your own money to do a film but rather to go out and look for resources and funding.
Why?
Because film is a gamble, you win some, you lose some.
Now, who would want to put his/her own money on a project one is not sure would rake in profits?
And if your film can help shape the way people can positively view their nation, like the Americans have done, then is that not a plus on your side?
And as the ZDF, would I honestly want to pass up such an opportunity to be associated with such a feat?
Film-maker Beauty Tsuro was right in her interview when she said Chinhoyi 7 can be used as a template to push for Government's support when it comes to film.
If you have been following my articles through the past couple of years, you will notice how I have repeatedly said that film can be used to build a nation and this is one way in which this can be achieved.
We have, for many years, failed to get the attention of Government in as far as film is concerned to such an extent we have very famous actors and celebrities who have nothing to celebrate because the industry has failed to generate income.