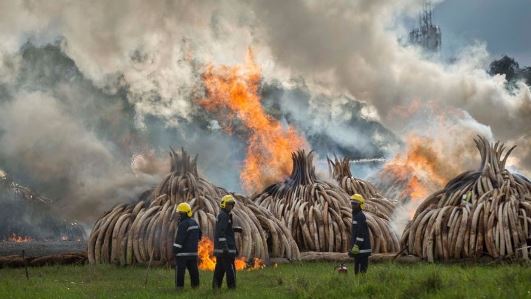 By Gamuchirai Munyawiri
ZIMBABWE has embarked on a campaign to mobilise regional countries to lift the international ban on ivory trade amid revelations the country has huge stockpiles at its disposal.
It is reported the country has more than 70 tonnes of ivory in its stock piles.
Currently the country cannot sell ivory as it is a signatory to the United Nations (UN) Convection on International Trade in Endangered Species of Wild Fauna and Flora (CITES).
Global trade in ivory is prohibited although CITES permits a one-off sale of national stock piles.
The one-off sale for Zimbabwe was only in 1999 and 2008 and since then, the country has been piling its stocks.
Continuous storage of ivory stocks has proven difficult given the high rise of illegal traders of ivory in the country.
Kenya recently burnt its 105 tonnes of ivory stocks worth US$29 million on the black market in protest against the illegal trading of the resource.
Zimbabwe voluntarily adhered to the CITES convention since 1981.
CITES is an international agreement among governments.
Its aim is to ensure that international trade in specimens of wild animals and plants does not threaten their survival.
For many years, CITES has been among the conservation agreements with the largest membership, now standing at 182 Parties.
The agreement was drafted as a result of a resolution adopted in 1963 at a meeting of members of IUCN (The World Conservation Union).
The text of the Convention was finally adopted on July 1 1975.
States that have agreed to be bound by the Convention are known as Parties.
Although CITES is legally binding on the Parties – in other words they have to implement terms of the Convention – it does not take the place of national laws.
Rather, it provides a framework to be respected by each Party, which has to adopt its own domestic legislation to ensure that CITES is implemented at international level.
Before a Party can sell ivory, it has to be approved by CITES.
But the question is: Why do countries like Zimbabwe have their hands tied by such regulations?
Some have even suggested that countries with largest populations of elephants should have the biggest voting power over such cases.
Others opine the country should sell its ivory to locals as this will aid the country in raising the much needed income for the conservation of wildlife and bring in revenue.
The president of the Chief's Council, Chief Fortune Charumbira, said it is important that rural communities within Zimbabwe be involved in the trade as they can generate revenue.
He said this would benefit the country largely as some people will use the ivory as ornaments for decorating their homes.
The local selling of ivory can also help mitigate challenges like unemployment.
Commercial uses of ivory include the manufacture of piano and organ keys, billiard balls, handles and minor objects of a decorative nature.
In modern industry, ivory is used in the manufacture of electrical appliances, including specialised electrical equipment for airplanes and radar.
If exported, it can also help bring income that will help address the current cash crisis in the country.
There is huge demand for ivory in Asia averaging 13 tonnes per year.
However, in some environmental spheres there are fears that opening the trade for ivory would lead to an increase in poaching and extinction of animals.
Elephant and rhino poaching has been on the rise in Zimbabwe, with poachers using cyanide to kill the endangered species.
Last year, the killing of Cecil the Lion by an American trophy hunter Dr Walter Palmer made headlines and caused a global outcry.
But the Minister of Environment, Oppah Muchinguri-Kashiri, recently told Southern African Development Community (SADC) representatives that the trade ban is of no relevance because the ban has been there for the past 40 years, but the endangered rhino is still on the verge of extinction.
She said there was no tangible evidence that a trade ban has managed to save the species.
"It is rather unfortunate that certain member-states of the CITES are using it as a platform to stifle economic growth of developing countries such as Zimbabwe through unwarranted wildlife trade restrictions," said Muchinguri-Kashiri.
She said Western countries which have put a ban on the importation of elephant and lion trophies from producer countries which host 83 000 elephants and a sizable rhino population were violating CITES regulations.
"This is being done outside the original spirit and the intentions of CITES" she said.
Asked on whether Zimbabwe is contemplating burning of its stocks, Muchinguri-Kashiri said Zimbabwe would not take the Kenyan route.
"To us, burning ivory like what Kenya did is not an option as we need the funds for sustainable wildlife conservation," she said.
"It is my hope that SADC will speak with one voice at Conference of Parties (COP) 17.
"SADC should unite in defending our right to sustainably use natural resources to back up our regional economy."
Zimbabwe has already submitted a proposal to COP17 to address the annotations affecting the countr's ivory trade.