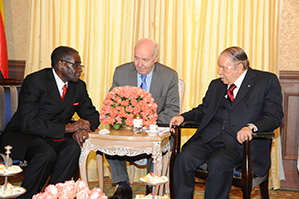 Recently in Algiers, Algeria
"We are pushing for joint venture projects with Algeria, joint venture projects with a country we know. We know your past and you have been very consistent. We trust you." – President Mugabe.
THERE is a disturbing impression that President Robert Mugabe's foreign trips in his capacity as President and Chairman of the Southern African Development Community (SADC) and the African Union (AU) are mere joy rides.
Last week he was in Algiers, Algeria, on a three-day State visit following an invite by Algerian President, Abdelaziz Bouteflika, but back home, the so-called private media were screaming, 'Globetrotting Mugabe flies out again!'
Yet in Algiers, it was clear from the deliberations that President Mugabe was selling Zimbabwean programmes that will benefit all Zimbabweans, negotiating projects that will secure long-term solutions to the country's so-called 'ailing' economy.
For example, there are energy deficits in the country when methane gas is lying idle in Lupane.
It is said Zimbabwe has about 40 trillion cubic feet of recoverable gas in the Lupane-Lubimbi area, while others say the gas deposits in Lupane could supply the country with power for the next 5 000 years, but what is needed is the expertise and technology to exploit.
This will improve power supplies not only in the country, but in the region and in the process, the country could generate revenue through exports.
Algeria on the other hand is the sixth largest exporter of natural gas and has the world's 10th largest natural gas reserves.
With their expertise and technology, President Mugabe engaged them in order for the country to fully utilise this dormant, but crucial resource.
The friendship between Zimbabwe and Algeria dates back to the days of the liberation struggle.
Briefing journalists after meeting President Mugabe at one of the state villas in Algiers, the Prime Minister of Algeria, Abdelmalek Sellal said his country was determined to strengthen bilateral relations with Zimbabwe.
"We are very determined to reinforce cooperation between our two countries as we share a long history."
Algeria is interested to partner Zimbabwe in areas of infrastructural development, particularly construction of dams, setting up irrigation systems, construction of hydro-electrical units and exploitation of coal and methane gas.
Sellal said a high powered delegation will be coming to Zimbabwe this month.
The team will be comprised of experts in energy, industrial technologies and trade.
Sellal said public and private companies from Algeria would exhibit at the forthcoming Zimbabwe International Trade Fair (ZITF) to be held in Bulawayo from April 28 to May 2.
According to Presidential Spokesperson, Cde George Charamba, the Zimbabwe-Algeria Joint Commission that had been inactive for about five years is set to be activated and the commission will meet in Algeria in October this year.
Algeria has a vibrant agricultural sector although the economy is driven by petroleum and gas exports.
Farmers concentrate on wheat, barley, oats, grapes, olives, citrus fruits, fresh vegetables, sheep and cattle.
The country's proximity to the Mediterranean Sea has seen it prioritising irrigation development, an area which Zimbabwe needs to improve on in order to avert recurring droughts.
Therefore, Algeria's assistance in this field will no doubt go a long way in improving agriculture in Zimbabwe.
Algeria, as one official said, is a 'smoking country' and Zimbabwe being a tobacco producing country could realise immense benefits by dealing with Algeria.
According to a senior government official, Algeria is interested in partnering Zimbabwe in order to set up a tobacco processing plant in Zimbabwe.
"Turning tobacco into cigarettes will enhance the value of tobacco more than five times in its raw state," he said.
Addressing Zimbabwean students on university scholarships in Algeria just before returning to Harare, President Mugabe said this is no longer the era of simply 'planting and exporting' or digging minerals and exporting.
He said it was important for Zimbabweans to add value to their natural resources in line with the country's economic blueprint, the Zimbabwe Agenda for Sustainable Socio-Economic Transformation (Zim-ASSET).
Value addition and beneficiation, said President Mugabe, were the core of Zim-ASSET.
"We have reached a level of development of no longer just digging for gold and planting seeds to get tobacco or cotton," he said.
"We need to go beyond that now, process the minerals, process the cotton to get cloth and clothes, value addition.
"We need to make Zimbabwe our own."
There are currently over 300 Zimbabwean students on scholarships in Algeria studying Geology, Pharmacy, Biology, Medicine, Engineering, Commercials and Biotechnology among other programmes.
Foreign Affairs Minister, Cde Simbarashe Mumbengegwi, the Minister of Industry and Commerce, Cde Mike Bimha and other senior government officials accompanied President Mugabe to Algeria.
They were welcomed in Algiers by Zimbabwean Ambassador to Algeria Edwin Mandaza and Algeria's Speaker of the Council of Nation, Abdelkadar Bensalah among other government officials.