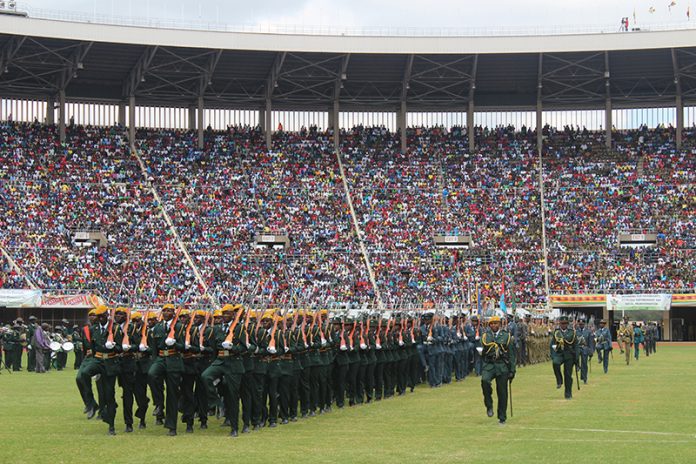 IN a few days we will be commemorating our independence, paying homage and remembering the freedom fighters and all those who gave up their lives so we would again be a free people.
We should not forget the pain that our forebears endured for us to exist in a free country as a self-determining people.
It is important to remember that no nation is a heaven and immune to challenges as well as suffering.
We have experienced bruising economic years.
But this made us stronger.
As a country, we must be motivated as we undergo the pains and troubles in the process of making a glorious Zimbabwe.
We must strive to do something for Zimbabwe.
What can you do for your country?
We must pay homage to mother Zimbabwe and take vows to defend her all the time.
We must all bind ourselves to the service of the motherland.
Thirty-seven years ago, we got our independence and made a pact with destiny.
At the stroke of midnight when the world sleeps, on April 18 2017, Zimbabwe will awake to life of 37 years of freedom.
A moment comes, which comes but rarely in history, when we step out from the old to the new, when an era ends, and when the soul of a nation, long suppressed, finds utterance.
When the nation shakes the poverty off and basks in the glory of our own wealth.
When we share a testimony of how we conquered the blood-dripping sanction-givers.
It is fitting that at this solemn moment we take the pledge of dedication to the service of Zimbabwe and to the still larger cause of humanity.
Yes, we have suffered, but we have made it this far and we will make it that far.
Through good and ill-fortune we have never lost sight of our quest or forgotten the ideals which give us strength.
We look back 37 years and count our losses and gains.
Yes we have had gluttons and vultures in our midst but we have survived and will continue to.
The achievements we celebrate today are steps to greater triumphs.
Are we brave enough and wise enough to grab the opportunities we have?
We have taken our land.
We now have our minerals, we have our country; and yes, we cherish our freedom.
But good living is not free, we must as individuals invest our sweat and blood.
Freedom and power come with responsibility.
Before the birth of freedom, we endured all the pains of labour and our hearts are heavy with the memory of this sorrow.
Some of those pains continue even now.
However, the future beckons and it is bright.
We have some who abuse our freedom; they do not know the opposite of freedom.
The absence of bondage is celebrated on the great independence day.
We have to labour and work hard to give reality to our dreams.
Zimbabweans have travelled the world and have gained experience which, if harnessed, will make our nation a shinning star.
Our people must unite. This is no time for petty and destructive criticism, it is not time for ill-will or blaming others.
This is the time for coming together to fight in the same corner.
The appointed day has come — the day appointed by destiny — and Zimbabwe stands forth again, after a long struggle; awake, vital, free and independent.
We rejoice in that freedom, even though challenges surround us, this is only temporary and will soon pass.
Freedom comes with responsibilities and burdens. We have to face them in the spirit of a free and disciplined people.
We shall never allow the torch of freedom to be blown out, however, high the wind or stormy the tempest.
No one must reverse our gains.
We must never forget the unknown volunteers and soldiers of freedom who, without praise or reward, served Zimbabwe — some unto death.
The future beckons to us.
We have hard work ahead.
There is no resting for any one of us till we redeem our economy in full; till we make all the people of Zimbabwe what destiny intended them to be.
All of us, as the children of Zimbabwe, have privileges and obligations.
We cannot be narrow-minded, for no nation can be great whose people are narrow in thought or in action.
And to Zimbabwe, our much-loved motherland, we pay our reverend homage and we bind ourselves afresh to her service.
Long live Zimbabwe!
Happy independence children of the soil!