THE beginning of every year sees parents scrambling to secure places for their children to attend both primary and secondary school.
Securing a place at the school of one's choice can be stressful as the demand and supply law is not favourable to parents.
Schools are fast becoming scarce and Zimbabwe is reeling under a 2 000 schools deficit according to a Ministry of Primary and Secondary Education 2016 Annual Statistical Report.
Some schools now require one to register a child for a place five years prior to the child's actual attendance.
At the beginning of each year, an estimated half a million pupils are enrolled at 6 123 primary schools across the country.
According to the Ministry of Education, more than 500 000 children seek Grade One places and it has become a nightmare for parents as places are secured 12 months earlier.
More than 250 000 pupils enroll for Form One each year at 2 830 schools around Zimbabwe, says the report.
The report further says that more than 750 000 new entrants are absorbed into the schooling system either as Grade One or Form One pupils each year, translating to close to a million parents desperately running around schools.
Apparently, schools are failing to cope with the growing population and new settlements around the country.
There are more than 5,5 million pupils in both primary and secondary schools around the country, according to Zimstat Education Report.
With the high numbers of pupils in schools, big classes have become the order of the day.
Some classes carry up to 65 pupils against a recommended teacher pupil ratio of 1:40.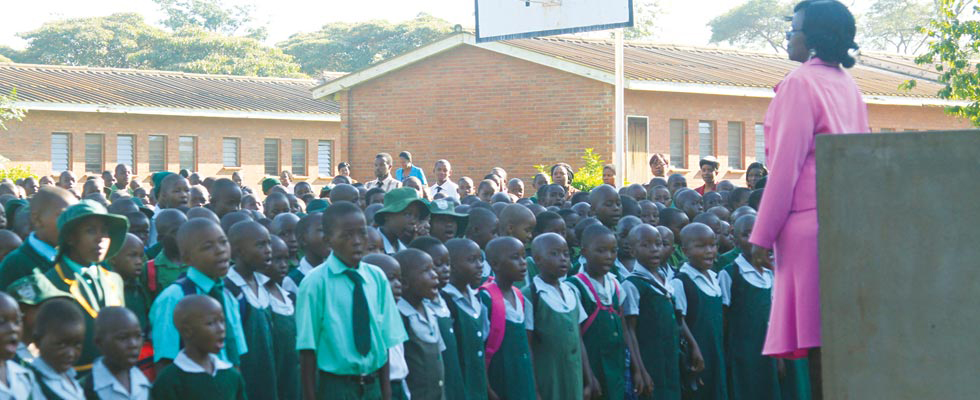 A snap survey by The Patriot revealed that most Government schools in and around the CBD and high density suburbs had big classes of over 60 pupils.
Government-run schools in leafy suburbs such as Eastridge Primary in Hillside and Moffat Primary School in Arcadia now have a teacher pupil ratio of 1:60 in most grades, just like the former Group B schools in Chitungwiza, Mbare, Budiriro, Mabvuku-Tafara and Dzivarasekwa, among other high density areas.
However, schools in the high density do hot-sitting to bring down the ratio to manageable levels.
This is a different case for private schools which have a maximum teacher-pupil ratio of 1:35.
A parent in Chitungwiza, Angeline Dube, said she had to transfer her child from a public to a private school where there is a better teacher pupil ratio.
"I transferred my child to a private school here in Chitungwiza. It was disturbing for me that my child was in a class of more than 60 pupils. The teacher will be overwhelmed and would not have time for each child's different needs," said Dube.
"At the private school, the teacher pupil ration is 1:25 and the children get enough attention from the teacher. Each and every child's special needs are catered for by the teacher who is not overloaded."
Former Group A schools have become a major attraction while private schools are beyond the reach of many parents.
Most former Group A schools are affordable as they are Government-owned.
But this has increased pressure on them.
Schools in Harare central business district, like David Livingstone Primary School, have pupils who come from as far as Chitungwiza, Budiriro, Ruwa and Mabvuku.
Pupils wake up as early as 5am to prepare for school, travelling distances of more than 30 km on hired buses.
Under such difficult conditions, candidates are managing to record impressive results.
Statistics from Zimbabwe Schools Examination Council (Zimsec) in the Grade 7 results show that the national pass rate has been on a steady increase year-on-year since 2009.
In 2009, the national pass rate was 18,88 percent before a marginal increase to 25 percent a year later. An average of 315 000 candidates sit for the Grade 7 exams.
In 2011, the national pass rate was 28,9 while the following year it stood at 31,5 percent. In 2013 the national pass rate was at 32,20, rising to 38,13 percent in 2014.
In 2015, 329 217 candidates sat for the Grade 7 exam and a 41,61 percent national pass rate was recorded. In 2016, a 42,9 percent pass rate was recorded while in 2017 it stood at 44,73.
Last year's national pass rate for Grade 7 was 52,08 percent.
The same trend has been witnessed in the Ordinary and Advanced level examinations.
In 2009, the O level pass rate stood at 19,33 percent with 229 522 candidates sitting for the exams.
From 2009, the national pass rate has been on a steady increase and in 2016 it stood at 29,96.
The national pass rate, however, slumped to 26,35 in 2017.
The 2018 results are not yet out.
The Advanced Level results also show an upward trend in the national pass rate since 2009.
The number of candidates writing 'A'-Level exams hovers around 49 000 up from about 27 000 in 2010.
In 2017, a national pass rate of 93,7 was recorded in the Advanced Level examinations.
However, the 2018 results had a marginal slump as 81,9 percent national pass rate was recorded.
This is the first time the pass rate slumped since 2009.
Though Zimbabwe is reeling from a schools deficit, the teachers and students have defied all odds to produce commendable results.
If more schools were to be built and have standard teacher pupil ratios, the national pass rate would surge to higher levels.
Zimbabwe enjoys the pole position on the literacy rate in Africa which stands at 90,70 percent.
As quick mitigation, more schools could be built by partnering the private sector with incentives from local authorities.
Land could be parcelled out at promotional rates, with investors recommended to vertically utilise space.