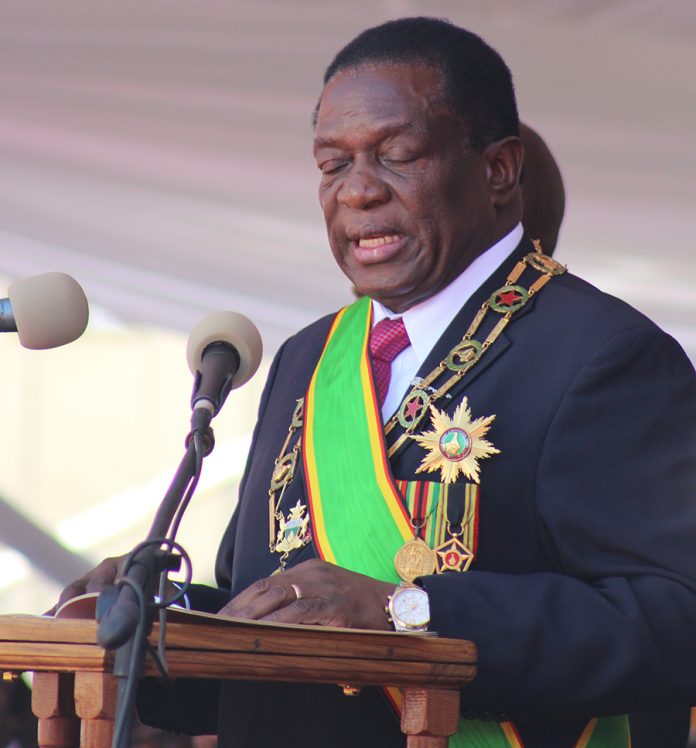 By Golden Guvamatanga and Patience Rusare-Murava
PRESIDENT Emmerson Mnangagwa did not have to wait for his inauguration on August 26 2018 to steer Zimbabwe towards the direction of economic transformation and stability at the leadership level.
He had been acutely aware of the problems that had been confronting Zimbabwe prior to his assumption of office on November 24 2017.
In an early morning live broadcast on ZBC TV on November 15 2017, the then Zimbabwe National Army (ZNA) Major General Sibusiso Busi Moyo confirmed as much, explaining why there was unanimity among Zimbabweans that there had to be seismic leadership changes.
"The President (Robert Mugabe) and his family are safe and sound and their security is guaranteed," he said.
"(We) are only targeting criminals around him (Mugabe) who are committing crimes that are causing social and economic suffering in the country.
"As soon as we have accomplished our mission, we expect that the situation will return to normalcy."
Indeed, things returned to normalcy.
There are many critical things about this country that have been lost in little details.
For instance, one of President Mnangagwa's immediate tasks in the aftermath of November 24 2017 was to steady the country's economic ship.
He inherited a Government that was woefully low on the confidence score sheet.
However, on Sunday, August 28 2018, under a blazing sun, a new dawn beckoned.
The birth of a Second Republic finally came into fruition after weeks of waiting but in his speech was a critical reference to history, especially where ZANU PF is concerned.
"I am your listening President, a servant-leader," said President Mnangagwa.
Servant-leadership is not a new concept to ZANU PF, but on Sunday, as expectations rang far and loud, it adopted a new meaning.
The nation, still smarting from years of isolation, an almost extinct economy and being unfairly subjected to non-performing public officials, once again has reason to believe.
As the Second Republic takes shape, focus will be mainly on the changes that will take place in Government, particularly Cabinet and its ability to deliver.
President Mnangagwa faces the herculean task of appointing Cabinet officials who will inspire confidence both in the country and to the world.
This is where his immediate conundrum lies.
In Section 104 of the Constitution, ED faces an impediment to the appointment of people whose skills and competences he might find attractive.
The section states how the appointment of Ministers is done:
"Ministers must be Members of Parliament but the President or an acting President is allowed to appoint up to five of them, chosen for their professional skills and competence, from outside Parliament."
But there is respite to this 'problem'.
There are various options that ED can pursue.
The same Section states that:
"If more than five such Ministers are to be appointed, there are two options:
1. Members of Parliament may be persuaded to vacate their seats to allow prospective Ministers to be elected in their stead.
2. Section 104 of the Constitution could be amended to increase the number of non-parliamentary Ministers who can be appointed. This would need a two-thirds majority in the Senate and the National Assembly."
Not only will the new Cabinet have to perform.
They have to abide by the principles of the now-forgotten Leadership Code.
How it has been lost is neither here nor there, but President Mnangagwa was clear in his inauguration speech that the people in Government will have to perform.
Corruption will also not be tolerated as the country moves forward.
Said President Mnangagwa: "In this vein, those who will occupy public office, at any level, under my Government, will be required to exercise servant leadership in the execution of their duties, and to be humble and responsive in their interactions and dealings with the citizenry.
"My administration will therefore expect public sector officials to deliver quality and timely services to the people as well as facilitate business, trade and investment.
"Bureaucratic bottlenecks, unnecessary delays, lethargic and corrupt activities will not be tolerated."
He went on:
"In the Second Republic, no person or entity will be allowed to steal, loot or pocket that which belongs to the people of Zimbabwe.
"No one is above the law.
"This is a new Zimbabwe, the Zimbabwe we all want."
Upon assuming office in November last year, President Mnangagwa promised to 'swiftly' act on the rot that has been suffocating the economy over the years.
True to his word, barely a week later, he had swiftly acted on externalised funds and assets.
In the coming five years, President Mnangagwa's main task is to uproot corruption that has become a cancer in every aspect of the Zimbabwean society.
Everyday people read about Government officials flouting or undermining formal processes due to corruption.
Government officials are being bribed and there are many of these officials using their positions for private gain.
The story goes that at border posts, Zimbabwe Revenue Authority (ZIMRA) officials are allegedly using an age-old trick to solicit bribes, especially at border posts.
When it comes to clearing vehicles, it is said ZIMRA officials have created unnecessary bureaucratic delays which lead to long queues.
With this situation, desperate people are forced to make 'under the table' payments to corrupt officials in order to have their vehicles quickly cleared.
The long queues and delays are said to create a conducive climate for corruption.
The same is being said for the Registrar General's staff at the passport office and
birth certificates.
Police officers, on the other hand, are flouting the police code of conduct in order to secure convictions of suspects, for example, through the use of falsified evidence.
Related to police corruption is judicial corruption.
Judicial corruption refers to corruption related to misconduct of magistrates and judges through receiving or giving bribes as well as bias in the hearing and judgment of arguments and other such misconduct.
We continuously get stories of magistrates conniving with prosecutors, now and again, receiving bribes and improper sentencing of convicted criminals.
We are also getting the sad story that one-or-two judges are getting bribes.
Addressing the press last week, the Acting Prosecutor General Kumbirai Hodzi
said clean sweeping changes are beckoning, and there would be no sacred cows.
He said the National Prosecuting Authority has since cracked a syndicate comprising top magistrates, prosecutors, police officers and immigration officers who systematically conducted corrupt activities which included smuggling out the country's resources.
The crackdown on corruption is being conducted by a special unit the President set up after assuming office three weeks ago.
This comes after seven Plumtree police officers were last week apprehended over theft of 28kg of gold worth nearly
US$1 million at Plumtree Police Station.
"We have just cracked a massive smuggling ring which was involved in the smuggling of gold over a number of years and, so far, six tonnes of gold has been smuggled (out of the country)," said Hodzi.
"The ring involves lawyers, my prosecutors, magistrates some in regional courts. Police officers and other civil servants at the border were part of the syndicate."
Hodzi said he did not have finer details of the recovered items but was confident huge amounts of money were recovered.
Following recent exposés of massive corruption, it is expedient to impose on leaders a strict code of conduct.
This is where the Leadership Code comes in handy.
Once upon a time, there was a Leadership Code that defined and guided ZANU PF and its leadership.
It was the commitment, conviction, honesty and dedication espoused in the code that drove and won the liberation war.
It somehow got lost in the 'intoxicating noise' of independence celebrations.
Adopted at the Second People's Congress of August 8-13 1984, the sacred document states the following in part:
"ZANU regards corruption as an evil disease destructive of society.
Therefore it is hereby decreed that a leader shall not:
a) Accept or obtain from any person or for any other person a gift or consideration as inducement or reward for doing or failing to do or for having done or fore-borne to do any act in relation to the party's business or the business of the Government or for the purpose of showing or forebearing to show favour or disfavour to any person in relation to the affairs of the party or Government.
b) Give or offer a gift to any person as an inducement to that other person to do a favour or as a reward for a favour he has obtained or been promised,
c) Use funds of the party or the Government or produce false receipts and or account falsely for such monies with intent to deceive the party or the Government.
d) Make collusive arrangements with commercial or other persons or secretly obtain consideration for himself or for another person or fail to disclose the full nature of the transaction to the party or to Government.
e) Decline to disclose his personal financial affairs or other assets to a properly constituted party or Government body of officials investigating corruption.
ZANU believes that a leader who concentrates on acquiring property or who personally engages in the exploitation of man by man rapidly becomes an ally of the capitalists and an enemy of socialism, and of the masses of the population.
Except as provided in this section and except as required by his official position, a leader may not:
a) Own a business, a share or an interest in a business organised for profit, provided that this shall not be interpreted as prohibiting such petty sideline activities as chicken-runs, small plots and gardens on one's residential property.
b) Receive more than one salary.
c). Serve as a director of a private firm or business organised for profit.
d) Own real estate or other property or an interest in real estate or other property from which he receives rents or royalties.
e) Own more than one dwelling house: except as dictated by family requirements, but in no event shall additional houses be for purposes of earning rents.
f) Except with respect to interest received on account of monies deposited in a savings bank or similar institution, receive interest or other income on account of money loaned to another; 'No leader shall indulge in Chimbadzo'.
g) Own or have beneficial interest in more than 50 acres of land.
In no circumstances shall relatives be used as fronts to business ventures.
The Central Committee shall require that leaders disclose their assets periodically, and when so asked, leaders shall comply."
While the wholesale implementation of the Leadership Code may be problematic due to the dynamics now present within the political realm, it is an incontestable fact the Leadership Code still stands as a formidable bedrock in curtailing wayward and reckless accumulation of wealth by some in the leadership of the Party and Government.
This is the tall order for ZANU PF – a challenge they must deal with head on.