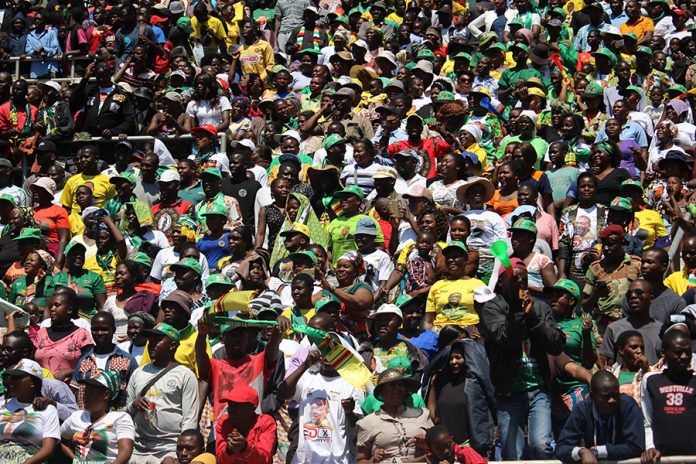 THIS is going to be an angry piece!
Angry because we have one Nelson Chamisa trying frantically and with the amateurism that enmeshes one who misguidedly believes he has the capacity to destabilise this country.
'Chamisa rules out coalition,' screamed one headline in a local daily.
Coalition with who?
Who says ZANU PF wants a coalition?
Why would it squander a two-thirds majority in order to revive the faltering political career of Chamisa?
Just to make things clear: ZANU PF has never contemplated a coalition with Chamisa.
It is his fanciful infantile dreams that are strangely finding their way into newsrooms that we have to contend with lest those perpetuating that lie might find themselves believing it.
No coalition or Government of National Unity (GNU) or whatever arrangement that smuggles Chamisa into governance is going to happen.
That is as clear as daylight.
We are further told Chamisa has 'piled' pressure on ED!
Piling pressure as who?
In what capacity?
Let us begin by telling Chamisa that when matters of this nation are attended to, he is just like a spoilt child trying to draw the attention of elders.
He is nobody!
There will be very important people at that forum — elders of this nation who will determine the course that the nation will take.
They will do that while relaxed, possibly enjoying the country's finest brew but acutely aware they have a country to run and an economy to mind.
They drink cautiously, knowing truly well that the night is still young, too young to be tampered with the infantile yearnings of the spoilt one.
From the kitchen will emerge those who make the loudest but hollow noise, again all to draw the attention of the preoccupied elders.
This is one Tendai Biti who is 'prepared to die in the streets' but finds himself shamelessly trying to cajole the neighbours for a roof when the whip is wielded.
What of those whom you have put on the streets Biti?
Belligerent and seemingly unmoved by the lack of attention from the elders, the young Chamisa wails again but this time armed with the borrowed voice from those who live in faraway lands.
Still the elders are not, and will not be, deterred by the petulant cries of the spoilt child.
They have a land to govern and a people to feed.
This is Zimbabwe, the land of the brave.
A Zimbabwe that is on the cusp of something big.
Chamisa is not going to derail that train.
The noisy media will soon find themselves in the same predicament with the myopic Chamisa, their handler, their master and a supposed key holder to their future.
The future, however, is firmly in the hands of ZANU PF and all its governing arsenal.
That is the beauty of elections.
That is beauty of electoral victory.
ZANU PF, armed with its two-thirds majority, will forge ahead undeterred by the childish antics that are coming from Morgan Tsvangirai House.
These are necessary noises, especially when one takes into account how ruling parties, like solitary children, tend to monopolise the breast.
This is what The Herald's Igomombe means when he unravels the tragedy of sleeping with the breast in the mouth.
Complacency creeps in, mistakes of the past suddenly become attractive while incompetence becomes the bane that we all do not want and do not wish for.
That is an issue for ZANU PF to deal with.
It has to avoid at all costs sleeping with the breast in the mouth.
The electorate is firmly watching and desperately expectant too.
The onus is on the ruling Party to solve the economic challenges that the electorate, especially those from the urban areas, made clear on July 30 2018.
My issue is with Chamisa and how he believes he can determine the course of this our great nation.
He cannot!
He will not!
He lacks the capacity, the stamina and the intellect to stop this country's path to greatness.
We know it's Chamisa who is feeding those stories into newsrooms.
They will all come to naught.
Let us get deeper with the 'Chamisa rules out coalition' story.
"Opposition MDC Alliance leader Nelson Chamisa has ruled out any coalition deal with his ZANU PF nemesis President Emmerson Mnangagwa for fear of being 'sunk and swallowed' the same way his late predecessor Morgan Tsvangirai was politically manipulated during the Government of National Unity era," reads the story in part.
It gets interesting.
"Chamisa told South African broadcaster SABC on Tuesday night that his supporters had warned him to reject any overtures from Mnangagwa, lest he would sink his party.
We must be able to protect the vote, otherwise we will not be able to convince anyone to go to elections five years down the line.
Our people have said 'Mr Chamisa, don't work with these people'.
They are saying don't join hands with the Crocodile (Mnangagwa's moniker), you will be drowned like what happened to president Tsvangirai when he worked with (former President) Robert Mugabe, he was diluted, we were diluted, we ended up losing focus and manipulated out of power," Chamisa said.
"Chamisa however, said ZANU PF had not yet formally approached him for coalition talks.
"There has not been any official approach," he said.
Of course, there has been an official approach on a GNU.
And it has come from Chamisa himself.
Why lie to your supporters Wamba (Chamisa)?
We will leave it here for now, but the truth will surely come out in the open in the next coming few weeks.
What is indisputable though is that Zimbabwe is on the rise and this will be initiated and implemented by ZANU PF.
Let those with ears listen.