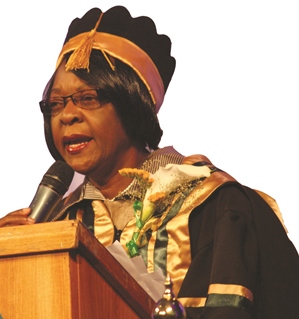 CUSTOMS authorities and the academia need to forge partnerships so as to improve customs administration's service delivery in the country.
The sentiments emerged at the inaugural World Customs Organisation (WCO), East and Southern Africa (ESA) Regional Customs Research Conference held in the capital last week.
The conference hosted by Zimbabwe Revenue Authority and the ESA Regional Office for Capacity Building ran under the theme, 'Customs and Trade Facilitation: Building Institutional Capacity and the body of Knowledge in Customs through research'.
Speaking at the conference, Women's University in Africa Vice-Chancellor Professor Hope Sadza said more attention should be given to customs and trade facilitation studies.
"Currently institutions of higher learning teach the subject of customs and trade facilitation under different disciplines which include economics, banking and finance, law and taxation," said Professor Sadza.
"It is either a topic in a syllabus which competes with other demanding topics which are required by industry and commerce.
"Customs and trade facilitation is not, therefore, receiving the due attention it deserves."
Professor Sadza bemoaned lack of literature on customs and trade facilitation.
"Literature on customs and trade facilitation has remained scanty owing to the lack of systematic focus on the subject in institutions of higher learning," she said.
"There has been a lack of exchange of ideas between academia and customs and trade facilitation institutions.
"Focused research on customs, trade facilitation and socio economic development needs to be systematically carried out and results disseminated to inform policy decisions.
"There is need to establish sustainable means of communications and academia and this forum is a very good starting point."
After realising that there have been gaps in customs studies in higher institutions of learning world over, the WCO launched the Partnership in Customs Academic Research and Development (PICARD) programme in 2006.
PICARD seeks to provide a framework for cooperation between Customs and the academic world.
ZIMRA acting Commissioner-General, Annah Mutombodzi said the authority needs to double its efforts to broaden knowledge base in the customs and tax fraternity.
"ZIMRA has made efforts in that vein by partnering the National University of Science and Technology (NUST) to set up Bachelors and Masters in Commerce Degree programmes in fiscal studies," she said.
"We will continue to partner with and engage other universities in our quest to broaden the knowledge base and build capacity in the customs and tax fraternity."
In 2006, ZIMRA in collaboration with NUST introduced the Bachelor of Commerce Honours degree in Fiscal Studies as a way of strengthening ZIMRA officers' skills but it was opened up to the public in 2007.
In 2010 a Master of Science degree in Fiscal Studies was introduced and to date several institutions and countries within the region have enrolled with the learning institution.
Acting Comm-Gen Mutombodzi said research was a vital component in improving service delivery.
She said as Customs unions were agents for facilitating the smooth flow of legitimate trade, research was required to upgrade operations to keep up with emerging trends.
"Without research, customs operations, procedures and practices remain capsuled in tradition and personal traits," she said.
"Research will therefore bring in a fresh ray of light, a fresh breath and become the pivotal catalyst for growth and behaviour change.
"The demands of globalisation and modernisation require a greater understanding of the political, economic and trading environment in which customs is expected to operate."
The ESA region, consisting of 24 countries, is a member of the WCO, an umbrella body for Customs administrations worldwide which has 179 member states.