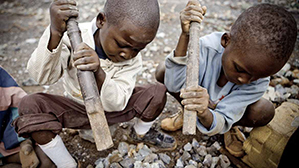 BLOOD diamonds, that is the first thing that comes to the minds of Western audiences when they read or hear about diamonds that come from the motherland, Africa.
With the exception of those from South Africa and Botswana, of course, because those are mined by good old white companies and as such, they are clean.
While the push to bring an end to the trade in 'blood' diamonds has grabbed headlines over the years, the hidden thirst to get Africa's resources by any means necessary has not been quenched.
While diamonds are a girl's best friend, the demand for the mineral and its value, which was once controlled by a monopoly, has slightly depreciated due to the coming in of smaller and independent players. After the attempts to deny Zimbabwe her right to mine and trade in the mineral through the Kimberly Process, focus on the diamond industry, particularly in matters to do with the infamous conflict diamonds, have declined.
However, there is a lesson to be learnt from that experience; Zimbabwe is a special case and there are a different set of rules that apply for the country.
The reason I say this is because I doubt that many, not just in Zimbabwe, but in America and Europe, are aware of the blood minerals — cobalt, tantalum, tin and tungsten.
While the word 'conspiracy' seems rather too strong to use, one is forced to wonder why there has been very little noise made about the gross human rights violations that are going on in the mining of these minerals in Africa.
Some of the world's largest and best known consumer electronics companies have been fingered as complicit, by not only turning a blind eye to these violations as they are major beneficiaries, but by also not demanding that their suppliers improve working conditions of their employees.
Companies such as Apple, Dell, HP Inc, Huawei, Lenovo, Motorola, LG, Microsoft Corporation, Samsung, Sony and Vodafone, as well as vehicle manufacturers like Daimler AG and Volkswagen have been reported as having used cobalt that is extracted under inhuman conditions and at times by children as young as seven years old in the DRC.
According to human rights organisations, children at mines are beaten, bullied, work long hours without protective clothing, are often taken advantage of and earn less than a dollar a day for back-breaking work.
Some of the biggest companies in the world, making over US$125 billion in annual profits, are using raw materials sourced from the DRC's mines and there has been no global outcry.
Why?
The exploitative practises at these mines translate into healthy profits at the end of the day.
The silence on this matter is quite astounding because less than a decade ago, Zimbabwe was in the international spotlight over alleged 'appalling diamond mining activities at Chiadzwa'.
Images of women, men and children scrambling for the elusive diamonds were plastered all over the place and 'forced' the Kimberly Process to intervene.
Major jewellery shops indicated they would not sell diamonds originating from Zimbabwe until all Kimberly processes had been met.
Some decades back, there was uproar in America after human rights organisations revealed that high-end products such as Nike Wear were being produced in sweatshops by women and children in Asia.
This led to boycotts and forced the companies to push for better working conditions for the Asian workers, with some companies even pulling out of countries like China in a bid to prove they would not tolerate human rights and labour violations by their suppliers.
Returning to the DRC, major tech-producing companies have denied they are using cobalt sourced from the Congo.
When requests are made to test products to conclusively ascertain these denials, some companies have claimed it would be difficult to definitively identify the source of the cobalt.
It is obvious that most of these multi-corporations are more worried about protecting their profits and not the lives of children in a far off place in Africa.
The hypocrisy here is that, had what is going on in the DRC been taking place in Zimbabwe, some form of international organisations to control the trade of cobalt would have long formed, with watchdog organisations producing documentaries every week on the matter.
There would have been boycotts of all products using ore from Zimbabwe.
Why?
Zimbabwe is held to a different set of rules than the rest of Africa because it has to be made an example of what happens when you threaten Western hegemony.