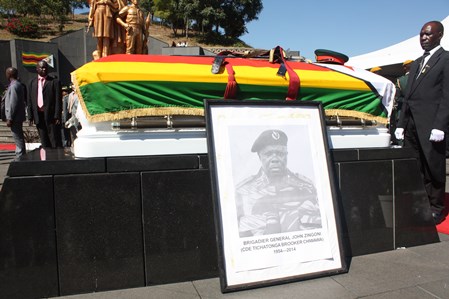 VICE-PRESIDENT Joice Mujuru on Wednesday took mourners down memory lane on the woes of the liberation struggle at the burial of Brigadier-General John Zingoni (59) at the National Heroes Acre.
Brig-Gen Zingoni's untimely death evoked memories of the liberation struggle that killed thousands of daughters and sons of the soil.
The late national hero who hails from Masvingo died at Thornhill Air Base Hospital in Gweru last week after succumbing to a heart ailment.
Addressing thousands of mourners gathered at the national shrine to bid farewell to the late national hero, Vice-President Mujuru said Brig-Gen Zingoni's death was a reminder of human mortality.
"As for most of us who went to war and came back from it, such a reminder of human frailty and mortality always evokes in us stirring images of the horrors of war," she said.
"You recall the comrades who fell.
"You recall the horrid aftermath of ruthless bombing of Chimoio, Nyadzonia, Mukushi and Freedom Camp and many other places.
"The death and suffering plays back."
Vice-President Mujuru urged Zimbabweans to remember all who gave their lives to ensure that there is peace and tranquillity in the country.
She bemoaned the war liberators' sacrifices that today are taken for granted.
"Close friends and comrades-in-arms perished in that war from enemy bombs, bullets, diseases and all sort of ailments, accidents and many nameless mishaps," she said.
"The war brought all manner of dangers and deaths and it took brave cadres like Cde Zingoni who bore the brunt of this terrible war.
"Today we take many things for granted, view persons who fought that war and survived it with little regard.
"We forget all those who never made it home as they eagerly hoped they would at the end of it all.
"Pane vazhinji vasina kudzoka, zviuru zvamazana vasipo, vakasara ikoko."
Vice-President Mujuru said the late Brig-Gen Zingoni, whose Chimurenga name was 'Tichatonga Broker Chiwawa', never betrayed the values of the liberation struggle until his death.
After Independence, she said, instead of going back to his medical field, he chose to stay in the military, rising through the ranks until he became a Brigadier General.
"For him the country he had freed, the peace he had won, needed to be secured," she said.
"Much more, the values which he had helped forge and commission by way of Zimbabwe's freedom and Independence needed to be won for other people and other countries."
After Independence, Brig-Gen Zingoni contributed in the fight against Renamo forces in Mazombique and during the DRC war with other local army personnel.
He was later appointed Director Operations Southern African Development Community Taskforce at headquarters in Kinshasa, DRC.
Vice-President Mujuru said the late national hero had left behind a legacy of upholding values irrespective of circumstances and said this should be an inspiration to future generations.
"He left footsteps of struggle, footsteps of sacrifice, courage, commitment, loyal service and patriotism," she said.
"We must all emulate such footsteps."
With reference to the country's economic blueprint, the Zimbabwe Agenda for Sustainable Socio-Economic Transformation (Zim-ASSET), Vice President Mujuru said it was still early to have results, however, its implementation was well on-course.
She said Zimbabweans had to rely on themselves to ensure the success of the programme.
"Government continues to revisit some of its policies, revise its mode of doing work," she said.
"Above all, we continue to create space for you and me to pursue opportunities.
"Admittedly it is still early to have results, but definitive steps are being undertaken.
"I call it 'the none-but-ourselves' assumption, the 'iwe neni tine basa', 'mina lawe silomsebenzi' mantra we used in the struggle.
"Only Zimbabweans and no other people will build Zimbabwe."
The late Brig-Gen Zingoni joined the liberation struggle in 1975 and went for a military training course at Chimoio in 1976 under the leadership of Cde 'Chocha' now the Zimbabwe Republic Police Commissioner General, Augustine Chihuri.
On completion of training, Brig-General was chosen to go to a multinational medical institute in Tanzania for a six months medical training programme.
On his return, he was deployed at Tembwe Training Camp in Tete Province, before his deployement at Chaminuka Sector, Nyahuni Detachment and Takawira sector.
On Zimbabwe's attainment of Independence, Brig-General Zingoni was sent to the Democratic Republic of Korea to do an infantry commanders course which he completed in 1981.
He was attested into the Zimbabwe National Army in 1981 and rose to the position of Brigadier-General in 2000.
In 2010 he was posted to the Zimbabwe Defence Forces Headquarters as Senior Personal Staff Officer to the Commander Defence Forces until 2012 before being posted to the Adjutant General's pool.
He is survived by wife, Wadzanai, and three children, daughter Fungai and sons, Chido and Tapiwa.