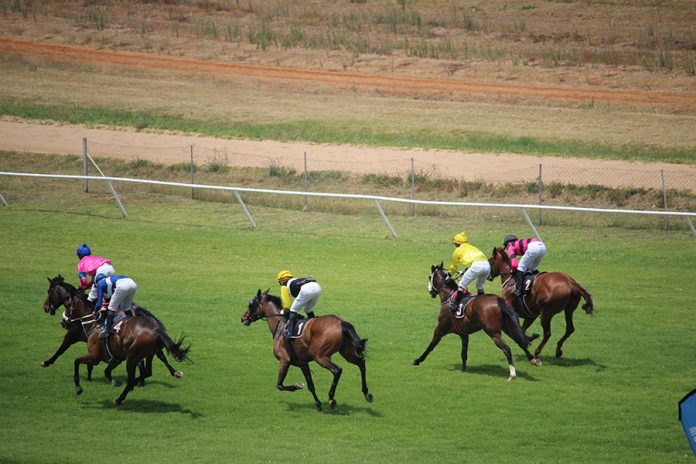 By Gift Bhowa
IT was pomp and funfare at the Commander Zimbabwe National Army (ZNA) Charities horse race at Borrowdale Race Course last Saturday. A field of six horse were in the starting stalls of the 1 200m main race won by Mia Finola trained by the Bridget Stidolph Stable.
Mia Finola reached the finishing point ahead of Sygone and Rain Spider.
Race seven was the main race of the day. There were six other races that preceded the main race to keep the spectators entertained.
Parachutists entertained the crowd together with several musicians who included Crocodile Band, Sniper Storm, Peter Moyo and Andy Muridzo.
The event is part of the army's fund-raising activities which include the Commander ZNA invitational soccer tournament and a golf tournament.
The Army Charities Secretaries tournament administers the fund to support five charitable institutions. ZNA has set a target fund of US$500 000 for its projects to benefit the traditional five charities.
The ZNA Charities was formed in 1997 for the purpose of community development.
It runs five charities viz Tsanga Lodge Rehabilitation Centre, ZNA Schools Welfare Trust, ZNA Benevolent Fund, ZNA Widows and Orphans benevolent Fund as well as ZNA Patients Welfare Fund.
Tsanga Lodge Rehabilitation centre is located in the Eastern Highlands and is responsible for rehabilitating ZNA members who get injured during peace time or during active service.
Speaking to Patriot Sport, Lieutenant Canon Fabion Chitungo, the Staff Officer Grade 1 responsible for the Army Secretariat, said the army had a policy of giving adequate medical attention to its staff.
He said the welfare of staff is crucial in maintaining high standards for any organisation.
"In most cases, our members lose their lips due to accidents when its peace time or due to any other disease that would warrant them losing their leg. In such cases Tsanga Lodge will intervene through the rehabilitation process together with other rehabilitation centres in the country (sic)," he said.
Tsanga Lodge Rehabilitation Centre has not been solely dependant on fund raising to meet its financial needs; it has been doing money generating projects in an effort to enhance the rehabilitation process.
"In an effort to rehabilitate, we have decided to do financial projects such as fishing, carpentry and potato farming. We then sell our products to local communities and use the money to promote self-sustenance of the rehabilitation centre," said lieutenant Chitungo.
The ZNA also supports the Widows and Orphans Benevolent Fund which has been instrumental in looking after the welfare and well-being of widows and orphans in the event a bread winner dies.
Every term, ZNA spends about US$65 000 to pay school fees for orphans at primary, secondary and tertiary institutions.
"Widows pass through a difficult period of adjustment since there is no more salary coming in while they wait for their terminal benefits to be processed. What we have done is to come up with Widows and Orphans fund that looks after widows as well as sending orphaned children to school," said Lt Chitungo.
In the event a bread winner dies without his own house, the Widows and Orphans Fund will help the dependants look for accommodation and pay for their rents, electricity and provide transport money as they move to the city to get papers for their terminal benefits to be processed.
The ZNA Patients and Welfare Fund is structured to look after the health and welfare of members who, in the event, might fall sick and get admitted to hospitals.
"The commander wants to remain in touch with his men whether they are sick at home or admitted to the hospital, so we came up various departments that look after the sick members spiritually, physically and mentally," Lt Chitungo said.
The departments set up to give care to sick members include the Chaplin's corps that look at the spiritual side of the sick members, the medical corps that looks after the health side and the social services department that visits sick members with care packages.
Currently, the ZNA administers 19 schools, of which 12 are primary schools with the rest being high schools.
Lt Chitungo said that ZNA provides for the schools' requirements in terms of sporting activities as well as promoting science education in line with the Government thrust. The ZNA has also built a number of laboratories to promote science education. We raise funds to build schools and we are currently building a school in Mbalabala.
The communities in Mbalabala will benefit from these schools as they also accommodate outsiders.
"These schools not only serve serving members, they also serve the communities around them. Mbalabala Secondary school will reduce the burden of children walking to school for distances of more than 15km," said Lt Chitungo.
Another school is being built in Ngezi and plans to build another school in Manicaland are being evaluated.
Despite the harsh economic conditions, ZNA continues to work hard to mitigate challenges faced by the needy members and non-members in society.