By Tawanda Chenana
WE, in the village, all year round, interact with the land, getting all we want from it.
The winter cropping season is upon us and presents us with another opportunity to bolster food self-sufficiency.
The Second Republic has significantly boosted farmers' potential to utilise the land which has resulted in increased output.
Several negative factors, which include the illegal sanctions and poor power supply, had resulted in farmers shying from growing wheat, for instance, forcing the country to resort to imports to cater for about 400 000 tonnes required for local consumption.
However, in the new dispensation, we have recorded surpluses in the production of grains.
Power supply is significantly improving and so is water supply after a good rainfall season filled up our dams.
In the last cropping season, we recorded the highest wheat harvest in 56 years. We achieved a significant milestone in wheat production by harvesting 375 000 tonnes of the cereal.
Our producers have taken up the challenge to bridge the gap in supply and demand by taking advantage of Government support.
And let us do it again this winter cropping season.
Let us surpass the 375 000 tonnes.
Let us work towards being an exporter of grains.
This winter cropping season presents us with an opportunity to further strengthen our nation's food systems.
As a country, we are already full steam ahead with regards to that goal of food self-sufficiency.
Last season, we had more than 80 000 hectares under wheat and we expect more this season.
Africa's Agenda 2063 recognises that key to development is utilising our arable land, one of our biggest resources in the country.
President Emmerson Mnangagwa's call to put in place strategic measures to ramp up production for all our key staples on the continent, to intensify agro-processing to reduce post-harvest losses and ensure year-round food availability and, in the process, creating much needed jobs, must continuously ring in our ears.
A thriving agricultural sector will accelerate economic development.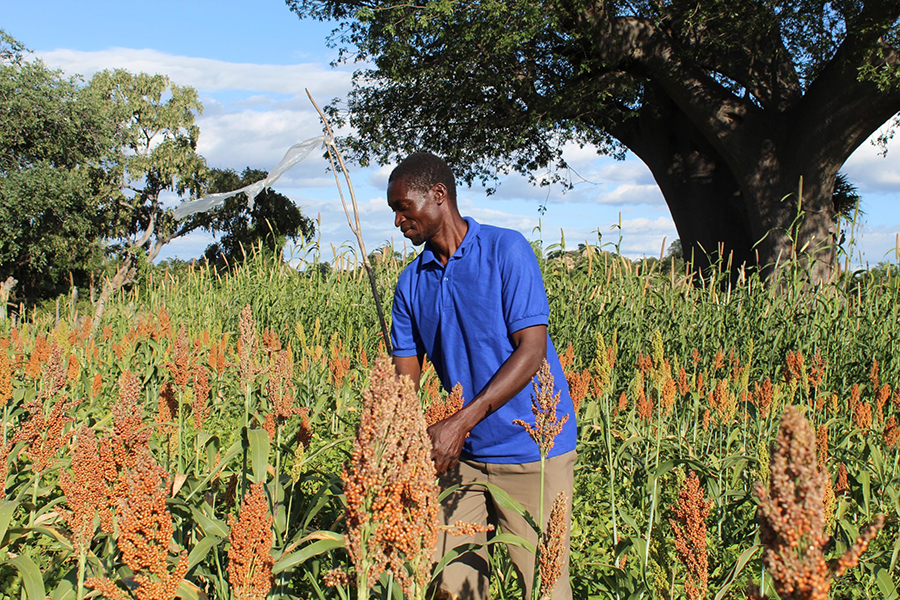 With surplus production, we will value add and beneficiate on a large scale; we will build our own industries and enjoy maximum benefit from our resources.
We must consolidate the gains we have made thus far.
The industries being resuscitated will soon need lots of raw materials and our agricultural sector must be ready to deliver so that operations run 24/7.
Nyika inovakwa nevene vayo.
We have the land, the water, the experts; we can only grow, some more.
What our Government has done, and continues to do, is ensure that money will not be wasted on imports.
Gone is the talk of declining hectarage in agriculture. We are happy that, as a nation, we are properly planning our activities and as they saying goes, proper planning prevents poor performance.
 As the hectarage continues to increase, we are not just doing away with imports but empowering our citizens.
We are getting ourselves into a situation whereby the country will need imports to augment the gap left by local farmers and not rely on them to feed the nation.
It is time we have all agricultural stakeholders, who include farmers' unions, banks, insurance companies, Zimbabwe Electricity Supply Authority (ZESA), Zimbabwe National Water Authority (ZINWA), grain millers and suppliers, fully backing our producers.
We have proved ourselves capable and viable.
Availability of necessary resources will see every piece of land becoming highly productive, in today's youths' parlance, takatonanganisa , we are good to go.
Everyone in the supply and demand chain must get what he/she requires for every farmer around the country has realised the potential in utilising the land.
We hope that our producers are on schedule, especially wheat farmers. A farmer loses an average 50kg of wheat per hectare if he/she misses the planting deadline — we do not want any losses, just to maximise yields.
The initiatives by Government and other stakeholders to support farmers should not be allowed to go to waste. There is no need for producers not to take advantage of these.
And if the winter cropping season is time for some farmers to take a break, then they should use it to go back to the drawing board and strategise for an improved 2023/2024 season. 
The harvesting of most crops is already done and so is the selling of crops and so farmers must start planning for the forthcoming summer cropping season.
Experts contend that after harvesting and marketing of crops, farmers do not necessarily have to take a break but start preparations to continue increasing yields. The agriculture sector is safely out of the woods and farmers must keep on acquiring knowledge and embrace best farming practices to maximise production. 
If farmers hope to get better yields, preparations for the next summer season should start now.
Winter is not a time to rest but put in place all the necessary ingredients for success.
Most farmers neglect to plough the land after harvesting, waiting to do it when the rains fall yet it would be time for them to start planting. 
Winter ploughing assists in weed control. If the fields are not ploughed, weeds continue to grow and scatter seeds around the fields but through ploughing, the weeds are ploughed under and they also decompose and become manure. 
Apart from winter ploughing, farmers must have soils tested to ensure proper planning of the crops to be grown in the following season as well as amounts of fertilisers required. 
This is the time for farmers to take their soils to reputable laboratories for testing and it is important that farmers do the pH and full analysis for better results.
Having soils tested means the farmer will be able to address the imbalances before the cropping season starts.
Nyika inovakwa nevene vayo/ilizwe liyakhwa ngabanikhazi balo, on a daily basis, in all the sectors.