By Tawanda Chenana
WE in the village, have come to an interesting realisation which we shall share with you all.
Have you noticed something interesting on our political landscape?
Have you noticed that, not once has his Excellency President Emmerson Mnangagwa slandered, insulted or belittled Nelson Chamisa.
For Chamisa's lack of sound policies, absence of political acumen, maturity deficiency, President Mnangagwa has not stooped to attacking him even as the excitable fellow has thrown barbs at the country's industrious and wise leader.
When the opposition comes into the political matrix of the country, all they are good for is finger-pointing, negative criticism and slander.
And it is clear that one thing they forget amidst all the baseless slander are our children.
Do you know that children learn a lot by just watching?
Thus while we slander, insult, make fools of ourselves, unjustifiably, irrationally criticise, our children are watching and learning.
And we, in the village, have come to the conclusion that that is why the President prefers to remain the bigger person. In his wisdom, he realises the children are watching and there should be role models of sanity and decorum.
If so-called aspiring and potential leaders cannot see or do not care that the children are watching, then are they really fit to be leaders of our great nation.
What story and history are we imprinting on our children; that cursing and frothing on the mouth, uttering profanities and disrespecting your leadership is the way to go?
A country's independence, freedom and sovereignty must be fought for and defended consistently, by each generation.
Do the likes of Chamisa know and appreciate the fact that those who have known freedom and then lost it have never known it again.
No time or any point is good for political slander.
Every moment of our time, we must spend moulding and protecting our story, our history, appreciating the effort and lives lost so that we could enjoy the benefits we have today.
That is the story our children must get from watching us; a story that puts aside negativity or helplessness, a story President Mnangagwa is boldly telling, a story about a resilient and bold people.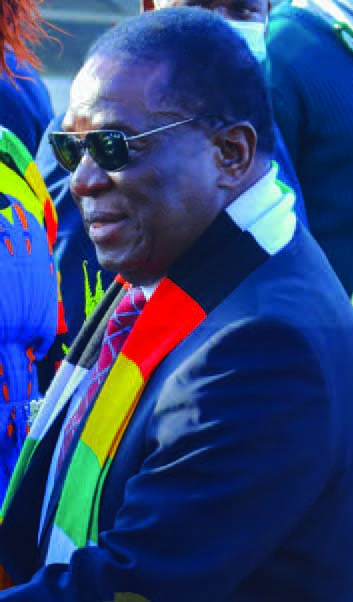 Our story, as a people, serves the purpose of passing down knowledge from generation to generation, thus we all must ask ourselves, especially if you deem yourself a leader, the question: Which knowledge am I passing on to our children?
It has been said that our heritage to our children is not in the bloodstream but something that is fought for, defended and handed down to our children.
One day we will spend our sunset years telling our children and our children's children what it was like not just in Rhodesia but in the early 2000s, when sanctions threatened to destroy us and we fought valiantly to bust them.
This story will start:
"Zimbabwe was a multi-ethnic society habituated by the Shangani/Tonga in the south eastern parts of the plateau, the Venda in the south, the Tonga in the north, the Kalanga and the Ndebele in the south-west and the Shona to in the central and north.
And these people came together and decided there was more that unified than divided them and determined, together, that the sanctions meant to make the economy scream and stir an uprising, would not achieve intended objectives.
Great empires emerged in pre-colonial Zimbabwe, namely the Great Zimbabwe, the Mutapa State, the Rozvi State and the Torwa State.
We are a great nation, has been and will always be."
It will be amazing to tell our children how all the people united together in the fight against neo-colonialism without any consideration to ethnicity and geographical location.
Is it any wonder that the opposition is now panicking. It once thought that the youths naturally belonged to them— but not anymore. Our youths are now enlightened and development-oriented.

We have youths in all facets of the economy supported by their Government. We have youths doing well in agriculture and other sectors of business.
They are watching the country's leadership and aping it. Vari kukopa pattern yedhoiri rakanaka
We are all part of this great story, every patriot.
Nyika inovakwa nevene vayo/Ilizwe liyakhwa ngabanikazi.