By Anesu Chakanetsa
THE 2023 Zimbabwe Premier Soccer League season, which kicks off on March 18, promises nothing but fireworks.
It's a combination of science and geography, a mix of everything to prove possibilities.
It's Sheashum constructed, oiled with fine Greenfuels, switched on by Hwange and ZPC Kariba power, shimmering like gems from Manicaland, expensive like Platinum from Ngezi and Zvishavane, powerful like the word of Yadah and football-palatable like Chicken In(n) a box.
It's Power Football (Simba Bhora), fiery like Cranborne Bullets, resilient like the Black Rhinos, visionary like Umatengwane the bird, the Highlanders, all this revised by Herantals students and approved by Bulawayo Chiefs while men and women with Caps remain United in green bumper harvests of 2023.
What a lovely Triangle.
Despite all that is going on, the Zimbabwe Football Association (ZIFA) panelbeating, PSL has what it takes to bring joy to the people of Zimbabwe.
There is nothing as sweet as going to the so-called FIFA unapproved stadia to watch local boys and girls play football.
As ugly as the stadia look, as they say, football will be played and there will be joy.
One day Zimbabwe will have beautiful stadia.
It's a matter of patience.
The culture of constructing and revamping is evident in soccer loving communities.
New boys, Sheashum FC are reconstructing the Bata Stadium, last used some 30 years ago by Bata Power FC.
Old memories are going to be evoked, but new ones are going to be made, though the construction team looks like they are not going to meet the March 18 target.
For some matches, or maybe the first
half of the season, Sheashum may share Mandava Stadium with FC Platinum.
Other new boys, Simba Bhora, have been busy with picks and shovels, revamping their Shamva Stadium.
They really want local glory but again, like Sheashum, they will have to wait.
Also working on catching the deadline is the Harare City Parking, working on Rufaro Stadium.
The people doing the Harare Sports Club cricket ground have been hired to do the turf, while changing rooms, parking lots and toilets are being worked on.
We hope the facility will not just be good for a season or two.
Vhengere and Ascot stadia are out.
Ascot Stadium is currently looking like part Lake Chivero and part Harare Gardens turf.
So National Sports Stadium, maybe Rufaro Stadium, Luveve, Babourfields, Mandava, Hwange Colliery, Nyamhunga, Baobab, Sakubva and Gibbo will host the matches for the beginning of the season.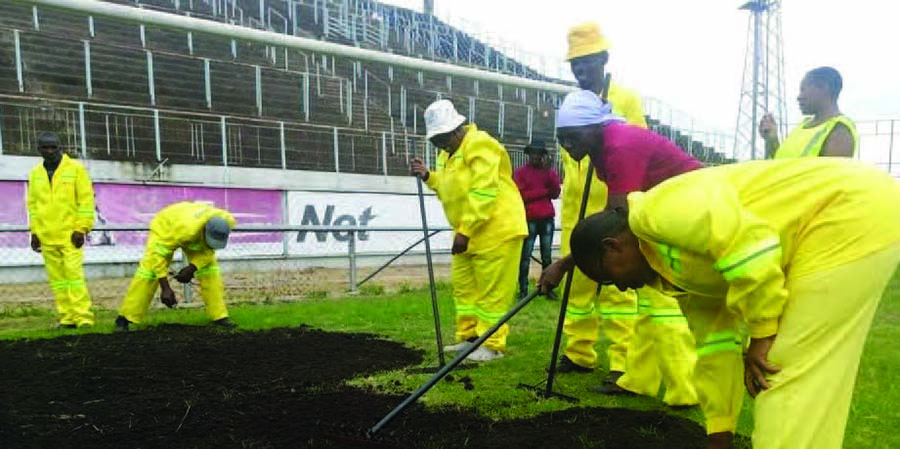 And the first games line-up are really interesting.
The Castle Challenge Cup between FC Platinum and Chibuku Super Cup winners Bulawayo Chiefs which will be played at Mandava Stadium on March 11 precedes the championship start.
The top four teams from the 2021/22 season, champions FC Platinum, Chicken Inn, Dynamos and Ngezi Platinum Stars, open their campaigns with away games.
FC Platinum travel to new boys, Simba Bhora, on the opening weekend, with Dynamos making a long trip to Premiership returnees Hwange at the Colliery Stadium while Chicken Inn will be away to debutants Sheasham FC. Ngezi Platinum Stars travel down to Bulawayo for a date with Bulawayo Chiefs.
With Ascot Stadium condemned, Sheasham FC might opt for Mandava Stadium while they are working on finishing renovations at their Bata Grounds in Gweru.
Bulawayo soccer giants Highlanders welcome ZPC Kariba on the opening day.
The first real taste of rivalry is set right in the second week when Ngezi Platinum take on CAPS United and a week later Highlanders host FC Platinum (in Week Four).
The league's biggest game, between Highlanders and Dynamos, is on Week Five at Barbourfields Stadium.
This is a match that requires a lot of security details to prevent nasty clashes.
Midway last season, PSL had to stop matches for several weeks because of hooliganism, after Dynamos and Highlanders clashed.
Nevertheless, the matchday five between perennial rivals will also be a litmus test for a team celebrating its 60th anniversary, Dynamos FC.
They always make it to the headlines — recently their bus broke down and Denver Mukamba refused to help push the bus.
Some 10 years ago, Mukamba left Dynamos for greener pastures in South Africa where he turned out for Bidvest Vits and University of Pretoria, but never came back with lessons from the lecturers to DeMbare in 2016.
He went to Caps United, Chapungu and Ngezi Platinum where lack of discipline on his part was the order of the day.
In the prodigal-son-style, he returned to Dynamos.
Dynamos, who last won the championship in 2014, also acquired a plethora of players like Eli Ilunga from Black Rhinos, Tanaka Shandirwa from Yadah, Tendai Matindife from Ngezi Platinum and also brought in a new coach, Hebert Marowa.
The new coach has promised to turn around the fortunes of the Glamour Boys. Norman Mapeza's Platinum machine will expect to continue dominating the league, especially with youths like Panashe Mutimbanyoka and Thandolwenkosi Ngwenya being brought on board.
The highest crowd puller of late, Highlanders, appear to be top title contenders.
Brito Baltemor has been reviving the team from mid-season last year with young boys like Mbongeni Ndlovhu and Mason Mushore as the future of the team.
What a season ahead of us!