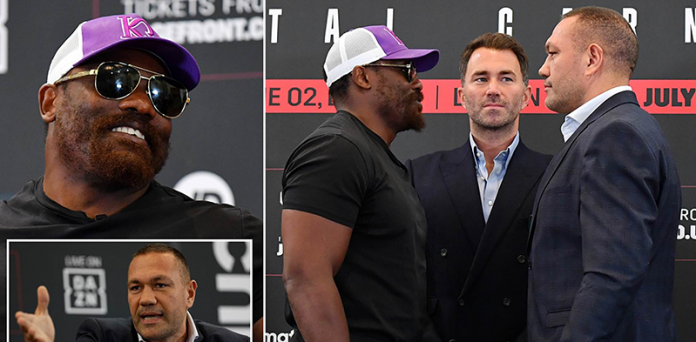 BRITISH heavyweight Derek Chisora and Kubrat Pulev will meet in a rematch at The O2 Arena on July 9 — over six years on from their first meeting.
Chisora (38) lost to the 41-year-old Bulgarian on split decision in 2016.
The Londoner has won 32 and lost 12 since turning professional in 2007, with his most recent defeat coming from Joseph Parker in December.
"I'm delighted to get this fight over the line," Matchroom Boxing promoter Eddie Hearn said.
"Initially we worked on some other opponents for Derek, but this fight came out of nowhere a few days ago and I absolutely love it.
I think the strapline, 'Total Carnage', is absolutely perfect for this fight, in terms of the build-up and in terms of the fight itself."
Pulev, a two-time world title challenger, has won 29 bouts and lost two. He edged a points win when the two men fought for the European Heavyweight title in Hamburg.
He was knocked out by Briton Anthony Joshua in 2020, a second career defeat, before returning to winning ways against American Jerry Forest in May.
Despite the number of losses on his record, Chisora has become a fan favourite in recent years because of his aggressive, come-forward style inside the ring and an often unpredictable persona outside of it.
But he is coming off three consecutive losses; to Oleksandr Usyk in 2020, followed by back-to-back defeats to Parker.
Hearn said defeat for either fighter could result in retirement.
"Both men have been long-standing fixtures of the World Heavyweight division and it's all or nothing at The O2 for both, as defeat could lead to the end of the road," he said.
Chisora vows to knock out Pulev
"I'm still hungry, I still want to fight. Entertainment is the plan, that's what I like," Chisora said.
Chisora continued: "I've lost fights, I won some fights. I've won the things I wanted to win.
I still want to cause damage to people. I still want to entertain."
Asked if he expected a knockout against 41-year-old Pulev, he replied: "Yes, I'll stop him. I'll guarantee I'll stop him."
At the London press conference, Chisora ticked all the boxes that have made him into a star in British boxing.
"Look, all these guys are here to see me. Still taking photos of me," he said at one point, after a delayed start.
In fact, he was an hour late. But, as always, Chisora was combative, humorous and full of one-liners. There were no serious flashpoints, and he still commands an audience.
He even offered to make a bet with Pulev when the Bulgarian questioned how the Briton could 'guarantee' a knockout.
During a lengthy exchange where Pulev tried to perhaps rile the notoriously volatile fighter, Chisora perfectly encapsulated why he has lasted the test of time in boxing.
"I talk too much, that's why I'm still here," he said.
"When they start singing that beautiful song 'Oh Derek Chisora', I get pumped up. I can't help myself. Gameplan goes out of the window. I just let it go."
"I'm excited," Chisora added.
"I could say something now but when I walk in the ring it could be something different. I'm my own boss. I look after my career the way I want to do it.
I don't have to be liked by everybody. I know what I've got and I sell a product that people want and that product is war. I've got passion for this game."
Derek Chisora was born on December 29 1983 in Mbare, a suburb of the Zimbabwean capital Harare, the son of Viola and Paul Chisora. Following his parents' divorce when he was four, Chisora spent his early years in Hatfield, in the care of his maternal grandmother and step-grandfather. As a teenager, he attended Churchill School, where he became a paramedic for the school's sports team. Chisora and his family moved to the United Kingdom in 1999 when he was 16 and lived in Finchley, London.
A late starter in the sport, Chisora began boxing aged 19. His club, Finchley ABC, in Barnet, North London, was also home to heavyweight champion Anthony Joshua. Chisora had around 20 amateur fights, which included winning the 2006 ABA Super Heavyweight title, after defeating Tom Dallas in the final and a gold medal at the Four Nations Championships.
Personal life
In November 2010, Chisora was found guilty of assaulting his then-girlfriend after finding text messages from another man on her phone.
He narrowly escaped being sent to prison and was given a 12-week sentence suspended for two years. He was ordered to pay £1 500 in compensation and £500 costs and complete 150 hours community work. The court was told that the fighter also had previous convictions for public order offences, assaulting a police officer and possession of an offensive weapon.
In November 2015, Chisora was stopped in his Bentley near Hyde Park in London. In September 2016, it was reported that Chisora was driving without a valid driving licence, insurance and MOT certificate. After initially being given six points, which would mean a six-month driving ban, Chisora since appealed the ban blaming his insurance broker. A date of October 10 2016 was set for the hearing. At a court hearing in January 2017, Chisora avoided a driving ban by claiming he thought he was insured after a payment had left his account, paying for two drivers. — BBC