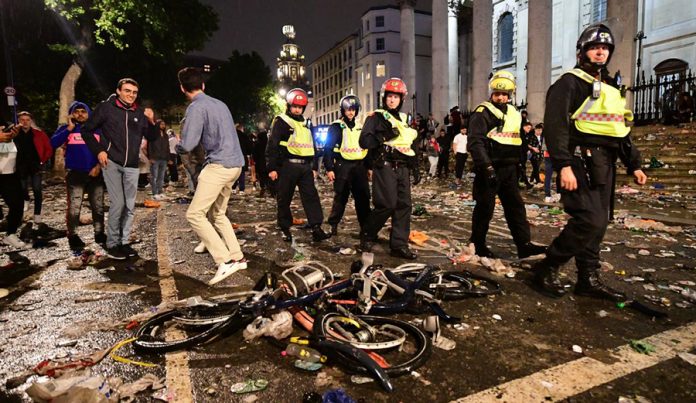 THAT it would end in tears for England in the Euro 2021 Final was a given.
The team had struggled at times on their way to the final, while Roberto Mancini's trailblazing Italy were simply unstoppable.
However, it is the disturbing scenes before and after the match at Wembley that truly defined the English as a racist nation backed by shameless hooliganism tendencies from its pugnacious band of fans.
In fact, the ugly scenes at Wembley were a culmination of the horror that other teams had suffered at the dirty hands of the marauding English fans.
Denmark pegged them back in the semi-finals, losing in the penalty shootout, but they had been subjected to the disgust of being booed while their National Anthem was being played before the match.
Anything that would deny England from claiming the trophy that had been presented to them on a silver platter was mercilessly dealt with.
For instance, out of the seven matches that England played at the tournament, six of those were on home turf, giving rise to the narrative that Europe's football governing body, UEFA was aiding the English's bid to clinch the title.
Raheem Sterling, arguably England's best player at the tournament had single-handedly dragged his stuttering side throughout the group stages, scoring each of England's paltry two group stages goals against Croatia and the Czech Republic, before scoring the opener against fading giants Germany in the second round.
But after the final whistle on Sunday, the talented forward was on the receiving end of racist abuse by supporters of the team he laboured to propel to the final.
Italian fans were beaten up by England supporters and the images have been circulated widely across the globe.
Sterling, together with three other black players in the England squad, Marcus Rashford, Jadon Sancho and teenage sensation, Bukayo Saka were subjected to relentless online racial abuse by angry English fans.
Rashford, Sancho and Saka all missed their penalties against Italy.
Arsenal winger Saka who is only 19, was one of England's star performers at the tournament.
The problem starts at the top of the British hierarchy and Zimbabwe, Britain's former colony can attest to the brutality of the British.
After 41 years of independence, the British continue to harangue the people of Zimbabwe.
At the start of the tournament, British Prime Boris Johnson stoked the racism flames when he refused to condemn fans who booed England players 'taking the knee', the anti-racism gesture started in 2016 by American footballer Colin Kaepernick during the national anthem, saying he could not pay homage to the flag of a country that abused black people.
The symbol has become a feature of Black Lives Matter protests that gained momentum following the brutal murder of George Floyd, a black man by American police on May 25 2020.
British Home Secretary Priti Patel weighed in, saying: "Taking the knee was gesture politics."
The Home Secretary said at the beginning of the Euros that she did not support 'people participating in that type of gesture politics'.
Asked if she would criticise fans who booed England players taking the knee, she said: "That's a choice for them, quite frankly."
After they missed penalties in the final, Rashford, Saka and Sancho were targeted by racist abuse, BBC reported early this week.
In response, Patel tweeted that she was disgusted they had been subjected to 'vile racist abuse'.
However, Labour Party deputy leader Angela Rayner wrote on Twitter accusing Johnson and Patel of being 'arsonists'.
"Boris Johnson and Priti Patel are like arsonists complaining about a fire they poured petrol on. Total hypocrites."
On Monday, Aston Villa defender and a black member of the England squad, Tyrone Mings, laid siege on Patel over her role.
"You don't get to stoke the fire at the beginning of the tournament by labelling our anti-racism message as 'Gesture Politics' and then pretend to be disgusted when the very thing we're campaigning against happens."
Rashford also took to Twitter.
"I can take critique of my performance all day long . . . but I will never apologise for who I am and where I came from."
The problem has been simmering for some time.
On March 12 2021, Ivory Coast and English Premier League side Crystal Palace Wilfried Zaha refused to take the knee ahead of his side's match against West Brom Albion, unravelling the dishonesty by some fans in England.
"There is no right or wrong decision, but for me personally I feel kneeling has just become a part of the pre-match routine and at the moment it doesn't matter whether we kneel or stand, some of us still continue to receive abuse," said Zaha.
"As a society, I feel we should be encouraging better education in schools, and social media companies should be taking stronger action against people abuse others online – not just footballers.
"I now just want to focus on football and enjoy being back playing on the pitch.
"I will continue to stand tall."
A report published by the World Economic Forum on Tuesday titled, 'Racial abuse of England players exposes deep societal fractures and the need for change', shows that while England has tried to mask the problem, it has been on the increase over the past few years.
"This is not the first time fans have turned to social media platforms or displayed abhorrent behaviour tied to sporting outcomes," reads the report in part.
"For example, studies have shown that domestic violence surges after a football match ends: one study found that reports of domestic violence in the north-west of England during three football World Cups went up by 26 percent when the national team won or drew, and by 38 percent when the team lost.
Sports has also been at the centre of stories about racial profiling and discrimination at all levels.
For example, during and before the Euro 2020, the England team kneeled before kick-off in solidarity against racism and inequality while some fans booed this gesture.
In addition, Rashford, who has helped British schools tackle child hunger, has constantly highlighted the racist abuse that continues to be targeted towards him."
Formula 1's seven time champion and one of the outspoken anti-racism campaigners, Sir Lewis Hamilton says it is not only football that is being affected by racism.
"The pressure to deliver is felt by every sportsperson but when you are a minority representing your country this is a layered experience," he said.
"Success would feel like a double victory, but a miss feels like a two-fold failure when it's compounded with racist abuse.
"We must work towards a society that doesn't require Black players to prove their value or place in society only through victory."
Yes, the Euro 2021 has come and gone, but it is high time the world stood up to Britain's bully tactics.