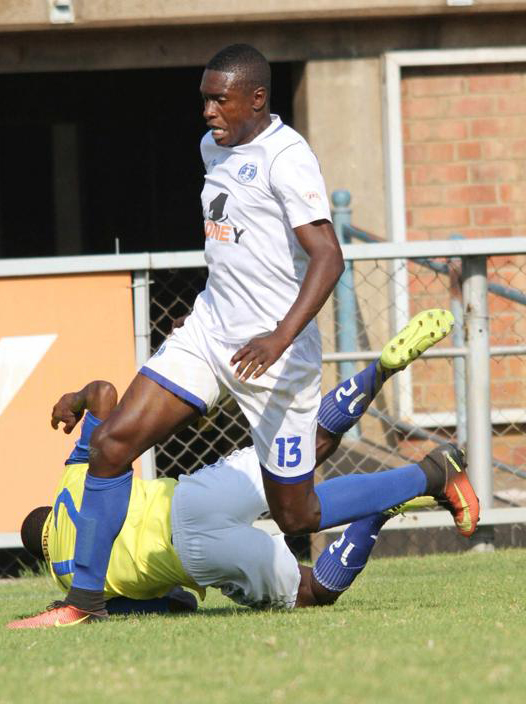 By Fidelis Manyange
AT 21 years old, he was already a star sought after by several local, South African and overseas football clubs.
After a successful stint with big local premiership clubs, in South Africa, the young talented footballer decided to hang his boots and disappeared from the football scene, while at the top of the game.
The above star is Kudakwashe Zielglar Kumwala.
He was born in 1994.
The lad started his football career in 2011 when he joined Sprouting Academy in Mbare before moving to DC Academy in Highfield, which was owned by former footballer Dickson Choto
He then joined Hartley Academy which later became Kwekwe United.
While with the team, in 2015, he became the top goal scorer in the Eastern Region Division One.
Coaches Rodwell Dhlakama and one Taku were the boy's coaches then.
He got his breakthrough into the premier league after a friendly match with Harare City.
City's Coach Taurai Mangwiro was impressed by his performance and signed him.
While with Harare City, the team won the Chibuku Cup three times, translating to three gold medals for Kumwala.
Subsequently, Harare City represented Zimbabwe in the CAF Confederation Cup games.
In one of the games, in Madagscar, Harare City came from behind to leave AS Adema on the Cup's scrap heap and, for a moment, gave Zimbabwe a glimmer of hope in continental club football.
On that particular day, the Sunshine Boys brushed aside the Malagasy side to go through to the first round 6-3 on aggregate with Raphael Manuvire, Edwin Madhananga and none other than Kumwala on target.
From Harare City he joined Dynamos FC. While at Dynamos, in a match played against Highlanders, after the inauguration of President Emmerson Mnangagwa, Kumwala scored the first goal at the giant National Sports Stadium.
He was man of the match.
Soon after they would play Yadah Stars where he again delivered a vintage performance that saw him being named Man-of-the-Match.
Kumwala was a player comfortable using both legs.
He combined very well with Cameroonian forward Epoupa Ntouba
The talented footballer soon caught the attention of South African scouts who led him to pen a deal with ABSA Premiership team, Highlands Park FC, based in Kempton Park, where he joined fellow Zimbabweans Tendai Ndoro and Tapiwa Kapini.
Shortly after joining the club, it was sold and he found himself playing for Real Kings of Durban for 18 months.
He later moved on to join TS Sporting, which was based in Mpumalanga, Nelspruit, before coming back home to attend to some pressing family issues.
Thereafter, he went dark as far as football matters are concerned.
Reports once filtered that the player was negotiating with teams like Orlando Pirates, but nothing concrete materialised.
The player's handlers would not disclose where the player is currently based, only saying the footballer is itching to return to the pitch.