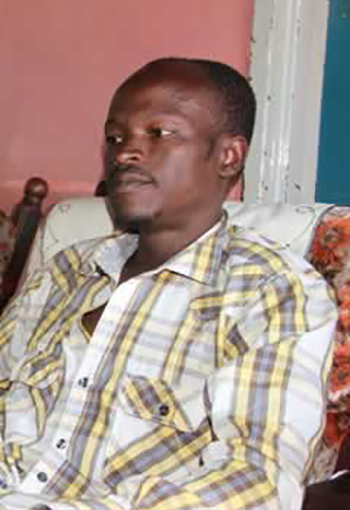 By Anesu Chakanetsa
THERE are football legends who are literally forgotten, while some do not even want to hear anything about football anymore due to poor treatment after leaving the beautiful game.
Football is a career, just like being a soldier. And when soldiers get injured and cannot return to service, they are not abandoned, they are honourably discharged and get proper care for the rest of their lives.
In contrast, there are legends whose footballing lives were cut short by cruel injuries who now roam the streets or play social football.
Some have become alcoholics as they fight depression.
The then young Lloyd Samaneka wanted to be like his brother Marvel but his life turned into a nightmare when he represented Buymore Football Club.
An encounter with an opponent goalkeeper on a Sunday afternoon, in 2006, became a bitter experience he never recovered from.
The poor young Lloyd had to hang his boots.
※A fan had to run from the terraces, dodging the police who tried to stop him from assisting me by placing back my knee bone which had been displaced,§ said Samaneka
※That helped a lot for that moment but for long-term it was a sad story. I could not come back to play professional football.§
Samaneka now spends most of his time advocating social football in and around Glen View.
In fact, Glen View seems to be the breeding ground of these players whose careers were cut short due to injuries.
Samson &Sister* Choruwa announced himself on the local football scene with some devastating displays for Dynamos in 2001 under the tutelage of Moses Chunga, who had to bank on the Glen View Academy select that produced other stars like Norman Maroto, Eddie Mashiri, Fidelis Mangezi and Edmond Mtetwa who later turned to basketball.
These were the days of the famed &Kidsnet Project*, so-named because the players were relatively young.
Chunga, the then Dynamos coach, had the bravery to play the young boys at a club which has the most demanding supporters in the league.
Nyasha Chazika still remaims the youngest captain in Zimbabwe Premier Soccer League (PSL) who led the club at 18.
Choruwa was the man who produced some sublime acts in the middle of the pack and became the darling of the fans.
In one of his interviews with the national broadcaster, Zimbabwe Broadcasting Corporation, Choruwa expressed his wish to one day turnout for English football club Manchester United.
And it was not wishful thinking, there was a real possibility for him to become a Red Devil.
Well, the &ama2000*, the young generation, might not understand this because they were still a year old or yet to be born when Choruwa played.
He became the talk of the town, like Bill Antonio this season, Denver Mukamba in 2012, Evans Gwekwere in 2006, Moses Chunga in the 1980s and George Shaya during the colonial period.
He is remembered most for his performance in the drubbing of Highlanders 5-0 in a certain cup game played at the gigantic National Sports Stadium.
Unfortunately, in a match against Masvingo at Mucheke Stadium, Godfrey &Mai Mahofa* Dondo lunged into a tackle which damaged Samson*s knee.
His career ended with that unfortunate tackle while Dynamos and Zimbabwe were deprived of a rising star.
He was only 21 and despite numerous attempts to make a comeback, the efforts were in vain.
There are allegations that the injury was exacerbated during a &moneygame* in Glen View during the time he was recovering.
So sad is the story that unproven allegations on the streets of Glen View contend that Dynamos approached a traditional healer to fix the knee injury, instead of engaging a conventional sport medical specialist.
When asked about the matter, Samson Choruwa cut short the phone call.
It seems years later he is yet to fully recover from the trauma experienced back then.
Choruwa is now also involved in playing social games and coaching youngsters in schools, like Glen View High 2.
Another devastating injury involved Zhaimu Jambo who was tackled by his best friend Tinashe Nengomasha.
The media speculated that there was bad blood between the two though both players dismissed the allegations, claiming it was a genuine football accident.
A dreadful lunge by Nengomasha in the Telkom Cup first round match between Kaiser Chiefs and Wits University, on October 19 2012, left his knee irreparably damaged.
Jambo was, however, quick to point out that although devastated, he was not bitter and was now focused on pursuing a new career so he can look after his young family.
Other players whose careers were cut short and were never really fulfilled include Edwin Farai and Basil Chisopo of CAPS United, Desmomd Maringwa, Johannes Ngodzo, Moses Chunga, Netsai Moyo, Alois Godzi, and Francis Madziva who was involved in an accident with fellow Dynamos players.