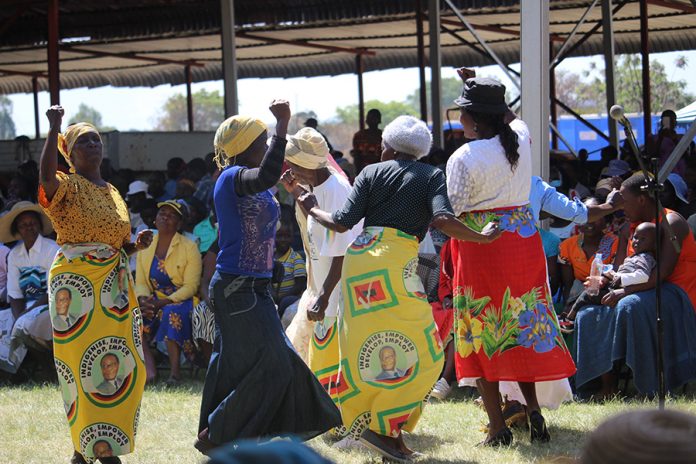 AS one approaches the Mugabe homestead in Kutama one would expect to be engulfed by a sombre atmosphere that characterises most funerals.
Alas, it is all pomp and funfare.
Women, clad in ZANU PF apparel featuring the late former President Robert Mugabe's face, hit the dance floor as the sound systems belted tunes by the Mbare Chimurenga Choir.
Loud cheers and laughter could be heard from youths donning the ruling Party T-shirts, milling around the homestead, sharing jokes.
Elderly men sat in groups, reminiscing on their heyday during the liberation struggle.
Children ran around freely, playing games and cheering on their grand-mothers shaking it on the dance-floor.
Here was a people, not only in mourning, but celebrating the life of former President Robert Mugabe.
They have not just lost a former country leader.
The village has lost a great grandfather, grandfather, friend, son, father, uncle and nephew.
To them, Bob was family.
Their kith.
He was their own.
Just a stone's throw from the Mugabe residency, 85-year old Josephine Jaricha, with a blue bucket filled with water and a pink towel dangling on her left shoulder, paces down her compound in the scorching heat.
Her attention is drawn by the arrival of this news crew and she stops to welcome us.
Pleasantries are exchanged and immediately she makes us feel at home.
"Ndirikutobva panhamo izvozvi, ndangoti ndiuye ndigeze ndigodzokera sezvo vamwe vakuru vemusha vavekuda kusvika (I was at the funeral, I just came back to take a bath before I go back to meet with the family elders)," she said as she put back the bucket in her neatly thatched white kitchen hut.
As she joined us on the sitting area, we paid our condolences.
"How did it feel having a man of Robert Mugabe's stature as a neighbour," this reporter asked Mbuya Jaricha.
"Andisi muvakidzani chete ini, Robert kwandiri aive muzukuru. Ndiri tete vake, hanzvadzi yababa vake. Ndiri Gushungo, Mangwenya akazara, (I was not just his neighbour, we are family. Robert is my nephew, my brother's son. We share the same totem, Gushungo)," explained Mbuya Jaricha.
"This village is made up of the Gushungo clan and we are all part of the family, we also have those of the Gumbo totem, who are our uncles.
"So we are all mourning the loss of a family member."
Mbuya Jaricha went down memory lane, recounting the early days of the late former President Mugabe.
"We used to see Robert in our early days when he joined politics and he always assured us that it was through that path they would defeat the white colonial regime," she said.
"He always took his time to explain the importance of the country attaining its independence.
"Politics was his passion."
Despite being overwhelmed by his political duties, even during the liberation struggle, Mbuya Jaricha notes that the late former President Mugabe always found time for family.
"During the struggle, I used to stay in Mabvuku and whenever he came for his political meetings in the area with Principal Tazvishaya, he would always pass through my house to see me and at times I would send him with goods to bring back home here in Kutama," she said.
"Even when he was President, whenever he came to visit his rural home, he would not only come to my house but he would also visit our family members in the village.
"In the event that there is a funeral in the village, he would come to pay his respects and if he was out of the country on Government business, upon his return he would make sure he came to visit the affected family to pay his condolences."
Mbuya Jaricha narrated how the former leader was a unifier and a man of the people.
"His door was always open and he valued family," she said.
"Whenever he came to visit, he would invite us, the family members, to merry-make or just sit and talk on how we could thrive as a family."
As Mbuya Jaricha continued with her narration, she was briefly interrupted as an elderly woman, clad in an orange African attire, entered the compound.
"Ava ndimainini, amai vemufi (This is the late former President Mugabe's aunt)," said Mbuya Jaricha as she introduced Mbuya Cecilia Mupariwa to us.
Just like Mbuya Jaricha, Mbuya Mupariwa spoke glowingly of the late President.
"Robert was my son and he had so much love for his family," she said.
"During his visits, just like every responsible child, he ensured he brought gifts for us, his aunts, and he would come to visit us often.
"We were always welcome to visit him whenever he came to Kutama."
Renowned Nigerian writer Chinua Achebe once wrote: "A man who calls his kinsmen to a feast does not do so to redeem them from starving.
They all have food in their own houses.
When we gather together in the moonlit village ground, it is not because of the moon.
Every man can see it in his own compound.
We come together because it is good for kinsmen to do so.
Let us find time to come together physically and enjoy the power of togetherness.
Let us smile not because we do not have problems but because we are stronger than the problems.
"We are a family."
This must have been former President Mugabe's guiding principle.
His family came first and it had to remain united.