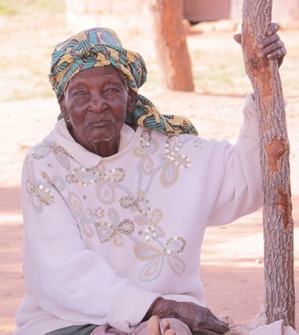 This story first appeared in The Patriot in May 2015
ByEmergency Mwale-Kamtande
IT is only later that one understands what the tears that easily fall from the eyes of Sophia Chingwara, mother to David Guzuzu, one of the famous Chinhoyi Seven guerillas, mean.
They are a mixture of sorrow and joy.
One gets this after conversing with the mother who, for more than five years after independence, kept her eyes on the road expecting to see her son walk in from the 'bush'.
Others were coming back and she prayed for the return of Samy, which is how they called him.
The prayers were never answered.
Samy, who would come to be known as 'David', was born in 1949, in a family of 10 children, in Damba Village in Guruve.
On arriving at the modest homestead in Guruve, it was Samy's mother, now a centurion, who welcomed us.
She burst into tears on recognising Cde Dhliwayo, ZANU PF's director of Gender and Culture.
"Samy mwanangu wauya, ndokundirangarira here uku, aa! wauya Samy mwanangu," she greeted us tears freely flowing.
To her Samy still lives.
Those who talk about him, who make inquiries, who want to know his story have apparently kept him alive to the mother.
Samy, who would go by the name Cde David Guzuzu, was part of the seven ZANLA guerillas, the second group to engage the Rhodies in 1966, in Rhodesia.
The first group was the Crocodile Gang, which had cadres who included Vice-President Emerson Mnangagwa and the late William Ndangana.
When she begins to narrate about her beloved son, she lights up.
"I last saw my son in 1962 when he was 13," she said.
Samy would end up in Chinhoyi, then Sinoia, because his father failed to pay school fees for him and his brother to continue with their education.
"His father sadly informed Samy that he could not proceed to Standard One as there was no more money for fees," she said.
Samy attended Mukwenya Primary School.
"Life was difficult then and Samy was a boy given to brooding; he mostly kept to himself, one never really knew what was going on in his head," said Mbuya Guzuzu.
"One day we found him gone."
For a while the family had no idea where their Samy had gone.
It was only after some time that they got information from their relatives in Banket that the boy was working at a farm in the area.
"We later heard that he left Banket for Chinhoyi after refusing to be caned by a white farmer as a form of punishment for some 'misdemeanor'," said Mbuya Guzuzu.
In Chinhoyi, he became active in politics.
The formation of the Rhodesian Front in 1962, its coming to power that year, the ousting of Sir Winston Field in April 1964 and his replacement by Ian Smith represented a further setback to African freedom.
Smith would declare, just a month in power: "If, in my lifetime, we have an African nationalist government in power in Southern Rhodesia, then we would have failed in the policy that I believe in."
And Samy found himself among the people opposed, strongly, to these notions.
"In 1963 I was told he was now based in Chinhoyi and involved in nationalist politics that was heating up," she said.
He was 14.
And in 1966, he would be the youngest of the seven freedom fighters who would take on the Rhodesians in a fight they probably knew they would not come out of alive.
The maternal instinct was strong and Samy's mother found herself in Chinhoyi where she wanted to convince her son not to dabble in politics, for his safety.
But every time she failed to locate a son who obviously did not want to be found and stopped from venturing into nationalist politics.
"In desperation, I approached the police to apprehend him. I was afraid because the Rhodesians told us they would kill the whole clan if any member joined the 'terrorists', " she said.
And then he disappeared, only to return on May 28 1966. Cdes David Guzuzu, Godwin Manyerenyere, Chabby Savanhu, Arthur Maramba, Godfrey Dube and Christopher Chatambudza, under the command of Simon Nyandoro, a former Catholic seminarian, sparked the Second Chimurenga at the Chinhoyi Battle. But Ambuya Guzuzu did not know her son was there.
"We heard of the battle the very day since Chinhoyi is less than 100 kilometres from Guruve.
"Never once, even in my wildest imagination, did I think that my son was there, was part of that epic battle," she said.
On April 18 1980, the Union Jack came down and the Zimbabwean flag was raised.
"Our eyes were fixed on the road, we expected Samy to show up, but he did not," said Mbuya Guzuzu.
But the mother did not despair or lose hope.
"Samy sent me letters when he was away," she said.
"He told me he was a liberation fighter and was in China.
"I burnt them after reading for security reasons.
"The only thing I kept from that correspondence was his photo."
Thus, after independence, from 1980 to 1985, she would sell a beast from her cattle to get money for transport to search for her boy.
"I went all over the country looking for Samy, I never thought he died in the war," she said. "I don't know why."
Then, in 1985, David's mother met a war veteran in her village with a paper with a list of the fighters of the famous Chinhoyi Battle.
That was how she found out the fate of her son.
"I was shocked when a man I met at the Magaya shops showed me a paper with the seven guerillas," she said.
"My son's name was third on the list.
"I collapsed.
"The pain was too much.
"Samy, my second born son who left home because of poverty, died at Chinhoyi Battle."
Nineteen years had passed from the period he died and she got to know.
"I was hurt, but also relieved my search was over, six cattle had gone towards the search, but my son died fighting for freedom," said Mbuya Guzuzu.
Shebba, Samy's sister, was happy to know how her brother had died and where he had been laid to rest.
"I never got to see him, but I know of his deeds and where he rests," she said.
After visiting Chinhoyi, the Guzuzu family built a grave at the homestead and held a memorial service in remembrance of their son, Samy David Guzuzu.