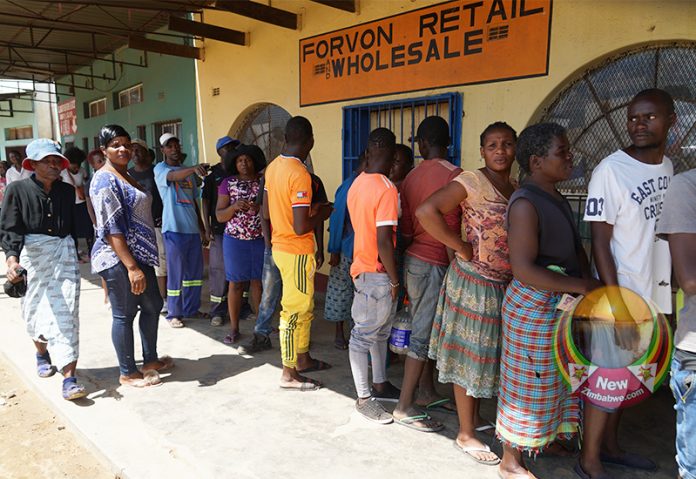 By Tonderai Muponda
AS the initial 21 day lockdown period came to pass, the citizens' curiosity escalated by the day to almost palpable levels.
It was no surprise that come Sunday at dusk, people found themselves glued to their screens in eager anticipation of the State of The Nation Address, with two main schools of thought pitted against each other; the economy versus the virus. It seemed as if the odds were stacked quite heavily in favour of the virus.
His Excellency, President E. D. Mnangagwa did not disappoint with his decision to 'err' on the side of caution, thereby extending the lockdown by a further 14 days.
There are those who feel that while they face danger due to the virus, had the lockdown been lifted, its continued enforcement brings with it the threat of hunger; quite frankly, both alternatives are not inspiring confidence.
This concern is largely aired in developing countries where governments are resorting to the strategy of 'Lockdown without Income replacement'. Back home, efforts have been made to institute some form of social cushioning to the most vulnerable in our communities but the depth and width of its reach may well likely fall short.
It is important, however, that we keep our eyes on the ball.
Let us look at it this way; the economy can recover over a short period of time given the right conditions, but life cannot.
It is better to institute preventative action than to deal with a double tragedy later.
This is no time to gamble with people's lives because the virus is no respecter of persons. The President aptly put this message across in his address.
In response to these valid economic concerns, the government surgically lifted the lockdown restrictions on certain high impact sectors such as mining and manufacturing while adjusting modalities for the tobacco season that is upon us.
These sectors are to operate under the caveat of strict observance of WHO protocol on standards of safety and appropriate distancing. This approach appropriately tailors response to the virus to our own specific circumstances.
I am a firm believer in adopting COVID-19 responses specific to country patterns as opposed to blanket and wholesale adoption of templates from elsewhere.
What worked for China, while important for insight, does not necessarily mean it will work for Zimbabwe due to evident differences in our socio-economic and technological landscapes.
All that being said, let us try and displace fear with caution and hope by emphasising that the COVID-19 is, for the most part, quite manageable — but only if one has access to decent health facilities.
It, however, spreads rapidly and because of its novelty, we are yet to develop any sort of immunity to this virus.
Consequently, it is this influx of people that clogs the healthcare facilities and leads to fatalities.
Lockdowns are instituted mainly to stop this rapid spread, thereby flattening the exponential infection curve, allowing the healthcare system to deal with existing patients, assuming of course that the critical capacity level had not already been breached.
This curve, by the way, is not some magical creature that simply appears from thin air; rather it is based on the maximum capacity of a particular country`s healthcare system to effectively care for patients.
The lockdown strategy in Zimbabwe appears, however, not to be premised mainly on flattening the curve but on buying time to build additional capacity in the healthcare system. Many centres have been set up across the country and more work continues to be done. The refurbishment of Wilkins, Rock foundation and Saint Anne's Hospital as COVID-19 centres are only but just a few capacity building initiatives.
We cannot predict with certainty how long this scourge will last.
The virus is not a static phenomenon but rather very fluid, without much indication of which face it will show tomorrow.
Even if we were to clear infections now, there are fears of flare-ups and second or even third waves of infection.
To this end, the economic implications of a lockdown cannot remain secondary indefinitely. As we have already seen some relaxation on key economic sectors, and as mentioned in his SONA, the President indicated the Government`s intent to embark on expanded testing covering the whole country.
This appears to be a move towards the Testing and Containment strategy which is premised on testing large numbers of people with the intention to prevent and contain infections, gradually letting others continue to work.
This approach has been successful in places like Taiwan and Singapore. This is in line with WHO preconditions for lifting lockdowns when transmission is controlled and additional capacity in the health care system is in place to trace, treat and isolate patients as well as outbreak risks are minimised.
Let us allow our Government a chance to work out a plan, one that is best suited for our particular circumstances as a country and rally behind them by giving them the necessary support, which in many cases is achieved by simply abiding by the clarion call to stay indoors.
After all, if we fail, we have no one else to blame.
Media reports are awash with President Donald Trump's flimsy attempts to blame the WHO and China for the devastating effects of the virus in the US.
It is sad that at a time millions of people in his country seek leadership, he is busy playing cheap blame games.
Whether there is credence in such accusations or not, and while our hearts go out to the millions who have lost loved ones, leaders should take responsibility for their actions in response to this virus.
Kudos to the Government; despite its limited resources, it has managed the disease quite well thus far.
Naysayers will continue wishing otherwise but let us continue working together, as is our patriotic duty, to fight this existential threat.